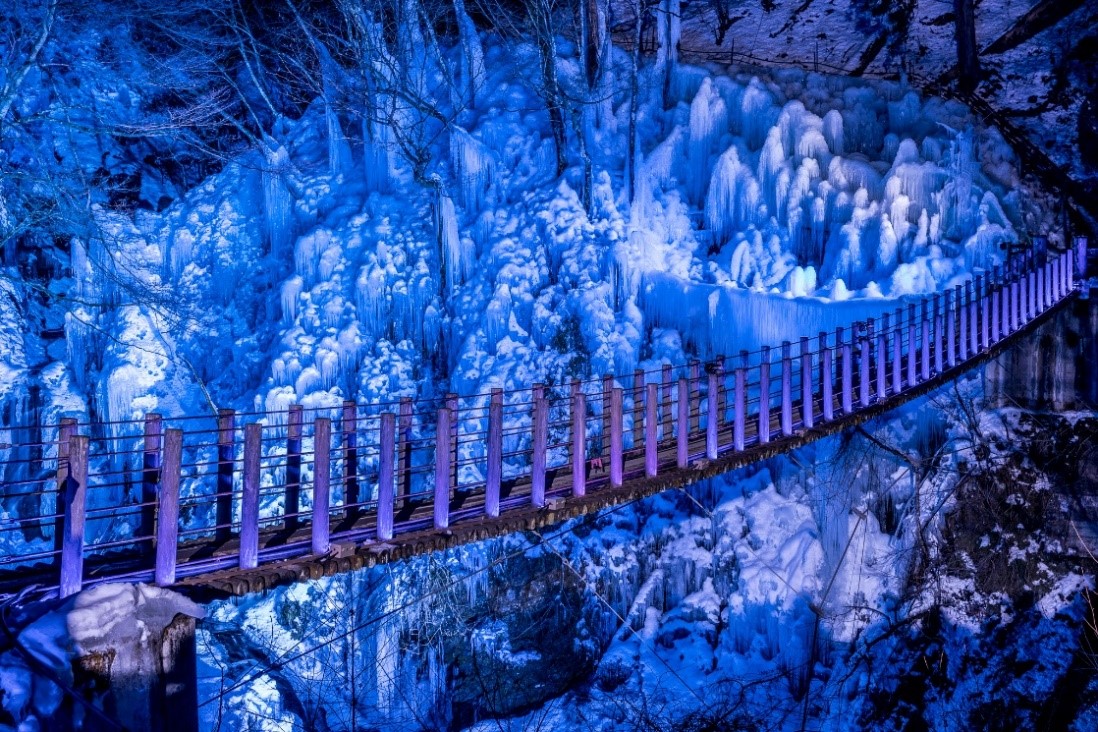 SDG Initiatives at Tourist Sites in Saitama Prefecture
2022.01.31
Press release
PDF ver.

Saitama Prefecture, which had its 150th anniversary last year, is an area with an abundance of diverse attractions, including urban landscapes and nature coexisting in harmony, and opportunities to sample history and culture with a bonsai village, Japanese paper, and kurazukuri (a type of traditional construction) buildings.
In Saitama Prefecture, with all its diversity, there are unique initiatives underway to meet the commitment of the Sustainable Development Goals to "leave no one behind," even in tourist areas. Some of these initiatives will be introduced here along with seasonal tourist spots.
===========================================
  ①SDGs in the Tourist Area of "Little Edo" Kawagoe:
   An LGBTQ-Friendly Temple (Kawagoe City)
===========================================
Kawagoe, known as "Little Edo" and visited by many tourists every year, has implemented SDG initiatives by the town as a whole, such as the Kawagoe City Partnership Declaration System and renovations of kurazukuri buildings.
Saimyoji Temple, a ten-minute drive from Kurazukuri no Machinami (an area with many kurazukuri buildings), has been receiving media attention from within Japan and abroad due to a number of initiatives it has implemented.
First is support for the LGBTQ community. With the establishment of the Kawagoe City Partnership Declaration System in May 2021 recognizing same-sex couples in Kawagoe, Saimyoji Temple began offering LGBTQ weddings. According to deputy chief priest Senda, one of the reasons he decided to offer this service was the diversity of religion, ethnicity, and more he encountered when he went to train in India as a Buddhist priest.
A Buddhist temple offering LGBTQ wedding ceremonies is very rare even globally, and there was a significant response from inside Japan and abroad, with two couples having held LGBTQ weddings at Saimyoji Temple so far. Unfortunately, reservations for a wedding from an overseas couple were cancelled due to COVID-19, but many foreign media outlets have been reporting on the weddings.
Kawagoe is also providing support for local children, with a food pantry initiative to supply free food collected by food banks to households raising children while facing financial difficulties. Walking around while eating is a popular tourist activity in Kawagoe's Kurazukuri no Machinami area, and many local stores have food and drink available. Extra candy and other products from stores in Kawagoe are collected and provided to local children.

===========================================
  ②SDGs in Saitama, the Bonsai Mecca: 
   The Growing Popularity of Silver Esports (Saitama City)
===========================================
Saitama City has many tourist attractions, such as the Omiya Bonsai Village which is famous as a mecca for bonsai, but the city also has initiatives related to many SDGs, such as food drives to supply donated food to social welfare facilities and sharing services for bicycles and cars, and has been recognized by the Japanese government as a SDGs Future City.
Saitama City, which has been actively working to meet the SDGs, there are a growing number of initiatives to create a society in which no one is left behind. In 2018, as the first place in the world to propose "silver esports," the Saitama City Citizen's Silver Esports Association was established.
In Bibli, the tourism headquarters located near the path to Hikawa Shrine, the Silver Esports Gym opened in December 2021. Mr. Honda, who runs the gym, opened it with the intent of using esports as a way to help solve the issue of seniors becoming isolated, as the number of seniors living alone continues to grow. Staff are available to coach people who are trying esports for the first time, along with other efforts being made to help more seniors try and continue playing esports.
As Saitama City becomes a mecca for silver esports in Japan, people are watching with interest to see what silver esports activities Saitama City will promote next.

===========================================
  ③Bonus: Seasonal Tourist Spots in Saitama Prefecture
===========================================
Chichibu's Three Great Icicles

A trio of famous Saitama Prefecture winter tourist spots are at their most beautiful now.
Chichibu, a small basin located in the west of Saitama Prefecture, is home to a diverse and varied group of folk cultures. It is popular with tourists in every season, with rafting on the Nagatoro River in the summer, beautiful foliage in the fall, and the Chichibu Night Festival in the winter, which is registered on the UNESCO Intangible Cultural Heritage list.
One of the most recommended winter tourist spots in Chichibu is the Chichibu Three Great Icicles. The massive ice pillars are impressive even during the daytime, but they look fantastical when illuminated at night, and are beloved by tourists.

・Misotsuchi Icicles (https://en.chocotabi-saitama.jp/gallery/23415?back=1)
    Optimal Timing to See: Mid-January to mid-February
    Address: 4066-2 Otaki, Chichibu, Saitama


・Ashigakubo Icicles (https://en.chocotabi-saitama.jp/gallery/23430?back=1)
    Optimal Timing to See: Mid-January to late February
    Address: 140-1 Ashigakubo, Yokoze, Chichibu, Saitama

・Onouchi Icicles (https://en.chocotabi-saitama.jp/gallery/23408?back=1)
    Optimal Timing to See: Early January to late February
    Address: 966-1 Kawarasawa, Ogano, Chichibu, Saitama


━━━━━━━━━━━━━━━━━━━━━━━━━━━━━━━━━━━━━━━━
If you are interested in reporting or have any questions, please feel free to contact us.
■Contact Information
Saitama Prefectural Government Tourism Section
Email: a3950-10@pref.saitama.lg.jp

■Pictures of Saitama
Pictures for use are available at the URL below:

https://chocotabi-saitama.jp/gallery

■See Saitama's online Pamphlet at the URL below: