Since its establishment in 1976, Foreign Press Center Japan (FPCJ) has been helping reporters of foreign press organizations cover Japan, to promote accurate understanding of Japan in other countries. There are currently 396 reporters affiliated with 136 media organizations from 27 countries and regions working in Japan to transmit news from Japan to the world (data gathered by the FPCJ as of February 1, 2023). Many journalists from foreign media organizations also visit Japan for news gathering. FPCJ facilitates news gathering by the foreign press in Japan and dissemination of information from Japan to other countries through the media.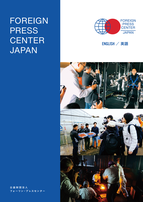 Our Mission
The FPCJ proactively supports foreign media in order to promote the diversity and accuracy of foreign reporting from Japan. It is also actively engaged in getting valuable information sent out from many different places and fields in Japan to the world. Through these activities, the FPCJ brings "Japan as it really is" to the world, gives in-depth understanding of Japan, and helps create an international society where people respect different cultures and values. It also aims to make a difference to global peace and development.
Our Activities
1.

Mainly for foreign media in Japan, FPCJ holds briefings given by leading experts and government officials and also organizes press tours to introduce news from many regions of Japan to the world.

2.

The FPCJ invites foreign journalists for a report-in-Japan program and also conducts fellowship programs for young journalists from developing countries in cooperation with Japanese media.

3.

The FPCJ helps foreign journalists, both resident and visiting, with practical arrangements for news gathering and filming based on their requests. It arranges interviews with people in various fields, on-site reporting on factories, institutes, and other facilities, and also provides advice and basic information on reporting in Japan.

4.

The FPCJ collects information from a wide range of fields including politics, economy, society, and culture and makes it available through its website as well as social media in many languages.

5.

The FPCJ is keen to link and work with central / local governments, public and private organizations, research institutes and companies, who wish to globally publicize their activities, providing advice and assistance in a positive manner.

6.

For research on the current status of the foreign media, FPCJ personnel go on fact-finding trips to overseas to visit media and media-related organizations, and interact with them.

7.

The FPCJ makes every effort in inventing activities to achieve our mission.
Action Principles
1.

Our work is creative and dynamic.

2.

Our response is sincere, fair, and prompt.

3.

We value teamwork.

4.

We develop strategic activities from a global and medium- to long-term perspective.

5.

We seek a broader range of partners in different places and fields.

6.

We assume transparency and accountability.

7.

We commit ourselves to our work at the Center which is open and useful to society.