Date : December 3, 2020
The World's Fastest Supercomputer, Fugaku, Taking Aim at COVID-19 (Dr. Satoshi Matsuoka, Director, RIKEN Center for Computational Science)
post date : 2020.11.27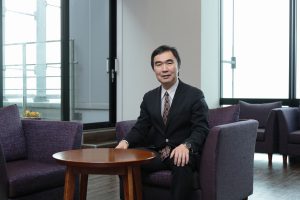 The supercomputer Fugaku, developed by RIKEN Center in Kobe together with Fujitsu, was ranked number one in the world in four separate categories, such as processing speed and machine learning capability, twice in a row (in June and November 2020). Fugaku has been used for research on measures to combat COVID-19, including the effectiveness of masks in blocking aerosol particles, analysis of the spread of particles indoors, research on candidate drugs for treatment, and simulations of the infection and its impact on society and the economy. There are growing hopes that Fugaku's top-class abilities will contribute to research and development of effective measures to fight the pandemic.
The FPCJ has invited the Director of RIKEN Center for Computational Science, Dr. Satoshi Matsuoka, who led the development of Fugaku, to hold an online press briefing from Kobe explaining Fugaku's capabilities and providing an overview of COVID-19 research using cutting-edge technology.
■Please note that you cannot physically attend this briefing, as it will be an online press briefing held as a Zoom webinar. 

■Date: December 3 (Thu), 2020, 11:00-12:00 (Deadline for application: Noon, December 2)
■Briefer: Dr. Satoshi Matsuoka, Director, RIKEN Center for Computational Science
■Language: Japanese, with consecutive English interpretation                                  
As in our standard press briefings, there will be a Q&A session at the end.
*In principle, questions will only be accepted from members of the foreign press.

■Members of the Foreign Press:
Please send any questions for the briefer or topics you are interested in to cp@fpcjpn.or.jp by 12:00 noon on December 2.  As there will only be a limited amount of time to ask questions during the briefing, we will collect questions and provide them to the briefer in advance.

Embassy representatives and FPCJ supporting members may also watch the briefing as observers (admission free).
■How to Apply: Please refer to either the email or fax we sent.
*We will not be accepting applications by email.