Date : September 1 - 3, 2016
Kyushu Press Tour for Korean Journalists (Fellowship Program)
post date : 2016.10.04
From September 1st to 3rd, 2016, eleven journalists from major Korean newspapers visited Kumamoto and Oita Prefectures, covering the current state of recovery from the recent Kumamoto earthquakes as well as both prefectures' tourist spots and local specialties. 
After the Kumamoto earthquakes in April, the number of Korean tourists to Kyushu plummeted. Korean tourism to the region continues to lag, adversely affecting a significant source of economic activity for Kyushu. Planned and operated by the FPCJ, this press tour was a part of a Ministry of Economy, Trade and Industry project to give Korean journalists the opportunity to observe current conditions in Kyushu and report accurate information about the region, thereby boosting Korean tourists numbers back to pre-disaster levels.
On the first day of the tour, the Korean journalists arrived at Fukuoka Airport and proceeded to visit Mashiki, a town that was greatly damaged in the Kumamoto earthquakes, and Kumamoto Castle, where damages included the collapse of the castle's main stone wall. Afterwards, they interviewed Kumamoto Governor Ikuo Kabashima.
The second day's itinerary included Aso Farm Land, a resort located in Minamiaso Village that took in evacuees despite earthquake damage forcing business operations to a halt, and Aso Shrine, where the tower gate (rōmon) and the worshipping hall (haiden) had collapsed. The journalists then visited Kurokawa Onsen and Yufuin Onsen, learning about how they came to be known as famous hot spring areas that represent Japan and how they were affected by the Kumamoto earthquakes.
On the last day of the press tour, the journalists visited Beppu and covered many appealing aspects of the city, including Beppu Onsen, a group of hot springs which boasts the highest volume of discharged water in Japan, traditional Beppu bamboo craftsmanship, and medical tourism, where patients can use cutting-edge robot suits for medical treatment. The journalists also interviewed Beppu Mayor Yasuhiro Nagano. Finally, after a stop at Yatsushika Brewery, one of Oita's most prominent sake breweries, located in the town of Kokonoe, the journalists returned to Korea from Fukuoka Airport.
Journalist feedback about the tour included such comments as, "Except for a few places like Mashiki, conditions were much better than I imagined they would be," "Through this tour, I experienced Kyushu's deep history and beautiful places, which was enormously helpful to my understanding of Kyushu," and "I learned that the Japanese government's response to the Kyushu earthquakes was swift and regarded highly by residents."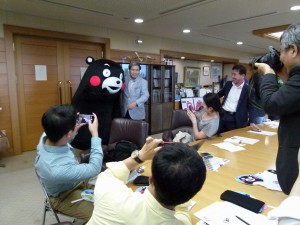 Kumamon makes a surprise appearance during Governor Ikuo Kabashima's interview! Governor Kabashima asked the journalists to spread the message of Kumamoto's recovery to readers all over Korea in hopes of bringing Korean tourists, whose numbers have been low since the earthquakes, back to Kyushu.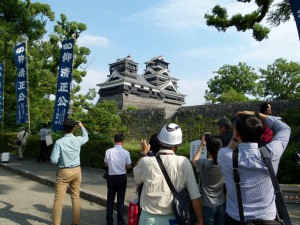 The journalists heard about restoration plans for Kumamoto Castle.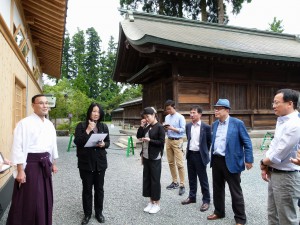 Mr. Hidetaka Ikeura of Aso Shrine told the journalists, "Shrines not only play a role as religious institutions, but also as symbols of local culture and as tourism resources. I want to rebuild Aso Shrine as a symbol of our recovery."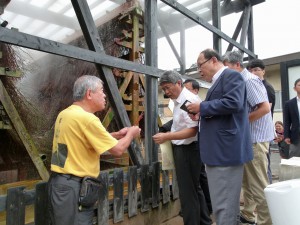 Reporters cover a cooling system made of bamboo at Kannawa Onsen (one of the hot springs of Beppu Onsen).
Mayor Yasuhiro Nagano reassured journalists regarding Beppu's safety, saying, "We learned valuable lessons about how to keep visitors to our city safe because of the recent earthquakes. We've become a damage-resistant city that knows how to handle disasters."