Mr. Kansai Yamamoto / Designer, Event Producer (Vol.3)
post date : 2015.12.18
In this, the third and final installment of the articles based on the interview with Kansai Yamamoto, a seventy-something who is energetically taking on new challenges, the Foreign Press Center asked about his thoughts on Japan, things Japan excels at and the creation of a "tourism-driven Japan."
Foreign Press Center Japan (FPCJ): What do you think are good points about Japan and Japanese?
Kansai Yamamoto: I once met an Israeli family on a train when I was traveling back to Kyoto from Nara. Their impressions of Japan were as follows: "[Japan] has four seasons and the colors here are astonishingly beautiful." In the Japanese language, there are reportedly 3,000 to 4,000 names for colors. I think no other nation has such a large number of names for colors. Color names, for example "gunjo" (lapis) and "kakishibu" (dark persimmon), are associated with nature, such as plants, flower and the sky. I think Japan is an excellent nation when it comes to colors, which can be linked to her people's sensitivity to seasons. The Japanese mental structure is closely linked to seasons and they have a flair for colors.
FPCJ: There has been a surge in the number of foreign tourists visiting Japan recently. You served as a member of Kanko Rikkoku Kondankai, a government panel on tourism, in 2003.
Kansai Yamamoto: When I was a member, I visited the Prime Minister's Office almost every month. It was the first time I entered the complex. I thought wearing a necktie was a must and that I would wear very unique ties to the panel meetings. Usually a necktie is wider in the front and narrower behind. I reversed it for my necktie. I wore two ties together or put buttons and other ornaments on my tie. I thought of every sort of ingenious way to make my ties unusual. Nobody would blame me for wearing a tie, I thought.
Actually, I came up with the name, "Kanko Rikkoku (tourism-driven nation)." While I was researching the closing days of the Edo period, I came across a ship named "Kanko Maru." "Kanko" originally came from a passage, "Seeing the light of a nation," from the Chinese classic, Yi Jing. That's why I named the committee as such.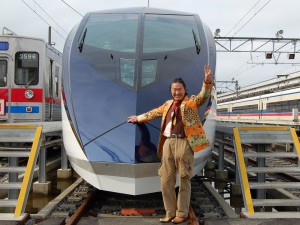 Serving as a member of the panel led me to design a train, the Keisei Skyliner, connecting Narita and Ueno (Good Design Award for fiscal 2010, the Blue Ribbon Award for fiscal 2011). What sort of a restroom should we provide for a woman who came all the way to Japan from overseas? If a baby can be placed upright in a child seat like a flower, the mother's hands become free and she can finish applying make-up and do other things in only a few minutes. The Skyliner is meant to convey a welcoming message [to passengers]. It is a really good design.
FPCJ: How do you think Japan is handling foreign tourists now?
Kansai Yamamoto: I welcome an increase in the number of foreign tourists visiting Japan. Recently, I thought Hoshino Resort was stylish in combining the concepts of camping and a ryokan stay in offering its services. After arriving at a ryokan, I often have trouble finding something to do until dinner time. In Hoshino Resort facilities, you can be active by going out hiking and doing barbeques, while allowing you to skip the cumbersome work of setting up a tent. It is a smart idea combining the good aspects of both concepts, I think.
But I believe we can do more. There is a vacation style, called "minpaku," in which foreign tourists stay at private homes. I once welcomed an American model at my home, but the person went inside without taking off their shoes. I was really surprised. People say there are many challenges to this type of vacation in Japan, including the enactment of necessary laws. But I think having first-hand experience learning there are various customs in the world will be meaningful for Japanese to understand different cultures.
FPCJ: This is the final question. What is Japan to you?
Kansai Yamamoto: I am proud of being Japanese. If I roughly state whether it is a good or bad nation, it is a good nation.
The other day, I bumped into President Tadashi Yanai of Uniqlo on the way to my office. In the initial phase after Uniqlo was established, many people were skeptical about the brand, saying such things as "They are good for underwear, but I would be ashamed to wear their outerwear." But no one is saying that now. It means that we are allowed to do very interesting things in Japan. We can do substantial things here. Japan, which allows us to pursue such ventures, is a wonderful nation that admires people's lives.
Simply put, my work schedule is entirely occupied by event-related things. I decide whether I will do an event or not by myself. I am, therefore, very free. Recently I visited an ikebana exhibition of the Sogetsu School, which is led by Akane Teshigawara. Her work is marvelous. Her work is good, her organization is good, and the direction she is headed is the same as mine. I have never returned home from an exhibition so excited. Her exhibition definitely had a good influence on the world of  my events. Right now, I am concentrating on nothing but doing events.
FPCJ: I think our readers have realized how passionate you are about your work. We are looking forward to seeing your next event. Thank you very much for taking time out of your busy schedule to meet with us.
-----------------------------------------------------------------------------------------------------------------
Kansai Yamamoto
Born in 1944, Kansai Yamamoto is a world-renowned designer and producer. He has received numerous awards, including the Fashion Editors Club Award, the Jury's Special Award at the 7th Japan Event Award, the International Award at the 7th Tokyo Creation Award, the Good Design Award and the Blue Ribbon Award. He is a founding board member of the Tokyo Fashion Designer Committee and an Overseas Advisor to the Russia International Human Aid Foundation. He has authored many books, including "Ue wo Muite (Looking Up)" (Shodensha Co., 2012) and "Atsuki Kokoro (Passionate Heart)" (PHP Shinsho, 2008).
-----------------------------------------------------------------------------------------------------------------