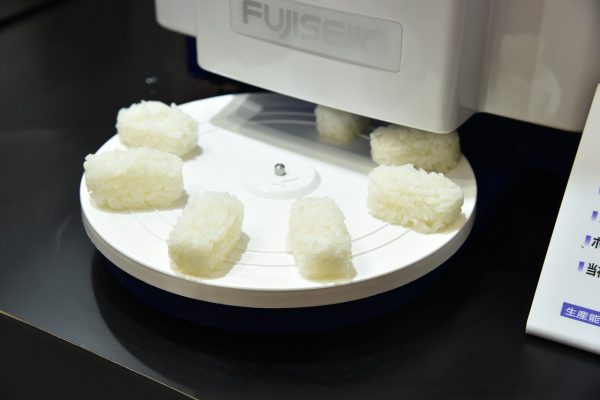 Press Event Notice: FOOMA JAPAN 2017 Press Tour
2017.08.16
FOOMA JAPAN Press Tour
– Visiting the Latest Food Processing Machinery that Japan Takes Pride-
Date: June 14 (Wed), 2017 9:30-12:00
Organizer: FOOMA JAPAN Secretariat
*This press tour is only for foreign media.
FOOMA JAPAN(INTERNATONAL FOOD MACHINERY & TECHNOLOGY EXHIBITION)is a largest comprehensive trade show for food machinery and food processing technologies in Asia. It is held in Tokyo Big Sight and draws 100,000 visitors each year from all over the world. In 2017 it will be held from June 13(Tue) to 16(Fri) in Tokyo Big Sight (East hall 1-8/ Exhibit area 66,140sqm) with a theme. "The Compass for the Future of Food" to offer you " Satisfying Future by Food Technology" through food processing machines, the latest technologies, products and services.
During the press tour, you will be able to visit 4 exhibitors for interviewing. They will give you product explanations and machinery demonstrations.
- Sushi machine, rice-ball molders, and sushi burrito machine (sushi roll machine) (SUZUMO MACHINERY CO., LTD.)
- An automatic Japanese sandwich pancake (dorayaki) machine that makes 1,600 pancakes in an hour. It is used as pancake machine in overseas countries. (MASDAC CO., LTD.)
- An equipment for packaging azuki bean-jam products that are important for Japanese sweets, and an encrusting machine for breads of bean paste and cream. (RHEON AUTOMATIC MACHINERY CO., LTD.)
- A high-speed lining up robot for ragged foods that are hard to pick up. A robot system for fallen bottles to place back to its line. (FANUC CORPORATION)
FOOMA JAPAN official website:
http://www.foomajapan.jp/english/index.html
FOOMA JAPAN covers all business fields which are related to "Food Technology" and its exhibit scales and broad exhibit categories are outclassing among other trade shows in Japan. This year marks the 40th anniversary of the show since the first one in 1978 and 775 exhibitors, including co-exhibitors, will exhibit in it. The numbers of exhibitor is the biggest in its history. They will exhibit technologies that meet automation, energy and manpower saving in food processing, latest machineries and facilities that create higher quality products, robots and production systems using the IoT.
In addition, many Japanese food processing machineries that makes sushi, noodles, rice and Japanese sweets, which catch international visitors' attentions. Visitors can also view and interact with many real machinery demonstrations that closely resemble foodstuff factories and sample foods too so that business talks are actively carried out.
Moreover, international associations from China, Denmark and Taiwan will be set up, and buyers from 9 countries are visiting to have business talks in "JETRO Business Talk in FOOMA JAPAN 2017". Embassies to Japan and international Japanese organizations will provide the latest information of overseas countries in their booths and seminars. Opportunities to support Japanese companies launching overseas businesses will be also prepared.
【FOOMA JAPAN Press Tour
– Visiting the Latest Food Processing Machinery that Japan Takes Pride-】
■Date: June 14 (Wed), 2017 9:30-12:00
■Venue: Tokyo Big Sight East Hall 1-8
■Organizer: FOOMA JAPAN Secretariat
■Schedule:
9:30 Meeting
9:45 Guidance (Giving you a summary and characteristics of FOOMA JAPAN, time schedule of press tour)
10:00 Press tour in the halls (Demonstrations)
(1) SUZUMI MACHINERY CO., LTD.: Sushi machine, Rice-ball molders, and Sushi roll machine
(2) MASDAC CO., LTD.: Automatic Japanese sandwich pancake (dorayaki) machine
(3) RHEON AUTOMATIC MACHINERY CO., LTD.: Equipment for packaging azuki bean-jam products and encrusting machine for bean paste bread
(4) FANUC CORPORATION: High-speed lining up robot for ragged foods and robot system for fallen bottles to place back to its line
12:00 Free Visiting
■Participation fee: Free of charge
■Interpreter: English interpreter is provided
【How to Participate】
Please send the information below to sc@fpcjpn.or.jp
(Person in charge of the application: Yokota (ms.), Foreign Press Center Japan)
(1) Participant name:
(2) Media name:
(3) Media category (Newspaper, magazine, TV, etc.):
(4) Nationality of Media:
(5) TEL, FAX, Email address
(6) Mobile phone number (during the press tour use):
(7) Your request regarding interviews
[Contact]
Foreign Press Center Strategic Communications Division
Person in charge: Yokota (ms.)
TEL: 03-3501-5251 Email: sc@fpcjpn.or.jp