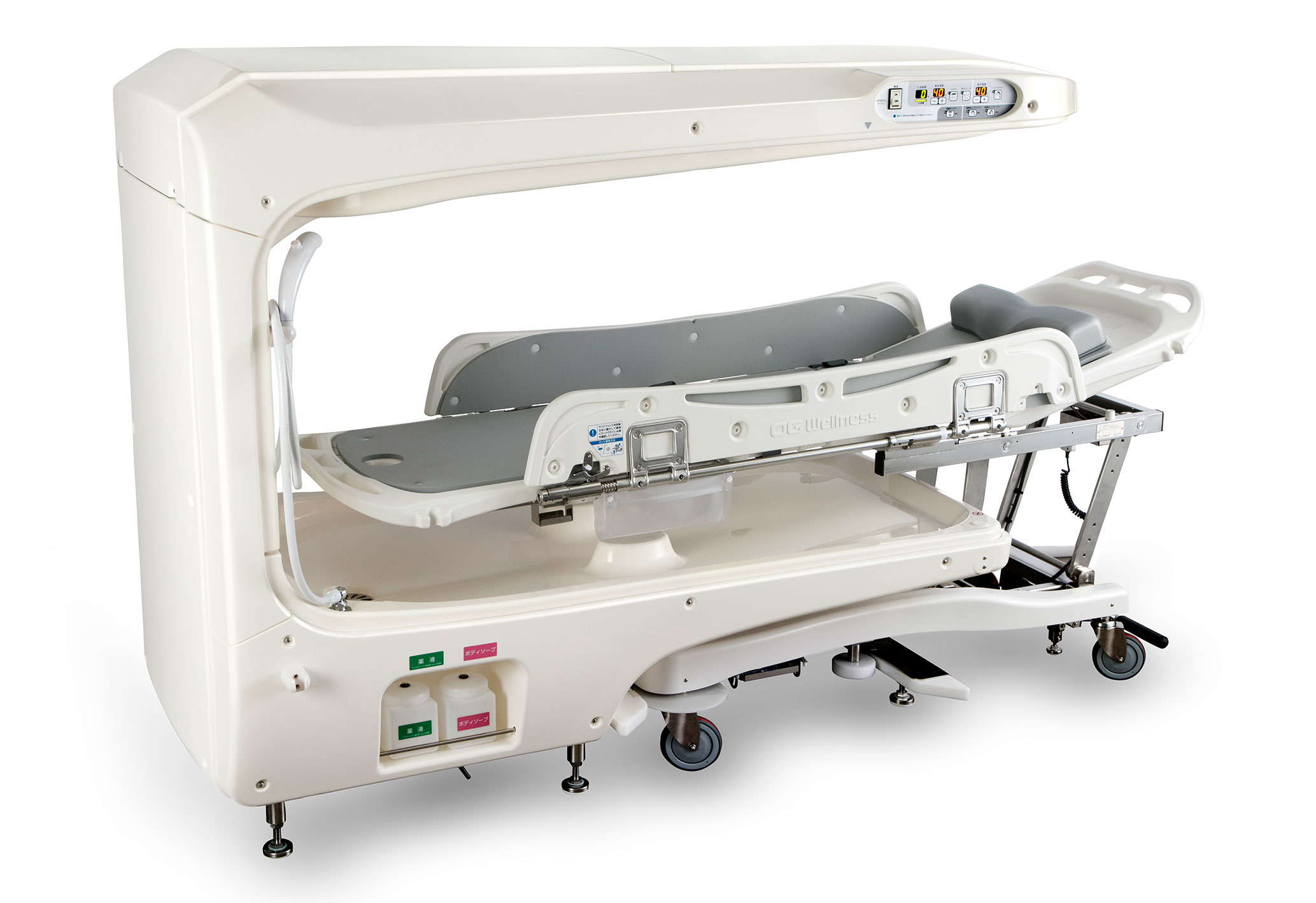 Cutting-edge Care Systems!
creating "a society where people remain active throughout their whole lives"
OG Wellness (OG Wellness Technologies Co. Ltd., Headquarters: Okayama, Japan, President & Representative Director: Mr. Hiroshi Okuda) will be exhibiting at MEDICA 2017, the world's largest medical industry trade fair, to be held from November 13-16, 2017 in Dusseldorf, Germany. OG Wellness will be exhibiting a prototype of its newly developed shower bath (Sereno).
Japanese society has been aging rapidly in recent years and the elderly are projected to comprise 33% of Japan's population by 2035.  In many countries throughout the world, population ageing is on the rise and expected to become a society-wide problem. In such an environment, rehabilitation aimed at independent living is becoming increasingly important.
Founded for medical device development, OG Wellness has since expanded into the rehab equipment and assisted-bathing system fields.  Within the medical device field, in an effort to create a society in which people remain active throughout their whole lives, OG Wellness successfully developed Japan's first "automatic intermittent traction machine" to treat patients suffering from back pain or whiplash.  In the assisted-bathing system field, OG Wellness was the first company in Japan to successfully develop a "wheelchair-accessible assisted-bathing system", which is used in many care facilities throughout Japan to allow wheelchair users to bathe in a seated position.  Additionally, OG Wellness received the "2017 Chugoku Region The Prize of the Commissioner of Small and Medium Enterprise Agency" in recognition of its separating side guard technology used in assisted-bathing stretchers for fall prevention. At MEDICA 2017 OG Wellness will introduce a wide range of products from all these fields, each infused with the concept of "Wellness and Beyond."
<Medical Field: Occupational Therapy Equipment / Physiotherapy Equipment>
OG Wellness' exhibit will feature a broad product lineup including traction therapy, electrical stimulation, thermotherapy, ultrasound therapy and hydromassage equipment. IVES, a low-frequency electric stimulator equipped with first-of-its-kind technology, has earned an excellent reputation among doctors and therapists in Japan through its use as a tool to enhance the effectiveness of rehabilitation programs for stroke patients.
<Long-term care field: Assisted-bathing systems>
This will be the first international exhibit of Sereno, a new product whose development was inspired by end-user feedback. Sereno is an open-sided shower bath designed for comfort, usability, safety and ease of transfer.  Designed to allow larger people and bedridden people to shower in a comfortable position, Sereno can be used with confidence by customers around the world.
■OG Wellness exhibit overview
Booth location:  Hall 5, Booth G38
Products to be exhibited:  10 products including physiotherapy, rehabilitation and assisted-bathing systems
Corporate website:  https://www.og-wellness.com/
*Japanese-, English- and Chinese-speaking staff will be available in our booth to assist with media coverage.
<MEDICA2017>
Date & Time:  Monday, November 13th – Thursday, November 16th, 10 a.m. - 6 p.m.
Location:  Messe Dusseldorf, Dusseldorf, Germany, Hall 5 Booth G38
Website:  https://www.medica-tradefair.com/
***
For inquiries about this press release or exhibition coverage, please contact:
OG Wellness Technologies Co., Ltd.
Public Relations Representative: Mr. Kouki Hirata
TEL : 086-277-7181 (Japanese) / 080-1647-4986 (English)
E-mail : public_relations@og-giken.co.jp