Magazine Articles of the Month: The future of Japanese politics and foreign policies
post date : 2020.09.24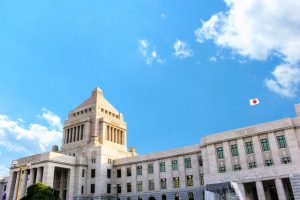 With the resignation of Prime Minister Shinzo Abe, the National Diet of Japan selected Yoshihide Suga as the new prime minister on September 16.

The October issues of Japan's major monthly magazines were released in the period between Abe's announcement of his resignation and the selection of the new prime minister, and all of them covered the main issues the new administration would face domestically and abroad, as well as what credentials were required in the new leader. With Suga rapidly receiving a majority of the support within the Liberal Democratic Party, the media predicted that as the new prime minister he would follow in Abe's steps, as he had supported the Abe administration over the past eight years as chief cabinet secretary. Suga himself also publicly commented that he would in general pursue the same goals as the Abe government.

Toshimitsu Motegi, who stayed on as minister of foreign affairs, stated that he wanted to further pursue policies by Abe to "take back Japan and move Japan forward," while Taro Kono, who switched positions from minister of defense to minister in charge of administrative reform, projected his vision for his own future in discussing the ideal leader for Japan moving forward. University of Tokyo Professor Emeritus Takashi Mikuriya commented that it was unclear what the Abe administration wanted to do with Japan, and warned that if the next prime minister did not present a grand design, the public would not support them.

■ Bungeishunju, October
Emergency Feature: The Shock of Abe's Resignation
"My administration framework pursuing the qualifications of the post-Abe prime minister"
Yoshihide Suga, Chief Cabinet Secretary


Suga, having grown up on a strawberry farm in Akita, feels strongly about the importance of regional Japan, and so would like to make "regional revitalization" a priority. He suggested agricultural reform and tourism as the two pillars of this strategy, and for tourism in particular stated his desire once again to increase the number of foreign tourists, which in the current COVID-19 pandemic will be extremely difficult, to create vibrant regional economies.
 
Suga's slogan is "self-help, mutual help, and public assistance," which he personally explained as meaning, "First, you do whatever you can by yourself. Then, regions and local governments help each other. Afterwards, the national government will always take responsibility to deal with a situation. I would like to create a country in which the population trusts the national government in that way."


Suga, while understanding there are those who have commented diplomacy and security are areas of weakness for him, stated that he has seen real diplomacy in action multiple times, and in particular was keenly aware of the importance of the Japan-US alliance. He stressed that it was important to keep promises with the US to further strengthen that alliance, as the US is also a major factor in relations with South Korea. Regarding China, while the dispute surrounding the Senkaku Islands is serious, he noted that Japan also has strong economic ties with China, and stated that it was vital to take an optimistic approach to each issue in order to reach a resolution, while still being assertive in important claims. Suga commented that when it comes to diplomacy, he wanted to stress the importance of "looking at the big picture" and crisis management, being prepared for unlikely scenarios as well, and displayed confidence by suggesting that those skills could be applied to deal with a variety of situations.


Suga stated that although Japan is faced with a number of issues, such as a declining birthrate, aging population, and population decrease, in order to solve those issues it was necessary for politics to indicate a clear direction and seek out help from the public, while politicians themselves also demonstrate proper accountability to the public, and declared that he was not a part of any scandals. He proclaimed his intention to maintain the direction of the Abe government in general, while prioritizing doing whatever necessary to respond to the pandemic, protect employment, and prevent corporate bankruptcies.


■ Bungeishunju, October
"This is how I will respond to Chinese intrusions into Japan's territorial waters and South Korea's violations of international law. I will protect Japan."
Toshimitsu Motegi, Minister for Foreign Affairs


Motegi praised Abe for major successes in a number of fields during his seven years and eight months as prime minister, such as the recovery of the Japanese economy and employment creation through Abenomics, making education free, strengthening the Japan-US alliance, and "foreign policy that takes a panoramic perspective of the world map," and stated that Japan's presence in the international community had grown significantly in this time.


Approximately one year has passed since Motegi became minister for foreign affairs (he remains in this position in the Suga Cabinet), and he stated that during this time Japan-South Korea relations were in a difficult situation, warning that the judgement of the South Korean Supreme Court on the case of former civilian workers from the Korean Peninsula was a clear violation of international law, and that if the seized assets were liquidized it would inevitably lead to a serious situation, with Japan examining all possible options and taking resolute actions in response. Regarding the export control issue, Motegi stated that a World Trade Organization dispute resolution panel had been established at the request of South Korea, and that Japan would respond appropriately according to the procedures of WTO agreements. He noted that in early November, the WTO would be electing a new director-general, and that in principle Japan should also be sending personnel to similar international organizations, so it was extremely important in the medium- to long-term to develop human resources to be able to fill these posts.


He gave his opinion that the Japan-US alliance is the linchpin of Japanese diplomacy and security, and that a strong alliance played a major role in the stability not only of Japan and the US, but of the Indo-Pacific region. He argued that it was important for the entirety of the Indo-Pacific region to share internationally established values and rules such as freedom of navigation and the rule of law, and that it was extremely regrettably that Chinese government vessels were repeatedly intruding on Japanese territorial waters around the Senkaku Islands. He stated that without stability in the East China Sea, there could be no real improvement in Japan-China relations, and proclaimed, "With a firm determination to continue to protect Japan's territory, waters, and airspace, I will respond calmly and resolutely."


On the topic of Japan-Russia relations, he explained that it was important to always make preparations to rapidly advance negotiations if the chance came up. For Japan-North Korea relations, he indicated his intent to support the process that the leaders of the US and North Korea had agreed upon, while working towards North Korea's denuclearization and with a strong desire to solve the abduction issue.


Motegi explained his opinion that in the post-corona age, Japan should carry out "diplomacy with a sense of caring and robustness." He stated that with a sense of caring and robustness which "did not force specific values, Western values, but respected the history and diversity of culture in each country while supporting the democratization of that country," he would like Japan to take the initiative in creating rules within the international community.


■ Voice, October
Special Feature: Thinking of the Next Generation of Politics
"Becoming a country that says what should be said to the world"
Taro Kono, Minister of Defense


Kono stated that a leader in times of rapid change needed "the ability to determine Japan's proper position in a world where various values and interests are in conflict with each other, declare the path the country will take, and make that into reality through continued discussions with the idiosyncratic leaders of other countries," noting in particular the need for constant preparation to manage crises such as the COVID-19 pandemic and natural disasters due to climate change, and the capability to overcome these crises when they occur.


Commenting on the issue of the democratization of Myanmar, Kono stated that while democracy, the rule of law, and respect for human rights should be common values throughout the world, the path to reaching that point was different depending on the country and people. He argued that instead of forcing those values on other countries as an absolute principle like the West, Japan's role was to respect the history and origin of each country and move closer to them to convince them to take even a single step forward.


Kono stated that instead of diplomacy with military force at its back, Japan has provided support to other countries by sharing their perspective, with companies, Japan Overseas Cooperation Volunteers, and NGOs involved as well as the national government, and that Japan could be proud of its path which other countries could learn from, investing in education and the development of science and technology.


Stating that the world would become divided between democratic states and authoritarian states, free societies and surveillance societies, capitalism and state capitalism, networks with freely flowing information and networks managed by governments, and a US dollar financial system and a renminbi financial system, Kono stressed that together with the West, Australia, New Zealand, and others Japan should take a leadership position to protect an international order based on fundamental values, while also listening to the views of other Asian and African countries and acting as a bridge between them and the West.


■ Chuokoron, October
"The successes and sins of Japan's longest administration ever"
Takashi Mikuriya, Professor Emeritus, University of Tokyo


Mikuriya gave his opinion that Abe, as the longest-serving prime minister in the history of Japan's constitutional government, was almost completely unsuccessful in his stated goal of constitutional reform, but did make the public feel like politics can affect the economy. When it comes to diplomacy, in addition to the abductions by North Korea and the Northern Territories issues, Abe became involved in US-China relations, India, and the Middle East. However, these economic policies and diplomatic attempts were all just "to give the appearance of doing something," and Mikuriya sarcastically suggested that Abe could be praised on this point, as it was impressive this type of politics could continue for almost eight years. He severely noted that the two successes of Abe's honeymoon relationship with US President Trump and the abdication of Emperor Akihito were "passive 'successes.'"


As for the sins of the Abe administration, he noted how in response to scandals such as the Moritomo and Kake scandals, Abe forcefully held on until election without providing sufficient explanation, and then swept them under the rug by winning the election. Mikuriya also noted how during the COVID-19 pandemic, Abe paid no attention to voices from regional local governments, leading to the response constantly being one step behind.


He concluded, "In the end, it is unclear what Prime Minister Abe wanted to do with Japan in these nearly eight years. If the next prime minister does not present a grand design, which Prime Minister Abe never managed to the very end, the public is unlikely to support them."



*This page was created independently by Foreign Press Center Japan, and does not reflect the opinion of the Japanese government or any other organization.