Magazine Articles of the Month: The Corona Crisis and the New Normal
post date : 2020.07.28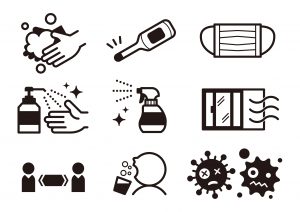 Although quite some time has passed since the state of emergency declaration for COVID-19 in Japan was lifted, the spread of infection shows no sign of slowing down. The focus of discussions has shifted from what the "after corona" world will be like once the pandemic ends, to discussions of the new normal while coexisting "with corona." Topics include what kind of business leaders are necessary, whether industrial transformation will occur, whether values will change, whether working styles and social systems will change, and whether the tourism industry can survive with the number of inbound tourists having dropped close to zero.
The August issues of major Japanese magazines ran multiple articles about the challenges of this new normal, with many suggestions of the necessity of innovative new approaches different from what was previously considered common sense. The Nikkei also reported on how significant changes have been occurring in the labor market.
■Voice, August    Special Feature: Qualifications of a Leader in the New Normal
"Business leaders who cannot disrupt Showa values, go away"
Kazuhiko Toyama, Managing Partner and CEO, Industrial Growth Platform, Inc.
Toyama noted that as massive changes have been brought about by the COVID-19 pandemic, while disruptive innovation was already occurring, we have entered an age in which strong business leaders are required, who have the fortitude to respond to drastic changes. With markets and values undergoing upheaval during this pandemic, he stressed that business leaders must take responsibility for making rapid decisions in a top-down style, and have the strength to carry through with those decisions even if workers and stakeholders are against them. In this world of the new normal, there is no telling when a crisis will occur, and the next one might cause even greater damage. He proposed that for organizations to be able to select a leader that can handle a crisis, it is necessary for them to drastically alter their system of selection, and this pandemic should be taken as an opportunity for corporate transformation, and used to build a new framework able to survive this new age.
Toyama further declared that the type of leader required now was one that could disrupt the Showa (1926–1989) value of "protecting companies to protect employment" which has continued in Japan since the post-WWII economic miracle, warning that by putting money into businesses to prevent them from going bankrupt so they can continue employing staff would lead to "zombie companies dragging each other down, worsening employment conditions, and end up with nothing but major layoffs." He noted that in the West, companies were being allowed to go bankrupt and large numbers of unemployed were being created, but individuals were being provided with significant compensation, and by having companies with low productivity collapse society was undergoing a renewal, with new productive companies being created aiming for business opportunities after the pandemic.
■Nikkei, July 19    
"COVID-19: New normal, 'Do that work with AI.' Routine work job listings down by 30%"
This article mentioned that as there is no end in sight to the COVID-19 pandemic, there has been a growing move to automate work using artificial intelligence and robotic process automation, and argued that there was a need to prepare for this new normal by improving education for workers and shifting people away from jobs which will be automated.
Office work and manufacturing, which have significant amounts of routine work, are simple to automate, and job listings in both areas declined by over 30% in May and June this year compared to the same period last year. AI is being used more in call centers, where operations are being carried out with fewer people in order to prevent the spread of infection, as well as digitalizing craftmanship at factories that used to rely on veteran artisans, in order to implement social distancing, as companies invest into information technology for automation and improved efficiency.
Japan's COVID-19 response has focused on maintaining employment, such as with salary subsidies, but the paper argued that the main economic strategy Japan should be engaging in is training the people which society will require after the pandemic has passed.
■Bungeishunju, August    Business Leader Interview Series: Don't Stop Consumption
"Shiseido: Pursuing the beauty of a new normal"
Masahiko Uotani, Representative Director, President and CEO, Shiseido Company, Limited


Uotani noted that as people have been shifting to a new lifestyle after the state of emergency declaration, their values for beauty have been changing as well. In addition to the traditional emphasis Japanese beauty placed on skin, with the pandemic there has also been a greater focus on health and immunity, and "healthy beauty" has been growing more popular. He explained that moving forward, he would like to find services and businesses that combine beauty and health, with "total beauty" as a keyword.
Stating the necessity of making strategies and tactics while always assuming the worst, Uotani mentioned that he was assuming the corona crisis would last for two or three years, and that a variety of knowledge was necessary to run a business during the COVID-19 pandemic, commenting, "Experience is not necessarily going to be valuable, and age, gender, and nationality are also all losing their importance."
Shiseido is proceeding with working-style reform, including working from home, on an even larger scale, with the goal of enabling diverse working styles that can flexibly combine both working from home and working from the office. Company meetings are already held as web meetings as a rule, and as meetings can be held more casually and without psychological distance due to seating arrangements, Uotani hopes younger employees will be able to state their original, flexible opinions more freely and help discover new business possibilities.
■Chuokoron, August    Feature: The Fiction and Reality of Governors
"Performance is unnecessary for pandemic measures"
Shinji Hirai, Governor, Tottori Prefecture
Hirai stated that this pandemic has led the people of Japan to once again recognize the drawbacks of overcrowding and excess concentration, and that the time has come to once again consider a multipolar and dispersed national framework along new dimensions allowing for different working styles and social systems, arguing that qualitative changes to regional revitalization and its necessity are being increasingly focused on.
The governor commented that there was first a significant increase in people moving to places other than Tokyo after the 2011 Great East Japan earthquake, when people recognized the advantages of other regions for raising children, health, and living a meaningful life, noting, "I believe COVID-19 will be a turning point at which the younger generations in particular will seriously reconsider hyperconcentration in Tokyo. There is a possibility of a second paradigm shift occurring."
Hirai argued that to encourage people to move to places other than Tokyo, instead of building infrastructure to draw people in, it was necessary to provide new working styles, types of jobs, and social frameworks. For instance, he suggested that it was possible that instead of completely relocating, more attention would be paid to the concept of "workcations," combining vacations with remote work. He also stated that serious discussion would be necessary about the possibility of starting the school year in September, and that it was not an issue that could be ignored in order to educate students who can compete globally.



■Bungeishunju, August    Business Leader Interview Series: Don't Stop Consumption
"Hoshino Resorts: The key to survival is 'inexpensive, nearby, and short'"
Yoshiharu Hoshino, CEO, Hoshino Resorts


Hoshino stated he was certain that if the tourism industry could survive this pandemic, it would help staff to grow, and lead to strong confidence in the future. He noted that although inbound demand, which had grown significantly over the past several years, has declined to almost zero due to the corona crisis, inbound tourism accounts for less than 20% of Japan's tourism market as a whole, and the other approximately 80% consists of domestic travel by residents of Japan. He also noted that if the possibility was considered of the money normally spent on overseas trips instead being spent in Japan, the lack of inbound tourism was not necessarily a lethal blow to the Japanese tourism industry, and that if demand for domestic travel can be returned to normal levels, the tourism industry was definitely large enough to be able to survive.
Hoshino created an 18-month plan for restoring demand for domestic travel, until the corona crisis is over. First, tourists can return to "micro-tourism" in their local area and nearby, followed by trips from major cities using the Shinkansen and airplanes, and then finally the recovery of inbound tourism. He argued that for now the focus should be on creating demand for micro-tourism, and stated that if this increased demand led to tourists, especially young tourists, becoming repeat clients or staying multiple nights at destinations, it may be possible to maintain the domestic travel market.
He stated that an ideal market split for the future would be one third micro-tourism, one third travel from major cities, and one third inbound tourism. He also noted that with the COVID-19 pandemic, accelerating this change was necessary, and stated his intent to take the lead in promoting this new, traditional form of travel.


*This page was created independently by Foreign Press Center Japan, and does not reflect the opinion of the Japanese government or any other organization.