Mr. Vu Duc Cuong, Head of Viet Nam Television Representative Office in Japan (Viet Nam)
post date : 2014.02.21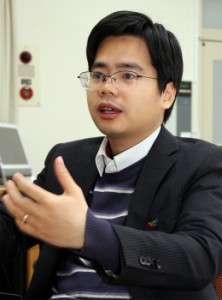 Vietnam Television (VTV) opened its representative office in Tokyo in April 2013. "There are many direct investments from Japanese firms to Vietnam. I want to understand both firms and economy accurately and to report about it for Vietnam" says Mr. Vu Duc Cuong, Head of Viet Nam Television Representative Office in Japan. Interviewed him on his impression of Japan and his news gathering activity here. 
~Reporting on Japan not yet known by the people in Vietnam~
― Why did the VTV open a representative office in Tokyo?
VTV used to depend on news agencies such as Reuter and AP for reporting foreign news, which limited us to just broadcasting the foreign point of view. A few years ago, VTV made a policy of strengthening the news department and reporting the foreign news through the eyes of Vietnamese. This policy resulted in the opening of the representative office in Tokyo, Beijing and Singapore. Now, VTV has in total 9 representative offices outside of Vietnam. 
― What difficulty have you experienced in opening the representative office in Tokyo? 
Since I studied at university in Japan for seven years, I applied for this post when I knew there would be a representative office in Tokyo. Before the opening, I went through a training program at NHK (Japan Broadcasting Corporation) for about four months to understand the reporting and program making process in Japan. The toughest part for me was to arrange everything within one month, from finding the property, opening the bank account and organizing the opening party.
After the opening, it took me about a month to function as a bureau. At the beginning, I did not have any idea how to start contacting people or where I should go for coverage. Gradually, I was able to make reports by getting advice from Japanese journalists, and using image source supplied by NHK. I never thought of quitting this job even though it was really exhausting. To report more smoothly, I am aiming to broaden my network and build mutual trust with potential interviewees so I can even achieve interviews at short notice. 
― Did you get any strong impression from your recent coverage?
Last October, I covered a story of the AEON retail group in Chiba City, Chiba Prefecture, about their practice of reducing electricity consumption; this January they have opened a shopping mall at Hochiminh, Vietnam. I visited them because I wanted to make a report on how Japan deals with shortage of power supply. In Vietnam, we sometimes suffer from electric power shortage and experience blackouts during summer time. It was surprising to hear about their practice of turning off the office lights at 5pm and 6pm. If workers have to stay longer than that, they need to turn on the lights themselves for their individual work space. From this visit, I felt that Japanese workers have a strong sense of responsibility towards their job and company. I made a two-and-a-half -minute report out of this visit and it was broadcast repeatedly, about ten times.
― What kind of news from Japan are Vietnamese viewers interested in?
The news related to Japanese economy is one area that gathers Vietnamese viewers' attention. I want to report accurately about Japanese firms to contribute to enhancing the relationship between Vietnam and Japanese firms investing in Vietnam. The other is the situation in East Asia. It is an important region for Vietnam but at the same time it is faced with uncertain elements. VTV covers both Tokyo and Beijing to have a better understanding about the situation in this region. Our viewers also have interest in Japanese culture. We were impressed to see that Japan managed to maintain order in the aftermath of the Great East Japan Earthquake even in the devastated area. I want to report such special aspects of Japanese society and education.
-When do you feel satisfaction as a journalist?
My job is to report on a Japan not yet known by the viewers. By reporting something new and special, I believe it will be to their benefit. I feel satisfied when I made a good report even though I have to sacrifice my private time when incidents happen.
~Aiming to build mutual trust with potential interviewees and to broaden my network~
― How's life in Japan?
The Vietnamese stereotype of the Japanese is of a people who follow the rules. Living in Japan, I came to realize this is absolutely right. Also, Japanese people attach a high value to work, and moreover they tend to work too much. Japanese seem to look cold but after building mutual trust they can be supportive. What I like about Japan is that it is very easy to live here; transportation infrastructure is well developed in both urban and rural areas, there is a good standard of services and people are kind. If I may complain, one thing is the high commodity prices. The other is about the shortage of child daycare centers. I have children two years and one year old and I want to use a child daycare center, but we are still on the childcare waiting list. Childcare would be the area in which Japanese government could put more effort.
― What do you seek from FPCJ?
For the journalist coming to Japan as a correspondent, I would recommend applying for the Foreign Press Registration Card through the FPCJ at first. By doing so, you can receive useful information for reporting on Japan such as receiving notices of press briefings. Another important thing is networking. Press tours are a good opportunity to get to know other foreign correspondents in Japan as well as for reporting; I found that out when I attended the Press Tour, "Ama" Woman Divers Aim at Catching UNESCO's Intangible Cultural Heritage.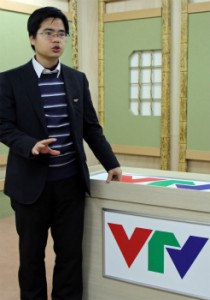 Mr. Vu Duc Cuong, Head of Viet Nam Television Representative Office in Japan
Born in Thanh Hoa Province, Vietnam, March 1983. Came to Japan June 2001. Studied Japanese at Intensive Japanese Language Program for Overseas Students; B.A. (International Studies) and M.A. (graduate school of International Cooperation Studies) at Takushoku University. Started working for VTV from July 2008, after working in a real estate agency. At VTV, started in foreign news section; in his current position from April 2013.
 Photo: Representative Office in Japan has a studio designed with a taste of Japanese house. 
The VTV is a national television broadcaster established in 1970. It has the following seven channels: news, educational, entertainment & culture, for the Vietnamese overseas, for the ethnic minority communities, youth program and for the south region. The most popular program is the news program starting from 7 pm on the news channel. On every Tuesday evening stating from 10:15, the 15 minutes report made by foreign bureaus is broadcasted. At present, the VTV has the following 9 bureaus: New York and Washington D.C. of the U.S, Russia, Belgium, Laos, Cambodia, China, Japan and Singapore. Representative Office in Japan has three journalists includes Mr. Vu Duc Cuong.