Date : February 29 - March 1, 2012
Notice: One Year after the Earthquake, Press Tour to Miyagi Coastal Areas (Feb. 29-Mar. 1, 2012)
post date : 2013.08.22
Toward Recovery of People's Life and Community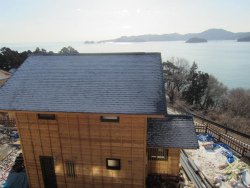 It is almost one year after the 3.11 great earthquake. Areas on the Pacific coast, which have been devastated by the tsunami, still show scars of the disaster. While many people in the affected areas still have an inconvenient life in temporary housing and other places, there are some signs of rehabilitation of livelihood and the community. The press tour will visit the coastal areas of Miyagi Prefecture one year after the earthquake, and cover the current state of the restoration of people's lives, local communities, and natural environment, and also the issues that remain to be solved.
Presentations
1. Restoration of Seashore Forest for Local Restoration and Livelihood Assistance for Affected Farmers
Go to OISCA website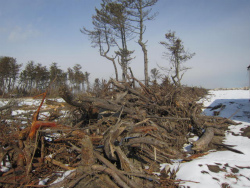 The gigantic tsunami triggered by the Great East Japan Earthquake uprooted and washed away coastal forests along the Pacific Ocean. Of the coastal forests extending a total 230 km north of Chiba Prefecture, 70% extending 160 km were washed away. About 3,660 hectares of coastal forests were damaged by the tsunami, and about half of these, or 1,753 hectares, were in Miyagi Prefecture, which was most seriously affected by the tsunami. Seashore forests in and around the Sendai plains, which have been put in place for about 400 years since the era of feudal lord Date Masamune, have changed barren land into fertile farmland and protected citizens' lives from blown sand, salt damage, strong winds and high tides. It has been confirmed that coastal forests have a function of mitigating the speed of tsunami, thereby reducing its damage. It has been reported that in the areas forested on mounds over the seashore sand, deeply rooted forests absorbed the tsunami waves and slowed their arrival in residential and other areas. In some cases, however, the torrent of uprooted trees destroyed houses.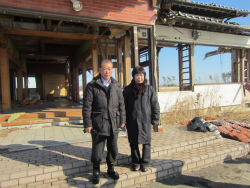 Toward the restoration of the coastal forests, which requires a long time, a 10-year project has just begun, centering on OISCA, an NGO for international cooperation. Along the coastal areas of Natori City, Miyagi Prefecture, OISCA is planning to raise 500,000 seedlings of black pine trees on about 100 hectares of land, accepting donations from inside and outside Japan. Toward the end of March this year, test raising will start on farmland OISCA obtained in the city. OISCA is planning to set up a system in which local farmers, affected by the tsunami, will gain income by raising seedlings, thus assisting their livelihood. In concert with such a move, Miyagi Prefecture and the Forestry Agency have decided to build mounds so that the black pine trees, when planted, will be rooted deeper. Part of the work is expected to start in FY2012.
The tour, guided by OICSA officers, will visit the Kitakama district of Natori City to see dramatic scenes of trees uprooted by the tsunami. It will also visit the farmland for raising seedlings to cover the preparations. Local affected farmers who are preparing to raise the seedlings will talk about how they feel about the restoration of the coastal forests and their livelihood and what they have to do in the future.
2. "Rebuilding a Beautiful Vernacular Village in Tohoku" Project --- Quick Building of Permanent Houses for Rehabilitation from Disaster (Ishinomaki City)
Go to Kogakuin University website
Go to Watch Japan Now article on Permanent Houses Reconstruction Project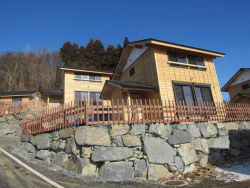 As a result of the 3.11 disaster, as many as 340,000 people lost their houses and became refugees. Many of them are being forced to live in makeshift housing, but within a few years, they have to move again to permanent houses to rebuild their livelihood in full scale. Meanwhile, permanent, not temporary, houses for rehabilitation have been completed in a tiny town in the outskirts of Ishinomaki City within a year after the disaster and are getting people's attention. 
This attempt, called the "K-engine Project," was set up in April 2011, only one month after the 3.11 disaster, by Kogakuin University, whose main player is Professor Osamu Goto, Dr. Engineering/Architect, of the School of Architecture, in cooperation with Ishinomaki's group of companies including Kumagai Master Thatchers Co. Ltd. (CEO: Mr. Akio Kumagai). Relying not on government assistance but on donations from the private sector, the project is an attempt in which local builders will construct beautiful permanent wooden houses cheaply and quickly by using traditional house-building techniques and domestic, mainly local, lumber, thus rebuilding a "beautiful village in Tohoku" rich in local characteristics. For the construction site, the university obtained a hill 40 meters above sea level commanding a vast view of the Pacific Ocean, and construction started in June 2011 as one of Kokugakuin University's 125th anniversary projects. In November, eight months after the disaster, four buildings were completed, and a moving-in ceremony was held. By the end of February 2012, all of the 11 buildings, including a community center, will be completed. A newly established NPO will manage and maintain the village.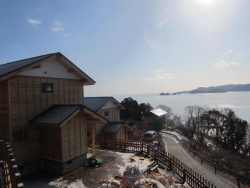 The project sponsors' wish to let people know that there is an alternative to temporary housing spread so widely that there are demands for such permanent houses in other disaster-hit areas, and a local municipality in faraway Gifu Prefecture even sent a survey team to study measures against disaster.
The tour will visit newly completed buildings, and in the community center, Professor Goto and Mr. Kumagai will brief the participants on what they feel about the permanent houses and what are the characteristics of their construction techniques. The participants will also interview people who have just begun to live in them about the present situation and future challenges of their lives after the disaster.
3. Bring smiles and income to Tohoku women!: The EAST LOOP project connects the disaster-hit area and the world with small hand-crafted accessories (Ishinomaki City)
Go to EAST LOOP website (Japanese)
Go to Watch Japan Now article on EAST LOOP
The EAST LOOP project, that started from a wish, "I want to cheer up people in the disaster-hit areas, by creating handcraft work that can be done in temporary houses or elsewhere at one's own leisurely pace," is about to connect the disaster-hit areas with other places in Japan and the world.
This project involves 120 women in Rikuzentakata City, Kamaishi City and Otsuchi Town in Iwate Prefecture, and Higashimatsushima City and Ishinomaki City in Miyagi Prefecture, which were immensely damaged by the 3.11 tsunami. It is an attempt to enable these women to knit at home colorful accessories such as heart brooches and sell them in Japan and around the world. About 50% of the tagged prices go to the producers. Accessories are available in department stores in Japan, and the sales revenues of about 10,000 accessories sold up to November 2011 amounted to 11 million yen.
The project leader is Ms. Tamae Takatsu, who has been running the fair-trade company "Fukuichi" in Osaka since 2006. When it comes to fair-trade, people often pay attention to the cash income aspect in developing countries, but whenever Ms. Takatsu visited these areas, she keenly felt that "work" was giving the workers energy to go on living. In this project, disaster-afflicted people can not only get cash income through their work but also get cheered up as their connection with society makes them realize the value of their existence. It is also said that the act of knitting is useful for mental stability, providing psychological care. Ms. Takatsu says the project is helping form a community in temporary housing where strangers live side by side.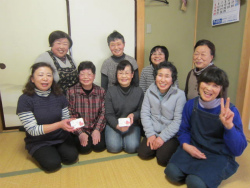 In Miyagi Prefecture, which this tour is visiting, one group is working in Ishinomaki City and another in Higashimatsushima City. In Ishinomaki City, about 20 women in makeshift housing are taking part in the project with the help of an NPO coordinator, the Ishinomaki Revival Support Network. In Higashimatsushima City, 16 women, mainly a group of mothers who want to vitalize their locality, including some who live in temporary houses, are taking part in the project. The tour will visit a large-scale temporary housing complex in Ishinomaki City and be briefed by Ms. Takatsu and locally coordinating NPO members. The tour participants will interview the women about how they want to rebuild their livelihood, and will watch them knitting.
4. Oiwake Onsen, a lodging on the pass, which provided support for the afflicted people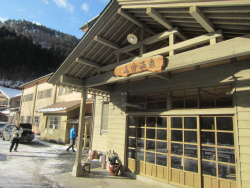 The 3.11 great tsunami ran up the Kitakami River in Ishinomaki City to the 50 km point from the mouth of the river, and swallowed one village after another on its banks. Just a ten-minute drive from the river to the mountain, you will find Oiwake Onsen, the only inn on the pass. The inn was established in 1948 and the owner Mr. Soichi Yokoyama is the third generation. It is a simple wooden inn that looks like an old school building. On March 11, the inn was full but all the reservations were cancelled. Instead they accepted local evacuees from that night. Fortunately there was almost no damage to the building, and until the electricity was restored they used more than 10 oil stoves and many old lamps that had been formerly used in the inn. They suspended their business until mid-October to "devote themselves to being a safe shelter for the local people." At the peak time, about 80 tsunami victims sheltered in the inn. They resumed full operation in November, but currently about 30% of the rooms are provided to those involved in the rehabilitation project.
Fifteen years ago, they renovated the building to make the present wooden inn, designed by Mr. Shuji Shibuya, a local architect. Mr. Shibuya has survived tsunami and now lives in temporary housing. He is also as a musician and his song called "The Hometown that You Loved," written 20 years ago, has drawn public attention, since it exactly tells the situations after the disaster.
The tour will stay at Oiwake Onsen, where you will meet Mr. Yokoyama and Mr. Shibuya and hear their thoughts on the rehabilitation of their hometown, and listen to the song which comes deep into your heart.
Note: At Oiwake Onsen, one room will be shared by two participants in principle. There is no private toilet or bathroom in the room. There is no Internet access. As for mobile phones, you can use only DoCoMo. Please apply for the tour if you can accept the inconvenience, but we can assure you of the good old atmosphere, superb seafood, and warm hospitality.
*Foreign Press Center/Japan, OISCA, and Kogakuin University have co-organized this press tour. Tour participants bear part of the cost, but the purpose of the tour is not profit-making.
Tour Itinerary and Application Details
1. Tour itinerary (tentative):
Day 1: Wednesday, February 29 
07:56 Depart from JR Tokyo Station on the Shinkansen (Hayate 103)
09:37 Arrive at Sendai Station
10:30-15:00  Coastal Forest Restoration Project (OISCA)
17:00  Arrive at Oiwake Onsen
18:30-19:30  Dinner
19:30-20:30  Oiwake Onsen's assistance efforts
Stay overnight in Oiwake Onsen
Day 2: Thursday, March 1
08:30  Leave Oiwake Onsen
09:00-13:00  Permanent houses reconstruction project (Kogakuin University)
14:00-16:20  East Loop Project
19:26 Depart from Sendai Station on the Shinkansen (Hayate 38)
21:08  Arrive at Tokyo Station
2. Qualification: 
Participants must have Gaimusho Foreign Press Registration Cards
3. Cost: 
13,000 per person including transportation, meals, and accommodation
*FPCJ will inform the participants of payment methods, cancellation fee etc. later on.
4. Participants:
Limited to the first 15 applicants on a first-come-first-served basis. (Only one reporter and one photographer from each organization, but two participants from each TV team will be acceptable.) If the number of applicants exceeds 15, an upper limit may be set on the number of participants from each country.
5. FPCJ Contact: 
Mr. Yano (Tel: 03-3501-3405)
6. Remarks: 
1) There may be some restrictions on photographing and filming in the press tour. Please follow the instructions of the officials on duty.
2) FPCJ, OISCA, and Kogakuin University will not be liable for any inconvenience, trouble or accident that might occur in the course of the tour.