A Tiny Community Revives from the Aftermath: Kogakuin University's "Rebuilding a Beautiful Vernacular Village in Tohoku" Project (October 21, 2011)
post date : 2011.10.21
【Watch Japan Now vol.9/FPCJ】
October 21, 2011
A Tiny Community Revives from the Aftermath -- Kogakuin University's "Rebuilding a Beautiful Vernacular Village in Tohoku" Project ~ Let us quickly build houses where the afflicted people can live long and rebuild their lives ~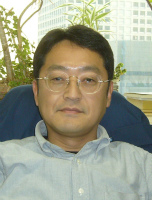 "Will the disaster-afflicted people be able to live happily in 'hilltop eco-towns' and enjoy working at 'extensive integrated fishing ports'?" I doubt it. Real rehabilitation is not depicting an advanced future concept but rebuilding the everyday lives of those who are in predicaments in front of our eyes as soon as possible," says Professor Osamu Goto, Dr.Engineering/Architect,Kogakuin University. He projects to build not "temporary prefabricated houses" but "permanent wooden houses" for the afflicted people to rebuild the ordinary lives they used to lead, intending to reconstruct a pre-3.11 community on the assumption that they can live long in them. Dr. Goto, a former cultural property researcher of the Agency for Cultural Affairs, and an expert of the preservation and repair of Japan's historic buildings, towns and streets, says, "It's been a long time since I last built a new house." His activity is now based on Kitakami Town in Ishinomaki City, Miyagi Prefecture.
Kitakami Town, about 30 minutes by car from the center of Ishinomaki City in the northeastern part of Miyagi Prefecture, is, as its place-name "jusan hama (13 beaches)" indicates, a town of traditional fishery and aquaculture industries with small scenic beaches scattered about. Before the Great East Japan Earthquake on March 11, in the "Shirahama village", on one of the beaches there were 38 households with about 120 people, most of them working in the fisheries cooperative. But the 3.11 disaster destroyed all the houses, killing six people from three households. Fortunately, however, the town's less than 20 ships were saved as they went out to sea immediately after the quake. The town's people, therefore, were able to resume their work rather early, though they lost their houses. 
Mr. Akio Kumagai, an old friend of Dr. Goto who runs Kumagai Master Thatchers Co. Ltd. (KMTCL), is engaged in renovation of national treasures or important cultural heritage and also roof-thatching work in this Shirahama village. Partly because Mr. Kumagai himself was hit by the disaster, he and Dr. Goto decided to rebuild the Shirahama area together. The project to construct "Shirahama Reconstruction Houses" was launched in April this year as part of a fund-raising project in commemoration of Kogakuin University's 125th anniversary, gaining contributions of about 160 million yen from a private donor. Ten houses will be ready to live in around early November. The construction is being done by local carpenters employed by several local builders. Students of the Goto laboratory are also taking part in the project by collecting and washing re-usable lumber and Ogatsu stones, of which natural slates for roofing are made, out of the debris.
[Photos: Ridgepole-raising ceremony on September 15]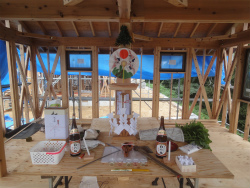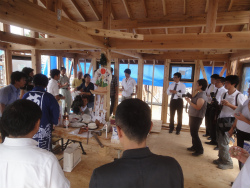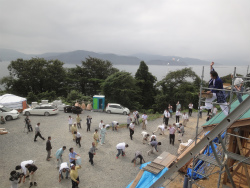 →Video of the ridgepole-raising ceremony (website Tohoku Broadcasting Co., Ltd)
The construction site of the Shirahama Reconstruction Houses is on a 40-meter-tall hill above sea level that escaped the 3.11 tsunami, commanding a vast view of the Pacific Ocean. The site is only five minutes by car from the residents' work place, the beach. As holiday houses were planned to be built on the site of about 5,000 square meters, it is quite easy to introduce a water supply and other infrastructure. Kogakuin University is now renting the site from KMTCL at a low price. There are seven two-story wooden houses --- each with gross floor space of about 66 square meters, and three one-story houses --- 43 square meters, and all of them were built by the traditional house-building method using a central pillar and joists. In some houses dried cedar trees that had been knocked down by the tsunami were reused for the central pillars. There is also an apartment building where aged persons who live alone and disaster orphans can live. Among those who were forced to live separately in relatives' houses after the earthquake, eight households are to move in. Each household is expected to pay an administration cost to a local NPO which manages and maintains the houses in place of the university, 20,000 yen per month for a one-story house and 27,000 yen for a two-story house.
Dr. Goto argues that it makes good sense to build permanent houses in the Sanriku coastal areas where there are scarcely any flatlands. He says, "I propose this idea as a new model for local rebirth as it lessens the conventional labor and costs needed twice, for temporary and permanent homes." He insists that the national or local governments should not adopt a policy of assisting small towns, villages and other settlements in a wholesale manner, but they should build a framework in which private and grassroots-level organizations or individuals can work together and help each local community individually, and then supporting groups of individual communities.
"Shirahama Reconstruction Houses" are based on the belief that they can contribute to preserving and maintaining the help-each-other communities that have long existed in the Tohoku region. These beliefs will surely nurture the very spirit of Japan---local "kizuna (bonds)," "kindness" and "helping one another"---, which were greatly praised by the world right after the 3.11 disaster. With severe winter approaching, the "Shirahama Reconstruction Houses" will soon be completed and a moving-in ceremony will be held on November 23.
[Photos: Completion drawing of the "Shirahama Reconstruction Houses" (left), Construction site as of the end of September (right)】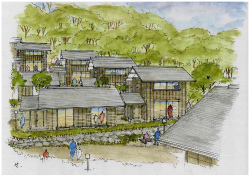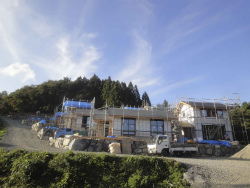 *Photos were provided by Dr. Goto. 
Inquiry
Kogakuin University Tel: 03-3340-1498
Professor Osamu Goto, Dr. Engineering/Architect E-mail: ogoto@cc.kogakuin.ac.jp
Links (Japanese only)
→Details of the "Rebuilding a Beautiful Vernacular Village in Tohoku" Project
(Copyright 2011 Foreign Press Center/Japan)