Bring smiles and income to Tohoku women!: The EAST LOOP project connects the disaster-hit area and the world with small hand-crafted accessories (November 1, 2011)
post date : 2011.11.01
【Watch Japan Now vol.10/FPCJ】
November 1, 2011
"Bring smiles and income to Tohoku women!" - The EAST LOOP project connects the disaster-hit area and the world with small hand-crafted accessories
(Excerpt from the blog of Ms. Tamae Takatsu, the project leader)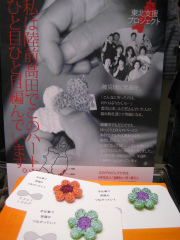 --- "It was really a nice day. Five months have passed since we came up with the idea of "EAST LOOP." Creating small handcraft work in the disaster-hit Tohoku region and connecting it with the world have gotten going little by little. We produce goods, sell them and deliver the profits directly to those who created them. Yes, I, myself, went to deliver the "sympathy" of all purchasers (profits) to those involved in Rikuzentakata City, Otsuchi Town and Kamaishi City.
They smiled, and smiled, and smiled!
Their smiles were a mixture of a sense of not only getting money, but being able to work and being connected with many people; pride in getting an income not from hand-outs but from work; and pride as human beings.
We are, however, only at the starting point. In the disaster-devastated areas people have only just finished moving from evacuation centers to temporary houses. One worker muttered weakly, "People say that temporary housing is beautiful, but we have to leave it after two years. We have received donations but we cannot use them. We are just saving them up." While reporting from the disaster-hit areas is decreasing, people in these areas are still having a tough time. --- 
The EAST LOOP project is intended to create in the disaster-hit Tohoku areas handcraft work (making hand-knitted hearts or flower brooches) that anyone can do and sell them in and outside Japan. Ms. Tamae Takatsu was busily traveling across disaster areas in Iwate and Miyagi prefectures to expand the network of handcraft workers, while sending out information including the still severe situation in these areas through her own blog and Facebook . "It seems that the big City of Sendai is enjoying a "reconstruction bubble", but in remote areas like the tsunami-devastated Pacific coast areas, reconstruction is lagging. It has been rarely reported in the media, but I heard sad stories about the lonely deaths of old people or wives suffering sometimes fatal domestic-violence," Ms. Takatsu candidly points out problems of the disaster areas.
【Photos: Ms. Takatsu with hand-knitted brooches (left), hand-knitted hearts and flower brooches (center and right)】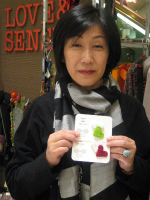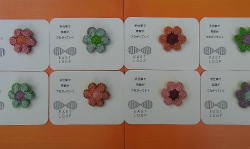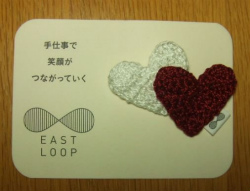 Ms. Takatsu, who runs a fair-trade company, "Fukuichi," sells general merchandise made by women of ethnic minorities or in poor areas of developing counties in Southeast Asia and South America, and returns part of the profits to them to assist their lives. "If you are constantly receiving things from others, you start to question your raison d'etre and suffer from feelings of lethargy and isolation. It is sometimes more important than a cash income to be praised and to feel that you can help someone and that you are needed through working. It gives you energy to continue living," Ms. Takatsu explains her philosophy that she learned through her main business.
In 1995 the Great Hanshin Awaji Earthquake hit Japan, partly destroying Ms. Takatsu's house in Nishinomiya City, Hyogo Prefecture, and killing some of her friends. "For some time, I couldn't bring myself to do anything," she said. This experience urged her to set up this EAST LOOP assistance project. At first she was groping for where to place her work base, what type of network to establish, and what to make. When she visited disaster areas, she found many people with difficulties beyond imagination. "It was very difficult for me, an utter stranger, to integrate into there," she explains the difficulty she had.
Meanwhile an "Incorporated NPO (nonprofit organization) Tono, Village, Mountain and Livelihood Network" has offered help to find and prepare workshops, and tell the disaster victims about them; and from Tono, the handcrafters' network spread to Kamaishi City, Rikuzentakata City and Otsuchi Town. At present, about 60 women living in temporary housing are in the network, crocheting cotton lace thread into brooches with motifs of hearts and flowers. Since this July, about 4,000 brooches have been sold in big department stores in Osaka and Yokohama or via the Internet. One brooch is 800 yen before tax, of which 400 yen goes to the producer. Now the EAST LOOP is preparing to sell new products such as Christmas socks and knitted soft toys from the latter part of November.
The other day, Ms. Takatsu visited a place in Ishinomaki City, Miyagi Prefecture, where there are 1,200 temporary houses. She was worried at first at the scale of the temporary housing. Five women, however, have agreed to produce brooches. A "Mothers' Network" in Higashi Matsushima City also joined the project. In Ishinomaki City, Ms. Takatsu visited Mr. Akio Kumagai, an organizer of the "Shirahama Reconstruction Houses" project in Kitamami Town, which was introduced in the previous Watch Japan Now vol. 9 (A Tiny Community Revives from the Aftermath)introduced. Hearing Dr. Osamu Goto of Kogakuin University, another organizer of the community project, say, "Women who were working at a fisheries cooperative have no jobs," FPCJ introduced Ms. Takatsu to Mr. Kumagai. Recently, a shop in Italy started to deal in EAST LOOP's knitted goods, and a free paper in Canada requested an interview. EAST LOOP, which started in the disaster-hit Tohoku, has begun to spread from the east to the world. 
--- Every time I visit the disaster area, I witness and hear the severe situation of each victim. 
I think we should send out to the world what he or she truly feels. 
Tamae Takatsu ---
【Photos: handcrafters in Kamaishi City (left), handcrafters in Rikuzen Takata City (center), On-site workshop (right)】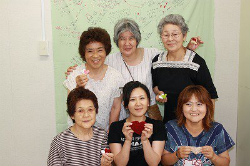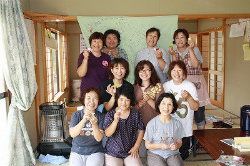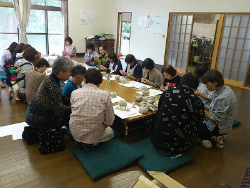 *Photos were provided by Ms. Takatsu.
Inquiry
President Tamae Takatsu
Fukuichi.Co.,Ltd./LOVE&SENSE 
2C, 1-9-21 Awaza, Nishi-ku, Osaka City 550-0011 
TEL:06-6648-8080 FAX:06-6648-8385
http://www.love-sense.jp/
E-mail: info@love-sense.jp 
Links
→Tohoku Support Project EAST LOOP Facebook page
→Blog "Latest Information on Fair Trade by Tamae Takatsu"
(Copyright 2011 Foreign Press Center/Japan)