Date : October 28, 2015
Notice: Press Tour to Chiba, The Natural Resources Producer
post date : 2015.10.09
―Japan's Largest Deposit of Natural Gas Dissolved in Water: Efficiently Utilizing Iodine and Natural Gas in Industry and Daily Life―
Japan is said to be a country poor in natural resources. But it's not when it comes to iodine. Japan is the second largest producer of iodine in the world, following Chili, and accounts for 30% of global production. Approximately 75% of Japan's production is from Chiba Prefecture. It is produced from underground water extracted from Minami Kanto Gas Field, Japan's largest deposit of natural gas dissolved in water, which spreads beneath all of Kanto but is centered in Chiba. In addition to iodine, natural gas is also contained in the groundwater, making Chiba the third largest producer of natural gas in Japan. The natural gas extracted from the groundwater is sent to houses, schools, hospitals and factories. The natural gas produced in the prefecture is used by 1.2 million households, when calculated according to the average consumption of one household: 400m3 per year. This covers 13% of the city gas supply for the prefecture. This is truly chisan chisho (Chiba consumption of Chiba production) of natural gas.
The tour will cover the natural resources produced by Chiba Prefecture, and the industries and local lifestyles which utilize these resources in unique ways.
*This press tour is sponsored by Chiba Prefecture, with planning and project support by the FPCJ.
*This press tour will require participants to bear part of the cost, but is not a profit-making venture.
****************************************************************************
[Tour Details]
1.Production of Iodine and Natural Gas
Godo Shigen Co., Ltd.
Iodine Being Utilized in a Variety of Areas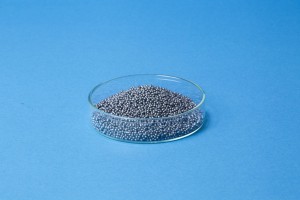 Iodine, of which 75% of Japan's output is from Chiba Prefecture, has many uses: x-ray contrast agent, sanitizer, mouth wash and feed for cattle. Nowadays, the ways to use it are expanding and demand is increasing, as liquid crystal panels cannot be made without polarizers that contain iodine used for controlling what light passes through. Iodine is also a mineral necessary for the human body, and can be obtained from seaweed. It helps to promote growth in children and metabolism for adults. However, there are people from inland countries and areas where seafood is less common who suffer from iodine deficiency disorder. Chiba Prefecture, in corporation with the Japan Iodine Industries Association, UNICEF and other organizations, provided iodine to Mongolia, Cambodia and Sri Lanka, countries which face this issue. This is an international cooperation project using iodine.
Initiatives to Promote Sustainable Development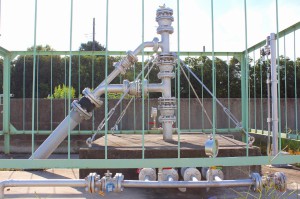 Salt water exists in a geological layer that accumulated in the deep sea from three million years to seven hundred thousand years ago, and it contains both natural gas and iodine in high concentrations. In Chiba Prefecture, this saline water is drawn up from underground to be used. The first industrial production of natural gas was in 1931 by Otaki Natural Gas Co., Ltd., the predecessor of Kanto Natural Gas Development Co., Ltd. The production of natural gas within the prefecture increased, and the amount of saline water pumped reached its peak in 1971. This aggravated the land subsidence in some areas. The prefecture reached an agreement with companies developing natural gas, regulating the amount of saline water that could be extracted and the areas where new wells could be made. Moreover, now those companies return the saline water underground after using it. These initiatives are meant to push for sustainable development in the Minami Kanto Gas Field, with its recoverable reserves of natural gas estimated at 368.5 billion m3, approximately 800 years' worth at the current annual rate of production (450 million m3).
Recycling Iodine to Increase Production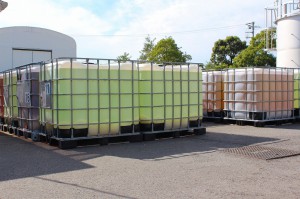 Godo Shigen Co., Ltd. is a company that has been producing iodine and natural gas since 1934. It is the first company to succeed in the industrial production of iodine from underground water in Japan. It produces 2,300 tons per year, suppling 7% of the total global demand for iodine. The company exports 40% of the iodine produced, mainly to Europe, the United States and Asia, where it is used for purposes such as producing x-ray contrast agents. The demand from Asia in particular is increasing along with the growth of health-consciousness there. The company started recycling iodine in the 1960s. They collect waste solutions containing iodine from both domestic and foreign customers, and produce iodine using them. Recycling is an effective way to increase the production of iodine under restrictions on the amount of saline water that can be extracted to avoid subsidence. At Godo Shigen, 30-40% of its production of iodine is made by recycling.
The tour will hear an explanation by Godo Shigen about the current status and future of producing iodine and natural gas, the uses of iodine and recycling iodine. Later, the tour will inspect a facility that produces iodine.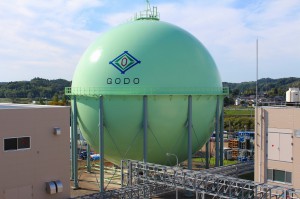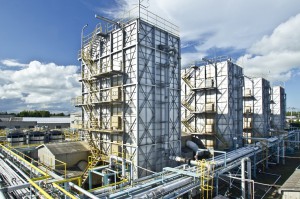 2. Development of Products Using Iodine: An Antibacterial and Antiviral Mask Containing Iodine
Kanto Natural Gas Development Co., Ltd.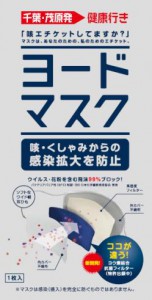 The "Comfortable Office AMYCEL Mask" was jointly developed by three companies: Kanto Natural Gas Development Co., Ltd., Ezaki Glico Co., Ltd. and OmiKenshi Co., Ltd. The mask was developed by adding iodine, which is an effective antibacterial agent, produced by Kanto Natural Gas Development to a nonwoven fabric made of AMYCEL. AMYCEL is a fiber developed by Ezaki Glico and OmiKenshi. The mask can be purchased at Office Glico, unmanned confectionary kiosks located in some offices. The mask is gaining a good reputation for preventing flus and colds. AMYCEL Nonwoven Fabric itself is expected to be used in more ways, making the most of its antibacterial properties.
The tour will hear about the development and the effects of AMYCEL Nonwoven Fabric and the AMYCEL Mask.
3. Utilizing Natural Gas Wells in People's Daily Life
-Mr. Masayoshi Kimizuka, NPO Isumi Lifestyle Laboratory
-Brown's Field (Ms. Deco Nakajima)
NPO Isumi Lifestyle Laboratory and Utilization of Natural Gas Wells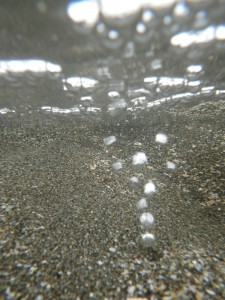 In the Kujukuri area of Chiba Prefecture, you can find a phenomenon called Uwa-Gas (upper gas) where natural gas seeps from the surface. In Isumi City, located in the southeastern area of Chiba Prefecture, there are people who utilize this Uwa-Gas in their daily lives. People collect natural gas that has seeped from underground in containers such as a metal barrel and put a weight on the barrel to control the pressure so that the natural gas can be used for gas appliances at home. Natural gas is also delivered to homes from natural gas wells by using plastic hoses. The hoses are then directly connected to gas stoves, water heaters or room heaters. This whole system is possible since the natural gas extracted from the Minami Kanto Gas Field consists of 99% methane and contains few impurities. According to the Kanto Bureau of Economy, Trade and Industry of the Ministry of Economy, Trade and Industry, if it is not for commercial use, it is not against the law for residents to draw and use natural gas at home. Since the gas is drawn from the homeowner's property, it is free. It is estimated that there are approximately 100 households in the city who have a natural gas well. The history of these wells is old and stretches back to 1891.
Isumi Lifestyle Laboratory is a NPO that has in the past organized a tour to learn about the lifestyle utilizing a natural gas well. This NPO mainly disseminates information about the city to encourage people to move to the city. The main person in charge of the tour was Mr. Masayoshi Kimizuka, an advisor to the NPO. He felt a growing interest in energy after the Great East Japan Earthquake. The tour took advantage of his experience in running a business which fixes home gas appliances.
Brown's Field
Ms. Deco Nakajima, who is a resident and owner of Brown's Field together with her husband, was advised by Mr. Kimizuka regarding the natural gas well on their property. Brown's Field has both accommodations and a café where rice, vegetables and other produce made on site is served. It is located in the rich nature of Isumi City. In Brown's Field, the natural gas is used for stoves and heaters. Around the well, you can hear a loud sound as the natural gas comes up the well vigorously.
The tour will visit Brown's Field, guided by Mr. Kimizuka from NPO Isumi Lifestyle Laboratory, and see the natural gas well. There will be an explanation of the facility and the system of drawing natural gas to residences.
4. Warmed by Natural Gas, A Dark-Colored Bath Containing Iodine Popular Among Hikers
Mr. Okitaro SHIKURA, Footbath Yasuragi*
Footbath Yasuragi, located in the hot spring resort of Yoro Valley, Otaki Town, is making the most of the bounty of the Minami Kanto Gas Field. The owner, Mr. Okitaro Shikura (80) inherited a natural gas well that he was told was drilled back in around 1912 (the first year of the Taisho Era) by a traditional technique of the region called kazusa bori**. He uses the natural gas for heating, bathing and cooking as the main power source for his home and rarely uses purchased gas. Mr. Shikura started Footbath Yasuragi around seven years ago. He converted his method of taking baths at home: he warms dark-colored water called kuroyu that contains iodine drawn from the natural gas well, using a water heater which uses natural gas drawn from the same well as its power source. During autumn, the footbath is popular among tourists after enjoying a stroll in the area to see the fall leaves.
The tour will visit the natural gas well and gas tank that Mr. Shikura inherited at his home. Journalists who wish to experience the footbath are welcome to.
*Yasuragi: means calm and relaxation.
**Kazusa bori: Kazusa is an old name for the central area of Chiba Prefecture. Bori means to drill.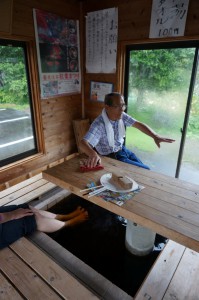 1. Tentative Schedule:
Wednesday, October 28, 2015
08:30-10:00 Chartered bus from the FPCJ to Chosei Village
10:00-11:35 Briefing by Godo Shigen Co., Ltd. and a tour of the iodine-production facility
11:40-12:20 Chartered bus from Godo Shigen to Brown's Field
12:25-13:10 Lunch
13:10-14:10 Explanation of the natural gas well at Brown's Field, guided by NPO Isumi Lifestyle Laboratory
14:10-15:00 Chartered bus from Brown's Field to Footbath Yasuragi
15:00-16:00 -A tour of the natural gas well, gas tank and bath of Mr. Shikura's home.
–A visit to Footbath Yasuragi
16:00-17:30 Chartered bus from Otaki Town to the FPCJ
*The above schedule may change.
2. Qualification: Bearer of Gaimusho Press Registration Card
3. Cost: 2,000 yen per person including transportation and meal.
* FPCJ will later inform the participants of methods for payment, cancellation fee, etc.
4. Participants: Limited to 10 applicants.
(Only one reporter and one photographer from each company, but two participants from each TV team will be acceptable.)*If the number of applicants exceeds 10, an upper limit may be set on the number of participants from each country.
5. FPCJ Contact: Ms. Yokota (Tel: 03-3501-3405)
6. Remarks:
(1) There may be some restrictions on photographing and filming at the tour sites. Please follow the instructions of the officials on duty.
(2) Chiba Prefecture and the FPCJ will not be liable for any inconvenience, trouble or accidents that might occur during the tour.
(3) Please do not use matches, lighters or any other open flames since the tour is going to be held at places where natural gas is seeping to the surface.