Chiba's Contributions of Iodine in Asia
post date : 2015.03.12
Chiba Prefecture is a major iodine producer in Japan and has been engaged in iodine aid projects by taking advantage of its rich deposit of iodine. As part of its international contributions, Chiba Prefecture—in corporation with the Japan Iodine Industries Association, UNICEF and other relief organizations—has helped countries struggling with iodine deficiency disorder.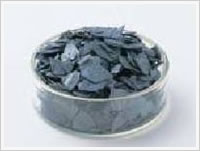 Iodine is an important mineral for the human body that contributes to healthy growth. But in some countries, people face health problems due to lack of iodine intake through their diet, including thyroid enlargement and childhood underdevelopment.  (Photo: Iodine Crystals)
Japan is the world's second largest producer of iodine, making up about 30 percent of the global iodine production. About 80 percent of the country's iodine output comes from Chiba Prefecture.  Off the coast of Chiba stretches a natural gas reservoir called the Minami Kanto gas field. Its gas reserves are estimated at about 800 times the current annual gas production in Chiba.
The Minami Kanto gas field is also the source of iodine-rich sea water that has remained trapped deep underneath the field for millions of years. The water contains high concentrations of iodine, almost 2000 times that in typical sea water.
Chiba Prefecture has provided iodine for Mongolia and Cambodia so far.  In Mongolia, the government has worked on a health promotional project for mothers and children, setting a goal to reduce iodine deficiency disorder and get as many people vaccinated as possible. To support this project, Chiba donated a total of 3400 kg of potassium iodide to Mongolia in collaboration with JICA, UNICEF, and other relief organizations from 1997 to 2002. Furthermore, Chiba also partnered with the Japan Iodine Industries Association and UNICEF and donated 3400 kg of potassium iodide to Cambodia from 2006 to 2010 to help children suffering from iodine deficiency disorder.
Chiba's next iodine donation will go to Sri Lanka. The Sri Lankan government launched the Universal Salt Ionization Program in 1995—a program that aims at eliminating iodine deficiency disorder by encouraging people to use iodized salt. Chiba Prefecture hopes its contribution will help the Sri Lankan government promote the program.
Iodine produced in Chiba plays an important role in Asian countries. For example, it helps reduce thyroid enlargement cases caused by lack of iodine intake. Chiba Prefecture will continue to take advantage of its natural resources to contribute to international cooperation projects.
◆ Ceremony
●Date: Tuesday, March 17, 2015  13:00-13:30
●Place: Chiba Prefectural Government Office
●Donation item: Potassium iodide 850 kg
●Sponsors: Japan Iodine Industries Association, Keiyo Natural Gas Conference, Foundation for Growth Science in Japan
<Inquiries>
Chiba Prefecture, International Affairs Division
TEL: 043-223-2255
E-mail kokusai@mz.pref.chiba.lg.jp