Date : December 12, 2017
What is 'Gengo' (Era Name)? by Dr. Eiichi Miyashiro, The Asahi Shimbun Senior Staff Writer
post date : 2017.11.10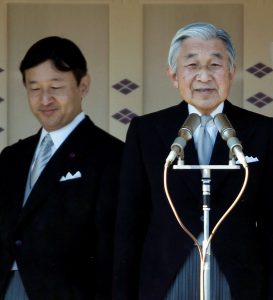 With a special law allowing the Emperor to abdicate having been passed in June 2017, this will be the first abdication of an emperor in nearly two centuries, since the position of Emperor was established as being lifelong in the Meiji Era. A new era name will be announced to coincide with the new Emperor's accession to the throne. Since era names are used on government documents and in other cases such as on calendars, this will have a noticeable impact on society, and so the new era name has been a major focus of attention.
The FPCJ has invited Dr. Eiichi Miyashiro, Senior Staff Writer at the Asahi Shimbun and an expert on history, to speak about what era names are, their meaning and history, the process used to decide them, and their impact on society. Mr. Miyashiro writes articles on topics including history, Cultural Properties, and archeology.
*Photo: Reuters/AFLO    
Date: December 12 (Tue), 2017, 14:00-15:30

Place: Foreign Press Center Japan (6th fl., Nippon Press Center Bldg.)
Language: Japanese (with consecutive English interpretation)
*Related pages:
- Special Law Passed for First Abdication of Emperor in 200 years—Editorials Divided Over Status of Female Imperial Family Members (A Look at Recent Editorials, 2017.06.23)
- The Future of Japan's Imperial Family (Magazine Articles of the Month, 2017.07.13)
*Embassy representatives and FPCJ supporting members may also attend the briefing as observers 
    (admission free).
*No car park is available. Please use a nearby car park if you come by car.