Date : July 22, 2009
Report: July 22, 2009 【Otawara City Press Tour】
post date : 2013.08.24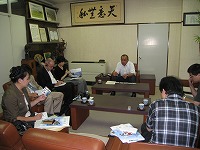 Five reporters from South Korea, China, Germany and Vietnam joined our press tour to Otawara City, Tochigi Prefecture featuring "local wisdom" pitted against the global economic recession. The reporters covered the efforts of sustainable city planning. 
First of all, they received a briefing from City Mayor Senbo Kazuo about its unique city planning. The city focuses on the promotion of medical welfare and culture to vitalize itself, maintaining a balance of primary, secondary, and tertiary industry. The participants actively asked many questions, for example, on the impact of the global economic recession, measures related to the declining birthrate and the aging of society, and educational promotion plans.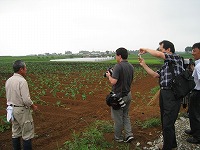 Next, they visited Maeda Bokujo(pasture) and Mr. Akira Maeda, President of the company, briefed them about its history and recycling agriculture. He started his business with just one cattle for beef and raises 2,000 head today. His firm built a facility to transform livestock excreta into fertilizer, and now grows vegetables by using it. It also runs shops which offer its original products. The participants were interested in the rapid expansion of the firm's business.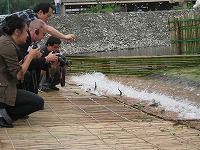 The participants enjoyed Ayu (sweetfish) dishes for lunch near the Naka River, the Shimanto River of the East. Before lunch, Mr. Seichi Masubuchi, Director of the Kurobane Yana-Ryo Tourist Association, briefly explained the life cycle of the sweetfish and "Yana-Ryo" (weir-fishing). The participants visited the Yana-Ryo site and looked at how sweetfish were directed by the weir into the trap. They enthusiastically took photos.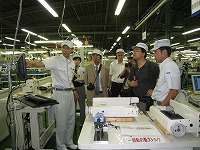 In the afternoon, they visited the Otawara Plant of JUKI Corporation which has maintained its advantage in the world market of industrial sewing machines by adopting a cutting-edge production system called "Digital Yatai". Mr. Shuji Yamaoka, Plant Director, explained the unique system of the plant, and the participants looked at how the "Digital Yatai" production system works. They were impressed by the digitization of the craftsmanship and the fact that it is essential to combine the cutting-edge machines with high human skills in order to make the production efficient.   
Lastly, they visited Yamagata-ya, a business vital to the community. Mr. Toshikatsu Kato, President, briefed them on the history of the company and the role of small and medium-sized enterprises in the local economy. This company has been in business for 400 years, starting as a family of master craftsmen of Japanese swords in the Edo period. It is now a metalworking factory which plays a vital role in supporting Otawara's economy. The company has adapted itself to the needs of society to survive in a changing world. The participants were amazed by the efforts made by the company.