Date : March 18 - 19, 2010
Report: 18-19 March 2010 【Press Tour to San-in Region Part 2】
post date : 2013.08.24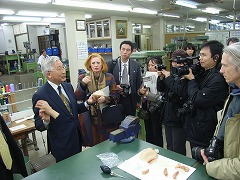 Following the first tour last year, this year's tour to San-in (Tottori and Shimane Prefectures) had nine participants from Bangladesh, China, EU, France, Germany, and Taiwan. The first day in Tottori covered the forefront spa therapyand revitalization of Misasa Onsen, known as one of the most radon-rich hot springs in the world. On the second day in Shimane, the journalists visited Iwami Ginzan Silver Mine, a Unesco World Heritage Site in harmony with nature. They also covered Nakamura Brace Co., Ltd., a world-renowned manufacturer ofprosthetics and orthotics, which has contributed to the preservation of the townscape of Omori Town with only 400 inhabitants, and securing employment for local young people.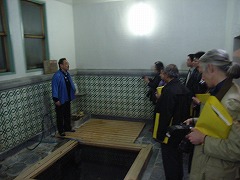 In Misasa Onsen, the participants visited Okayama University Hospital Misasa Medical Center, the only institute practicing full-scale spa-treatment in Japan. After a briefing by Director Fumihiro Mitsunobu, they interviewed patients who were using a swimming pool and mud from the hot spring. In the town of Misasa, after a guided tour in a narrow street with a flavor of the Showa era, they visitedKiya ryokan, where Mr. Shu Mifune, the owner of the ryokan, explained aboutGendai toji, or contemporary spa-treatment, Misasa's new project working together with Misasa Medical Center.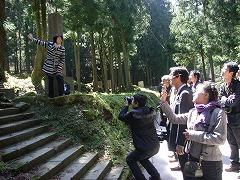 In the vehicle-restricted area in Iwami Ginzan, the participants rode electric bicyclesin the dazzling spring sunshine to such cultural assets as a silver refining site and amine shaft deep in the mountain. They also enjoyed a lunch of local food in asamurai residence (Abe family) in Omori Town, and had a briefing on therestoration and preservation of the old residence.
The final destination of the tour was Nakamura Brace, a manufacturer of artificial limbs and other human parts such as breasts and fingers. The participants visited their office, where the average age of the employees is 33, and asked President Toshiro Nakamura the secrets of his success in the depopulated town of Omori. President Nakamura expressed his desire to develop less expensive artificial legs for people in developing countries, and told reporters that he would like to show them the warm heart and technology of the Japanese people.