Date : December 10, 2008
Report: December 10, 2008 【KAWASAKI CITY Press Tour】
post date : 2013.08.23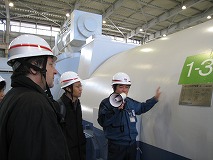 In advance of the "Kawasaki International Eco-tech Fair 2009" which will be held on February 17-18, 2009, we organized a press tour to Kawasaki city which has been tackling various environment issues including global warming countermeasures as a "city of the environment". Journalists from a Korean TV station and an Italian newspaper joined this press tour. 
In the morning, we visited Tokyo Electric Power Company Kawasaki Thermal Power Station (photo right) which is proud of its world's highest thermal efficiency. While taking a glance at the teardown of the old thermal power stations (No. 1 to No. 6) which were built in the 1960s, we covered the 1500℃ class combined cycle power generation (MACC, More Advanced Combined Cycle) (No. 1 unit line), which employs leading-edge technology. 
MACC achieves the world's highest thermal efficiency of 59%, reducing fuel usage as well as CO2 emissions by approximately 25%, compared with the conventional power generation method. It is a power station that is friendly to the global environment. The journalists asked questions about it, including its quake resistance, with keen interest. 
Then, a briefing titled "Promote International Contributions through Environmental Technology in Kawasaki" was given by Mr. Takao Abe, Mayor of Kawasaki city. 
He explained about the city's accessibility by public transportation, having industrial potential including an agglomeration of R&D capabilities and excellent human resources, having contributed to Japan's economic development by welcoming global corporations, its experience of overcoming pollution, and its proactive efforts towards the environment including the upcoming Kawasaki International Eco-tech Fair 2009. 
 he journalists asked questions including about the city's economic situation in the midst of economic unrest involved with the financial crisis, the relation between economy and the environment, and the city's possible collaborative efforts with China. It was a brisk question-and-answer session.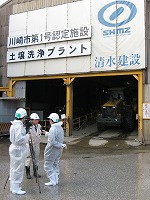 In the afternoon, we covered Shimizu Corporation's Soil Remediation Plant(photo left). The company started operating the plant in the Kawasaki waterfront area prior to the implementation of the "Soil Contamination Countermeasures Law" of 2003. Since then, it has built a track record of accepting and washing soil of various qualities and concentrations, which have been contaminated by heavy metal, oil or pesticides. 
In spring next year, it will finish building and start operating a soil remediation plant that is exclusively for dioxin in Shiraishi-cho, Kawasaki-ward, for the first time in the country. 
The journalists showed strong interest in the processing of contaminated soil, at a time when the transfer problem of Tsukiji Fish Market to the old factory site in Toyosu, Koto-ward has yet to be resolved, and the Ministry of the Environment has recently indicated its intention to revise the Soil Contamination Countermeasures Law.