Date : November 12 - 13, 2015
Report: Niigata City Press Tour: The Present and Future of Japanese Agriculture and Food
post date : 2016.01.27
This press tour to Niigata City was sponsored by Niigata City and planned and operated by the FPCJ.
The tour covered farmers' initiatives for large-scale operations and diversification, and efforts by local companies to promote rice and sake in overseas markets. Eleven journalists participated, from the following seven countries and regions: the USA, France, Switzerland, South Korea, Taiwan, Singapore, and Vietnam.
-Click here for details on the tour
-Click here for a log of real-time updates from during the tour
<Day 1>
1. Briefing by Niigata City Chuo Ward Mayor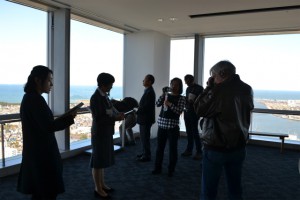 The tour began with a visit to the Toki Messe observation deck, with a view of Niigata City and the Japan Sea. With this impressive scenery as a backdrop, Chuo Ward Mayor Rieko Ishizuka described the history and industry of Niigata City, which flourished as a port town; its local specialties such as sake; and how it came to be chosen as the venue for the G7 agriculture ministers' meeting this year. The journalists intently took photographs of the view of the city
2. Niigata Saito Villa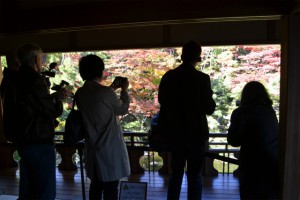 The tour visited the Niigata Saito Villa, an example of the city's history as a port town, which was built nearly 100 years ago. There were many scenic photo opportunities, including a room where the entire compound could be seen, and a Japanese garden full of fall colors.
3. Niigata City Agripark
 Agripark, run by Niigata City, provides opportunities to learn about and experience agriculture. The tour had the chance to photograph Grade 4 elementary school students milking cows. Afterwards, interviews were held with Agripark staff, Agripark Director Tsubokawa, and the elementary students' homeroom teacher about the goal of milking cows as an educational experience and the role of this facility. Some journalists also asked the students what they thought about their experience milking cows.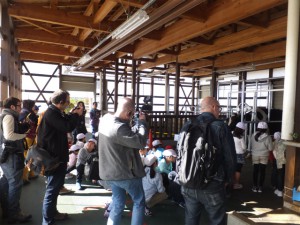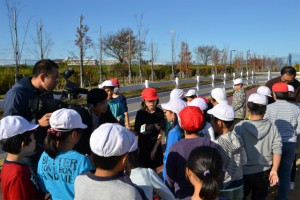 4. Horticultural Farm: Shikien LLC /Pellet Producer: WPPC Co., Ltd.
 The tour visited Shikien, a horticultural farm company using wood pellets as fuel to heat its greenhouses. President Sato of WPPC Co., Ltd., the producer of the wood pellets, explained that selling flowers grown in these greenhouses helps to support forest management and create a cycle of using local resources. President Sato's focus is on selling ornamental plants such as flowers, and he is also involved in exporting a product that combines moss balls and bonsai.
 President Tanaka of Shikien, which produces these products, spoke about how he recently experienced firsthand the popularity of Japanese flowering trees overseas. He mentioned that he apprenticed to the first person who began making moss balls in Japan, a Niigata native, and provided the journalists with a demonstration by skillfully making moss balls.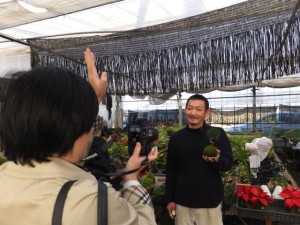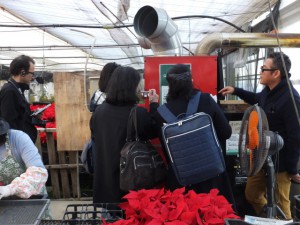 5. Kameda Seika Co., Ltd.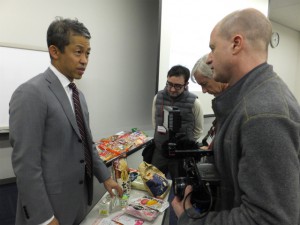 When the tour visited Kameda Seika, famous for its Kaki no Tane (Kameda Crisps), they found that not only does the company make rice snacks, it has also developed a wide variety of other products such as food products with lactobacillus, healthcare food, and emergency food. The company also views the recent popularity of Japanese food overseas and the increased health consciousness of Western consumers as a business opportunity, and has been putting greater focus into product development and marketing for rice snacks targeting the overseas market. The journalists asked questions on a variety of topics, such as expanding overseas, Japan's decreased birth rate and aging population, and the effects of the TPP.
6. Dinner Event at Nabedyaya Restaurant/Interview with Geigi
 The first day ended with a dinner hosted by the mayor of Niigata City at Nabedyaya, a 170-year-old restaurant. Mayor Shinoda gave a welcome speech, and mentioned his own experience reporting overseas when he was a reporter for The Niigata Nippo. He also asked the journalists about their impressions of Niigata.
 The group then watched dancing by geigi (geisha) from Niigata's Furumachi, followed by interviewing them. Niigata prospered as a port town with many visitors, and so the geigi have a tradition of being very friendly to customers, which they demonstrated with their candid responses to questions.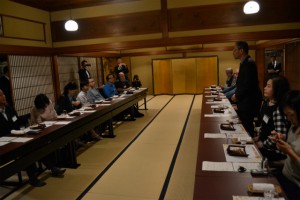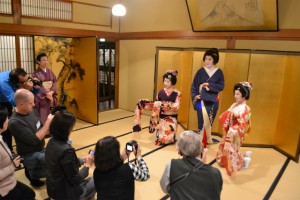 <Day 2>
7. Interview with Niigata Mayor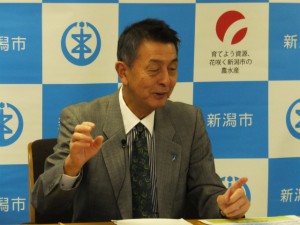 Mayor Shinoda discussed the city's policies for the Food Valley Project and the Agricultural Special Zone, as well as the G7 agriculture ministers' meeting. The mayor gave examples of benefits from the relaxation of regulations made possible by the Special Zone, including private companies entering the agricultural industry and restaurants being opened on farms. In response to a question about the TPP, they mayor announced his intent to enter overseas markets as well.
8. Niigata-Kubota Corporation/Niigata-Nosho Corporation
 The tour covered agricultural equipment manufacturer Niigata-Kubota and Niigata-Nosho, also of the Kubota Group, which handles distribution and sales of rice. With the consumption of rice in Japan decreasing, their current strategy is to expand sales of Niigata rice to overseas markets. Journalists asked about what effect the TPP would have, what countries they are planning to expand to, and their sales systems in the countries they export to.
 In response to the increasing average age of farmers, Niigata-Kubota has developed a technique involving directly scattering seed rice coated in iron powder in paddies, in order to reduce the labor and costs required for making rice. After an explanation of this technique, the journalists were also shown a demonstration of direct seeding.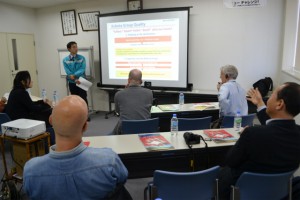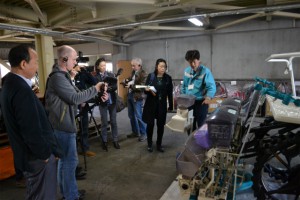 9. Lawson Farm Niigata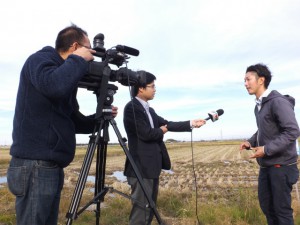 With the relaxation of regulations thanks to the Agricultural Special Zone, a local farmer and the major convenience store chain Lawson joined together to establish Lawson Farm Niigata. As a young local farmer, Lawson Farm Niigata President Goto is concerned about the decline of agriculture as the basis of food, and spoke on how he was working towards large-scale agricultural production, with Lawson as a buyer for his rice. The journalists were very interested in speaking with Mr. Goto, who is only in his twenties but is already operating the first example in Japan of a special agricultural corporation founded by a local farmer and a private company. They asked questions about how he became a farmer, his collaboration with Lawson, and his feelings on agriculture.
10. ars-dining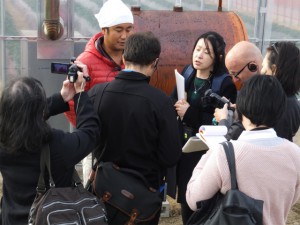 The tour also interviewed Mr. Kuwano of ars-dining, another agricultural producer corporation established using the Special Zone's relaxed regulations. In order to add value to the agricultural products he makes, Mr. Kuwano also both processes those products and operates a restaurant, exemplifying the shift to "sixth industry" in agriculture. When asked about the future of agriculture in Japan, Mr. Kuwano replied "Moving forward, it will be necessary to have more uniquely Japanese added value."
11. Imayo Tsukasa Sake Brewery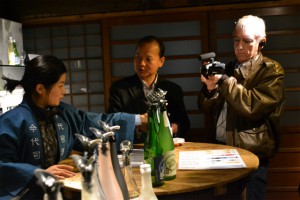 The final stop on the tour was Imayo Tsukasa Sake Brewery, a brewery that was established in the Edo period and is now actively engaged in exporting to overseas markets. While touring the brewery, built in a traditional fashion, the journalists were told about the process of making sake, the history of the brewery, and the company's expansion into overseas markets. The journalists asked about the decline in domestic sake consumption and the reason for its popularity overseas. The brewery staff responded that "The reason for the popularity overseas is due to the rise in popularity of Japanese food," and promoted Niigata sake by proclaiming "Niigata breweries have the skill to suggest a sake that will match the food of each country we export to."