Date : November 12 - 13, 2015
Notice: Niigata City Press Tour: The Present and Future of Japanese Agriculture and Food
post date : 2015.10.27
- Farmers initiatives for large-scale operations and diversification -
- Promoting rice and sake in the overseas market -
- Site of the 2016 G7 agriculture ministers' meeting -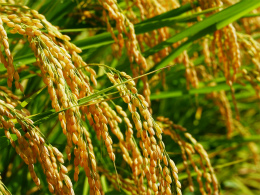 Niigata City is No.1 among Japanese cities for both total farmland area (paddy fields) and number of farmers.
Its food self-sufficiency ratio of 63% is also No. 1 among Japan's designated cities, and the value of food products produced and shipped is among the highest in the country. It is truly a city that supports Japanese agriculture and food. It has also been chosen as the location for the meeting of G7 agriculture ministers in April 2016 ahead of the G7 summit.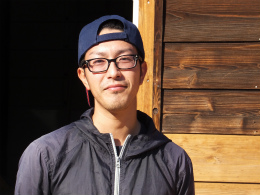 In May 2014, Niigata City was designated as a "Center for Agricultural Reform in Large-Scale Farming" (an "Agricultural Special Zone") under the National Strategic Special Zone policy, part of the growth strategy that forms the "third arrow" of the Abenomics economic policy. With the average age of farmers in Japan now over 66 years old and rising, the goal of this zone is to encourage companies and people to enter the agriculture industry, with special provisions to ease regulations and provide tax breaks.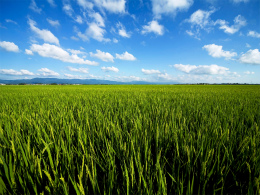 As a city that could be said to represent Japanese agriculture, Niigata has a variety of agricultural producers taking on new challenges, such as young farmers expanding operations aiming efficient large-scale farming, and "sixth-industry" farmers combining agriculture and the restaurant business for adding high value to agricultural products. In response to the shrinking of the domestic market, a company is selling rice to the overseas market together with rice-cooking robots and rice polishers.
As the conditions surrounding the agriculture industry change, Niigata City provides a look at the present and future of Japanese agriculture and food.
-------------------------------------------------------------------------------------------------------------------- 
This press tour will visit Niigata City, the most important city when discussing Japanese agriculture and food, and cover a variety of different aspects such as young farmers, examples of the Agricultural Special Zone in use, exports of rice and sake, and a company pursuing new possibilities for rice.
The tour will also look at Niigata's historical Minatomachi culture, which will be used to provide hospitality for the G7 agriculture ministers' meeting.
--------------------------------------------------------------------------------------------------------------------
* This press tour is sponsored by Niigata City, and planned and operated by the FPCJ.
[Tour Details]
1. Interview with Niigata City Mayor Akira Shinoda       
New Initiatives of Agricultural City Niigata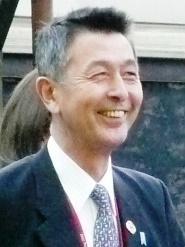 (New Food Valley Project, Agricultural Special Zone, G7 agriculture ministers' meeting)
http://www.city.niigata.lg.jp/shisei/mayor/mayor/profile.html
https://www.city.niigata.lg.jp/shisei/kokusaikaigi/G7nogyokaigo/G7gaiyo/index.html
 Niigata City has the most farmland by area and the highest value of rice production in Japan (by municipality), making it a city that represents Japanese agriculture. There are also a number of companies involved in food production within the city, many of which produce processed goods from rice. The city first proposed the Niigata New Food Valley Project in 2010, with the goal of having the agriculture and food product industries grow together through policies to promote large-scale and "sixth industry" agriculture, and high added value for food products. As a result of these efforts, in May 2014 it was designated as a National Strategic Special Zone (Agricultural Special Zone) to act as a center for reforms to large-scale agriculture. National Strategic Special Zones are part of the growth strategy that forms the "third arrow" of Abenomics,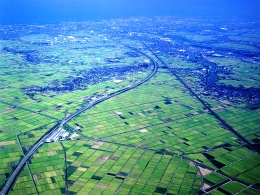 and with this designation as a special zone it becomes possible to ease regulations and provide preferential tax treatment. One example of regulation easing in Niigata City's Agricultural Special Zone is an easing of the requirements for executives of agricultural corporations, making it easier for companies to enter the agriculture industry. Seven businesses have already had their plans approved. Separate from the special zone, there are also a number of new projects starting in Niigata, such as adding value to agricultural products by combining genomic analysis with marketing.
  Niigata City is also involved in using agriculture as a starting point to deal with various social issues. For example, education to help develop children's life skills through agricultural experiences, and policies to promote employment of people with disabilities and hikikomori (recluses) in the agriculture industry.
  Niigata City has also been chosen as the site for the agriculture ministers' meeting leading up to the G7 summit to be held in Japan next year. (The agriculture ministers' meeting will be held April 23–24, 2016.)
(Explanation of National Strategic Special Zones)
One aspect of the "new growth strategy" that forms the "third arrow" of the Abenomics national growth strategy. By allowing easing of regulations and preferential tax treatment in specific regions and business fields, this policy aims to attract corporate investment and new workers, and stimulate local economies. Including Niigata City, there are nine places in Japan that have been designated as special zones.
http://www.kantei.go.jp/jp/headline/kokkasenryaku_tokku2013.html
◆The mayor will provide an interview focusing on agricultural policies. He will also provide a message as the mayor of Niigata City, where the G7 agriculture ministers' meeting will be held.
 -------------------------------------------------------------
Theme ①  Farmers Taking on New Challenges
--------------------------------------------------------------
 2.       Young Farmer Expanding to Large-Scale Operations in Cooperation with Convenience Store Chain
・Farmer: Lawson Farm Niigata President Ryosuke Goto (27)
http://www.lawson.co.jp/company/news/103145/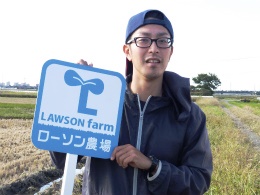 In March 2015, the Lawson convenience store chain established Lawson Farm Niigata in cooperation with local farmers. Taking advantage of the National Strategic Special Zone relaxation of requirements for agricultural producer corporation executives, the majority of executives are not farmers. It was the first of its kind in the country.
 The president of Lawson Farm Niigata, Lawson's partner that carries out the actual production, is Mr. Ryusuke Goto, a 27-year-old rice farmer from Niigata. Mr. Goto is the ninth generation in a long line of rice farmers. His parents were part-time farmers, but after graduating from an agricultural university and gaining farming experience in the USA, he became an independent full-time farmer at the age of 23. Regarding his motivation, he said "With the threat of a global food shortage, I want to be involved in agriculture, the source of food." With the goal of large-scale production, he slowly rented neighboring farmland, expanding from 120 ares (12,000 m2) to over ten times the size at 15 hectares (approximately 150,000 m2). Of that, this year he cultivated rice as Lawson Farm Niigata on 5 hectares (50,000 m2). Lawson bought all the rice produced, to sell in their convenience stores.
 Speaking about why he decided to work with Lawson, Mr. Goto said "In order to survive in agriculture, expanding to a larger scale is necessary. The issue then becomes where to sell the product. Having Lawson as a buyer is a significant benefit."
◆The tour will visit the paddies where Mr. Goto cultivated rice for his contract with Lawson (the rice has already been harvested), and hear from him about how he came to work with Lawson, and why his goal is large-scale agriculture.
3.       Farmer Who Returned from Tokyo to Run a Farm and Restaurant, Working Towards Diverse Business Operations
・Farmer: ars-dining President Yusuke Kuwano (40)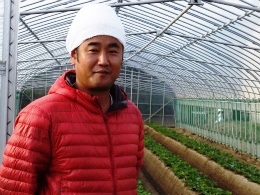 In addition to running a farm, Mr. Kuwano runs a bar and restaurant by Niigata Station, which uses beans he grew himself and other local vegetables. A Niigata City native, Mr. Kuwano went to university in Tokyo and stayed there to work. He worked as the area manager for a large chain restaurant, but at the age of 34 he returned to Niigata to open a restaurant there. To prepare for the opening of his restaurant, he worked as a trainee at an agricultural producer corporation in order to be able to better judge the quality of vegetables, and decided to make his own vegetables, recognizing the potential of agriculture. In addition to production, he is also involved in processing and sales, making his farm an example of the shift to "sixth industry" in agriculture. According to Mr. Kuwano, the merits of doing so are "I can sell what I've made myself, and am free to decide how to sell it. I can create my own added value. When it comes to diversification of sales, agriculture has more options than the restaurant business."
 Currently, he works 552 ares (55,200 m2) of land, with 4 full-time employees for the farm and 2 for the bar and restaurant. The agriculture section employees are in their 20s and 30s, and it is helping employ youth who are interested in agriculture. In the future, Mr. Kuwano would like to open an Italian restaurant and sell prepared food that uses farm vegetables.
Mr. Kuwano also took advantage of the special zone relaxations on conditions for agricultural producer corporation executives, in order to run both a restaurant and agriculture business simultaneously.
◆The tour will visit a greenhouse where Mr. Kuwano grows strawberries, and hear from him about why he is involved in "sixth industry" agriculture, running a bar and restaurant as well as farming.
 -----------------------------------------------------------
Theme ②  Food and Agricultural Exports
 -----------------------------------------------------------
4.       Exporting Rice Overseas Together with Rice Polishers and Rice-Cooking Robots
・Agricultural Equipment Manufacturer  Niigata-Kubota Corporation
・Rice Sales and Distribution  Niigata-Nosho Corporation (Kubota Group)
http://giweb.kubota.co.jp/backnumber/pdf2013_en/gi_e_2.pdf
http://giweb.kubota.co.jp/backnumber/book2013_en/pageindices/index20.html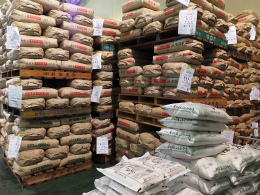 Shipping unpolished rice overseas and polishing it in other countries, in order to sell fresh Niigata rice overseas
 With the population aging and the birthrate declining, combined with changes to food culture, the domestic consumption of rice in Japan is continuing to decrease. As an agricultural equipment manufacturer that shares its fortunes with farmers, Kubota began attempts to develop new overseas markets in 2011 in order to support Japanese farmers. Their first target was Hong Kong. In an effort to differentiate it from other options and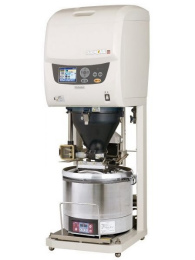 have overseas consumers be able to taste how delicious Niigata rice is, the company decided on a new system where they export the rice still unpolished, then polish it in Hong Kong using their own polishing machines. Until then, in the majority of cases rice polished in Japan was shipped overseas, but during shipping it would become less fresh (it would lose moisture), and not taste as good as it originally would have. Kubota created a new system to sell fresh rice, by building refrigerated warehouses overseas where unpolished rice is stored, and polishing it when orders are received. Currently, the company has expanded their shipments of Niigata rice from Hong Kong to Singapore and Mongolia as well.
Selling to overseas markets together with rice-cooking robots
 Kubota has also been selling their Rice Robot industrial rice-cooking robot to overseas markets unfamiliar with cooking Japanese rice. The Rice Robot automatically measures and washes rice, and adjusts the amount of water used to cook. It is used by restaurant chains.
Improving cultivation efficiency by using seed rice coated with iron powder. Responding to the aging of farmers.
 Kubota has also worked on new methods to improve the efficiency of rice cultivation. One example is coating seed rice in iron powder and scattering them in rice paddies. The iron powder increases the weight of the seed rice, enabling it to place roots without floating even when there is water in the paddy. Using this method, it is not necessary to make a seedbed, so the facilities, time and labor required can be eliminated. As a result, production costs can be reduced by 30 to 40%. This method is being implemented as an effective way to gain the desired large-scale, effective agriculture. With the average age of farmers as of 2014 being 66.2 years old, this method is also gaining attention as a way to reduce labor.
 Currently, it is being used for 15,000 hectares nationwide, 10% of which are in Niigata Prefecture. This technology has also been exported to South Korea.
◆The tour will visit Niigata Kubota, and hear about their new system for exporting Niigata rice overseas by combining it with rice polishers and rice-cooking robots. There will also be a demonstration using seed rice coated with iron powder.
5.       Cultivating Moss with Renewable Agriculture and Exporting It to Europe Along with Bonsai
・Pellet Producer: WPPC Co., Ltd. President Yasunari Sato
・Horticultural Farmer: Shikien LLC President Katsuya Tanaka
http://www.woodpellet.jp/web/site/index.asp
http://morethanprj.com/en/project/1449.html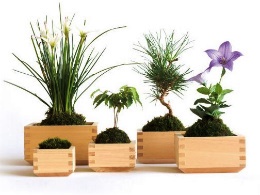 Niigata City has always been known for producing bonsai and flowering trees. It also has wetlands where moss vital to bonsai grows naturally. It is here a project was started to use wood pellets, made from the thinning of local forests, as fuel to warm greenhouses for cultivating moss. This project was started by a wood pellet manufacturer convincing five horticultural farmers to switch from kerosene to wood pellets as fuel, simultaneously promoting cyclical horticulture and forest conservation.
 With the bonsai boom in Europe, products combining moss balls and bonsai have begun being exported overseas. After exhibiting at the January 2015 Maison & Objet international trade fair in Paris, offers arrived from 13 countries, and currently shipments have begun to France, Switzerland, Italy, and Germany.
 WPPC, a wood pellet manufacturer, plans to start cultivating moss using abandoned farmland in 2016. This company was not originally an agricultural company, but was able to take advantage of the special zone relaxations on conditions for agricultural producer corporation executives.
◆The tour will visit a Shikien greenhouse where moss is grown, and speak with people involved in this project. There will also be the opportunity to see how the moss that is exported overseas is cultivated.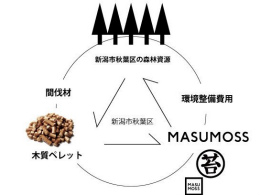 6.       Sake Exports Are Increasing, and a 250-Year-Old Sake Brewery Sees Opportunity in the Overseas Market
http://www.imayotsukasa.com/index.htm
 Niigata has always been known for its sake. With around 100 sake breweries in the prefecture, it has the most in Japan. Annual shipping volume of sake is third in the country, and high-quality sake such as daiginjo, ginjo, junmai, and honjozo account for 60% of production.
 It has been nearly 250 years since Imayo Tsukasa Sake Brewery, located in the center of Niigata City, was established in 1767. This brewery makes sake without adding any alcohol (junmai brewing), which is uncommon now. For ingredients, they use Niigata rice and 100% natural springwater from within the prefecture.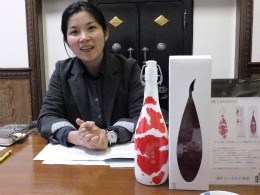 Imayo Tsukasa produces about 72,000 liters annually. Although it is a small brewery focusing on high-quality, limited-volume production, starting last year they have been putting their efforts into exporting to overseas markets. Although the domestic market for sake is declining, foreign exports are on the rise. In 2014, the volume of exports of sake produced in Niigata increased by 10% over the previous year, to a new record of 1,887,008 liters. The popularity of washoku (Japanese food) overseas has led to increased demand for sake, which complements washoku. The registration of washoku on the UNESCO Intangible Cultural Heritage List also helped demand.
Imayo Tsukasa has seen new potential in overseas markets, and has already begun exports to Hong Kong, Singapore, the UK, and Germany. In 2014, they received a gold medal in the sake category of the 2014 Los Angeles International Wine Competition.
◆The tour will visit Imayo Tsukasa Sake Brewery, and see the inside of the brewery (it will not be possible to see sake being made). We will hear about the company's overseas business.
 ----------------------------------------------------------------
Theme ③  Pursuing New Possibilities for Rice
-----------------------------------------------------------------
7.       Pursuing New Possibilities for Rice as "Rice Experts," Japan's Largest Rice Cracker Manufacturer Also Makes Healthcare Food and Emergency Food
・Kameda Seika Co., Ltd.
http://www.kamedaseika.co.jp/en/newbusiness/newbusinessIndex.html
http://www.kamedaseika.co.jp/en/rd/rdIndex.html
http://www.kamedaseika.co.jp/company_information/en/pageview.html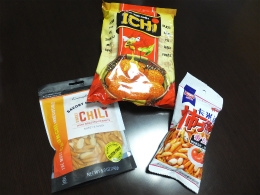 The rice cracker manufacturer with the largest share in Japan, increasing in popularity overseas
 Niigata Prefecture produces the highest volume of rice crackers in Japan, with manufacturers in the prefecture accounting for 67% of total production.
Kameda Seika, with its head office in Niigata City, is Japan's largest rice cracker manufacturer with a 30% share of the market, and is known for rice crackers and other rice snacks, especially its flagship product Kaki no Tane ("Kameda Crisps"). The company has expanded into the US, China, Vietnam, and Thailand, carrying out manufacturing and sales in those countries. In particular, the popularity of Kaki no Tane has increased in the US with the gluten-free boom, and in 2014 sales increased by 50% compared to 2013.
Healthcare food to meet the needs of an aging society and the medical industry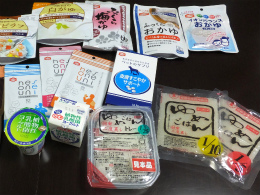 Kameda Seika is applying its rice expertise to the field of healthcare food in order to meet the needs of an aging society and the medical industry. They developed low-protein rice, which people with chronic kidney disease had been wishing for, and released it in sterile packaging under the name Yume Gohan. By treating rice with enzymes, protein is broken down and eliminated, making it possible to reduce protein to 1/5–1/35 of the levels in normal rice.
Kameda Seika also developed Fukkura Okayu, rice porridge soft enough to break with your tongue but also moderately thick, so that seniors can eat it easily. It is popular in the senior care industry.
Entering the emergency and space food fields
 Kameda Seika acquired Onishi Foods Co., Ltd. in 2013, a manufacturer and seller of food for long-term storage. Onishi Foods is a pioneer in food for long-term storage using rice. It can be stored for five years without losing its flavor, and since it can recreate the taste of just being cooked by adding water, it has gained a lot of attention as potential emergency food for disasters. Twelve variations have been released, such as rice with beans or seaweed, with the goal of making eating fun. After the Great East Japan Earthquake, these products have gained more attention.
 The technical capabilities of these products have been highly praised, and have been certified as a "Japanese space food" for use in the International Space Station by JAXA (Japan Aerospace Exploration Agency). They have been eaten by astronauts in the ISS since 2008.
◆Members of Kameda Seika's Rice Research Institute will explain the company's healthcare and emergency food products, and there will be an opportunity to try them.
 -----------------------------------------------------------------------------
Theme ④  Passing on Historical Minatomachi Culture
 -----------------------------------------------------------------------------
8.       Culture That Bloomed in Niigata, a Center of Trade Since the Edo Period 
・Niigata City Chuo Ward Mayor Rieko Ishizuka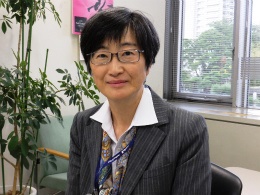 "Kitamaebune" was a shipping route that linked Osaka and Hokkaido via the Sea of Japan, from the Edo Period through the Meiji Period. Selling goods acquired along the route to different locations gave rise to great wealth. As a major rice producer and with a port open to the Sea of Japan, Niigata developed as a major stop on the Kitamaebune, and a unique culture was born. As the town was a center of exchange for people as well as goods, it developed a hanamachi (entertainment district) on the scale of Kyoto and Tokyo.
 Chuo Ward, which is located in the center of the city, has restaurants continuing from the Edo period, sake breweries established over 250 years ago, and opulent traders' mansions with fabulous gardens.
◆After arriving in Niigata, the tour will head to Toki Messe, where the G7 agriculture ministers' meeting will be held. The entire city can be seen from the observation deck on the 31st floor, and Chuo Ward Mayor Rieko Ishizuka will give an explanation of the city as a whole, as well as the special characteristics of Chuo Ward, which seeks to pass on the traditional Minatomachi culture.
9.       Watching Geigi Dance at a Historical Niigata Restaurant.
Geigi, Bearers of Traditional Culture, and Efforts to Train Successors with Systems Making It Easier to Work
・Restaurant Established in the Edo Period  Nabedyaya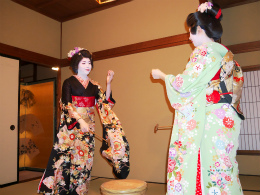 ・Geigi Training and Dispatch  Ryuto Shinko Co., Ltd. (Interview with Geigi)
 (Dinner hosted by Niigata City Mayor)
http://www.ryuto-shinko.co.jp/info/index.html 
As a center of trade since the Edo Period, Niigata has a strong culture of hospitality, and is the location of Furumachi, a hanamachi with a history of over 200 years. Even today, there are geigi (geisha) practicing traditional songs, dances and instruments.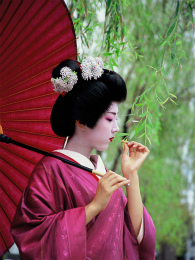 One unique feature of this hanamachi is that it has the first incorporated geigi training and dispatch company in Japan. The geigi who work there are fulltime employees of Ryuto Shinko Co., Ltd. The 12 geigi, stably employed and ranging from 18 years old to some in their 40s, perform at events in around 10 different restaurants and hotels in the city.
 This company was established in 1987, in response to the drastic decrease in the number of geigi in Niigata at the time. At its peak, there were 400 geigi in Furumachi, but as society changed successors were not trained, and the tradition nearly vanished. To prevent the tradition from vanishing, approximately 80 local companies joined together to invest and establish Ryuto Shinko. The company includes systems for maternity leave and childcare leave, and currently there are geigi in their 40s who continue to work while raising children.
A Niigata City native and currently 20 years old, "Kikuno-san" is one of the company's geigi. She was entranced by how geigi looked in their kimono, and seeing a wanted ad in high school led to her getting a job as a geigi. She has performed in events in Hong Kong and Paris, and commented "There is no end to the pursuit of art, but I plan to do my best to perfect my dancing. I want to protect this 200-year-old tradition, and help spread Japanese culture."
 A presentation of the geigi's dancing is planned for the G7 agriculture ministers' meeting next year, as a symbol of Niigata's unique culture.
◆The tour will participate in a dinner hosted by the mayor at Nabedyaya, a restaurant founded in the Edo Period. There will also be an opportunity to see dancing by Niigata's geigi, protecting a 200-year-old tradition, and to interview the geigi.
10.    A Japanese Garden Demonstrating the Prosperity of the Port Town of Niigata
・The Niigata Saito Villa
http://saitouke.jp/foreign-language/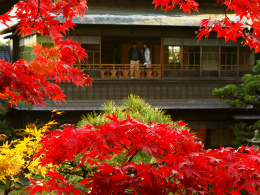 The Niigata Saito Villa was built in 1918 by Kijuro Saito, the 4th head of the Saito family, famous Niigata merchants. The circuit-style garden taking advantage of the sand dune terrain, and the open buildings are said to be masterpieces of modern Japanese architecture. These cultural properties show the wealth of the port town of Niigata in the Taisho period.
 The villa was requisitioned by the occupation forces after the end of World War II. A citizen movement to preserve the villa was started in 2005, and in 2009 Niigata City made it a municipal property. In March 2015 it was designated by the federal government as a Place of Scenic Beauty.
◆The tour will visit the Niigata Saitou Villa, and tour a Japanese garden that demonstrates the changing of the seasons.
[Tour Outline]
1.Tentative Schedule: Thursday, November 12 to Friday, November 13, 2015
(two days, one night)
08:24-10:32                       Tokyo­–Niigata
11:00-11:40                       Toki Messe: Briefing by Chuo Ward Mayor
11:50-12:00                       Bus
12:00-12:20           Niigata Saitou Villa
12:20-13:00           Bus
13:00-13:30                       Agripark (cow milking experience for elementary school
                                          students/facility tour)
13:30-14:20                        Lunch
14:20-14:35                       Bus
14:35-15:50                       WPPC/Shikien
15:50-16:15            Bus
16:15-17:30                       Kameda Seika
17:30-17:55                       Bus
                                          Check-in at hotel
19:00-20:40 (1h40)            Dinner hosted by mayor (Nabedyaya)
                                         ・Dancing by geigi
                                         ・Interview geigi
20:45                                 Arrive at hotel
8:20                                   Depart hotel
8:20-8:30                           Bus
8:35-10:00                         Niigata City: Interview with mayor
Briefing by city officials
                                          ・Agricultural policies (Special Zone, Food Valley)
                                          ・G7 summit
10:15-11:30                       Niigata Kubota
11:40-12:40                       Lunch
13:10-14:00                       Lawson Farm Niigata (rice field)
14:10-15:10                       ars-dining (strawberry greenhouse))
15:30-16:30                       Imayo Tsukasa Sake Brewery
17:22-19:20                       Niigata–Tokyo
2.  Qualification: Bearer of Gaimusho Press Registration Card 
3.  Cost: 13,000 yen per person including transportation, meals and accommodation
* FPCJ will later inform the participants of methods for payment, cancellation fee etc.
4.  Participants: Limited to 10 applicants. 
(Only one reporter and one photographer from each company, but two participants from each TV team will be acceptable.) 
 5.  FPCJ Contact: Ms. Chika Yoshida (Tel: 03-3501-3405) 
6.  Remarks:
(1) There may be some restrictions on photographing and filming at the tour sites. Please follow the instructions of the officials on duty.
(2) Niigata City and FPCJ will not be liable for any inconvenience, trouble or accident that might occur in the course of the tour.
(3) Participants will have to cover a portion of the cost for this press tour, but it is not a profit-making enterprise.