Date : August 2 - 7, 2012
Report: Assistance for Beringske, Denmark (August 2-7, 2012)
post date : 2013.08.21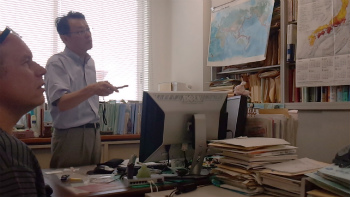 Lars Aagaard, a journalist from Beringske, a daily newspaper in Denmark, visited Japan to cover the current situation of Minamisanriku town, Miyagi Prefecture, affected by the Great East Japan Earthquake, and the possibility of an earthquake that would directly hit the Tokyo area.
Beringske was founded in 1749, and its counted among the oldest newspapers in the world. (approx.110, 000 circulation)
Mr. Aagaard conducted interviews with Mr. Jin Sato, Mayor of Minamisanriku town, and local residents affected by disaster. 
He was able to meet with Ms. Keiko Kimura, an evacuee from Ishinomaki city, who he had met in Sendai City right after the disaster, for the first time in a year and a half. He also interviewed Prof. Naoshi Hirata, head of the Earthquake Research Institute, The University of Tokyo, about the possibility of an earthquake directly hitting the Tokyo area.
The articles based on this visit were published on September 9th and 14th, in the Beringske Magazine, an associate of Beringske Newspaper.
As of September 9th
"Where do you start the day after?"
(Interview with Mr. Jin Sato, Mayor of Minamisanriku)
"Woman who lost everything"
(Interview with Ms. Keiko Kimura)
As of September 14th
"Hope of warning beforeTokyo shakes"
(Interview with Prof. Naoshi Hirata, from the Earthquake Research Institute, University of Tokyo)