Date : July 23 - 29, 2017
Fellowship Program: USA, The Washington Post, Catherine Rampell, Opinion columnist
post date : 2017.08.24
As part of the 2017-2018 FPCJ Fellowship Program, Ms. Catherine Rampell, an opinion columnist with The Washington Post (U.S.), visited Japan from July 23 to July 29.
The Washington Post is a major daily newspaper founded in 1877 which is particularly influential in Washington, D.C. Ms. Rampell writes columns handling a variety of topics, including economics, public policy, politics, and culture.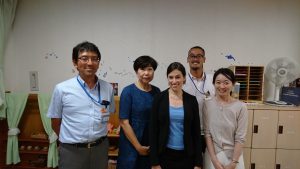 Ms. Rampell visited Tokyo, Yokohama, Toyama, and Kanazawa to cover the successes and challenges of womenomics. Topics she covered included the issue of waiting lists for day care which remains an obstacle to women joining the workforce; a household chore service by foreigners set up in a National Strategic Special Zone to encourage women to work; and to support working parents in Toyama City, which has a high employment rate of women, the first service by a local government in Japan to pick up sick children from day care and take them to a day care for sick children.
At Shin-Sugita Nobinobi Day Care in Isogo-ku, Yokohama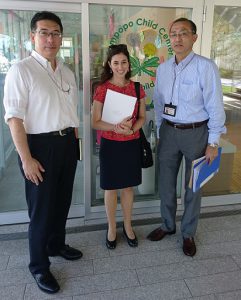 While in Toyama, she also visited the YKK Kurobe Office in Kurobe, Toyama, where YKK transferred part of their head office functions, and learned about the company's diversity management, including training female engineers, and about local initiatives to support raising children.
At Tanpopo Day Care, YKK's first on-site day care
In Kanazawa, she spoke with the founder of Hakuichi, a company which makes products using Kanazawa gold leaf about Women's Empowerment.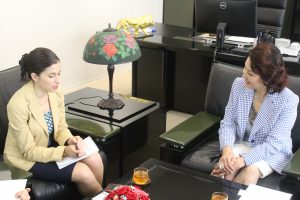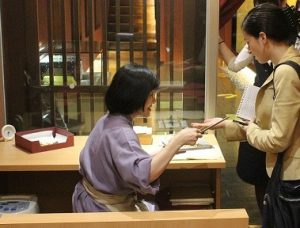 Interviewing Hakuichi founder Ms. Kuniko Asano    Journalist watching moving gold leaf at Hakuichi gold leaf museum
*Articles written based on this fellowship program will run in The Washington Post.