Date : December 4 - 14, 2016
Fellowship Program: Canada, The Globe and Mail, Konrad Yakabuski, Columnist
post date : 2017.01.12
As part of the 2015-2016 FPCJ Fellowship Program, columnist Mr. Konrad Yakabuski of Canada's The Globe and Mail visited Japan from December 4 to 14, 2016.
As Canada's largest national daily, with a weekly readership of 3.5 million, The Globe and Mail is the most influential newspaper in Canada. Mr. Yakabuski is a columnist for the paper, writing columns on politics, policy, and business in its Comment and Report on Business sections.
This was Mr. Yakabuski's first time in Japan, and with the increasing uncertainty over the international situation following the U.S. presidential election, he focused mainly on the outlook for Japanese foreign affairs and security policy. In Tokyo, he spoke with a member of the Diet, government officials, experts in foreign affairs, and others.
He was also interested in domestic Japanese politics, and interviewed political scientists about topics such as increasing participation in international society by Japanese women.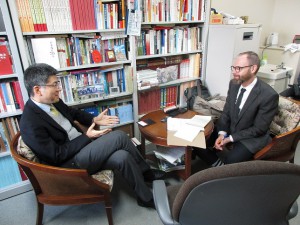 (Photo: Interviewing University of Tokyo Faculty of Law Professor Akio Takahara,
an expert on Japan-China relations)
*Articles written based on this fellowship program can be read from the links below.
"No apologies: Abe visits Pearl Harbor to show strength of U.S.-Japan
ties, not regret" (December 6)
http://www.theglobeandmail.com/news/world/no-apologies-abe-visits-pearl-harbor-to-show-strength-of-us-japan-ties-not-regret/article33213080/
"Abe's island mission may have been dealt a final blow with election of Trump" (December 14)
http://www.theglobeandmail.com/news/world/us-politics/abes-island-mission-may-have-been-dealt-a-final-blow-with-trumps-election/article33317557/
"Japan's existential crisis"(December 19)
http://www.theglobeandmail.com/opinion/japans-existential-crisis/article33354816/
"Abe is the rare bird of Japanese politics" (December 22)
http://www.theglobeandmail.com/opinion/abe-is-the-rare-bird-of-japanese-politics/article33406940/
"Why Japan is hell-bent on saving the Trans-Pacific Partnership" (December 23)
http://www.theglobeandmail.com/report-on-business/rob-commentary/why-japan-is-hell-bent-on-saving-the-tpp/article33413016/
"Abe's peaceful visit to Pearl Harbor will send a powerful message" (December 24)
http://www.theglobeandmail.com/opinion/abes-visit-to-pearl-harbor-will-send-a-powerful-message/article33424107/