Date : October 20 - 28, 2015
APIC Pacific Islands Journalist Invitation Programme
post date : 2015.11.24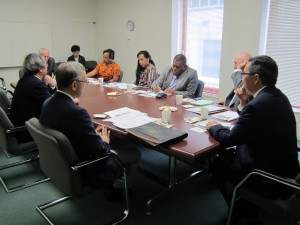 As part of the Association for Promotion of International Cooperation (APIC) Pacific Journalist Fellowship Program, six journalists from Pacific island countries (Fiji, Marshall Islands, Papua New Guinea, Tonga, Federated States of Micronesia, and Hawaii (USA)) visited Japan from October 20 to 28, 2015. The program focused on covering advanced Japanese initiatives that could contribute to solving issues shared by all countries in the Pacific region—including natural resources, energy, disasters, waste disposal, environmental destruction, and obesity. The program was planned and operated by the FPCJ, under commission from APIC.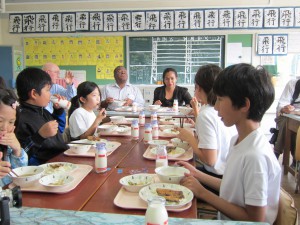 During the Tokyo portion of the nine-day program, in addition to learning about cooperation between Japan and Pacific island nations at the Ministry of Foreign Affairs and the Japan International Cooperation Agency (JICA), the journalists covered dietary education programs at a public elementary school, and systems for tsunami/volcano observation at the Japan Meteorological Agency. The group also heard from an expert about Japanese efforts to coexist with nature, and visited Toshiba's Hydrogen Energy Research & Development Center.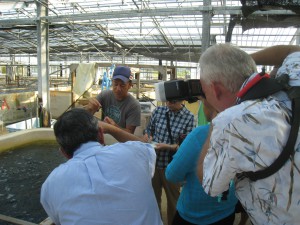 During the portion of the program outside of Tokyo, the journalists experienced an eco-friendly future lifestyle using technology such as fuel-cell vehicles in Toyota, Aichi, designated as a low-carbon society model city and the location of the head office of Toyota Motor Corporation. They also covered initiatives in Okinawa and Kumejima specific to problems islands face, such as waste management and energy issues. In Kyoto, the journalists experienced traditional Japanese culture by visiting temples and a castle, and experiencing a tea ceremony while wearing kimonos.
There are two themes that the journalists were particularly interested in throughout the tour: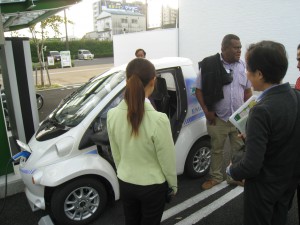 ①    Advanced Japanese contributions to developing a sustainable society
A core theme of this program was "sustainability." The journalists showed intense interest when covering cutting-edge environmental technology such as the MIRAI fuel-cell vehicle and HEMS (Home Energy Management System) at Toyota Ecoful Town, Kumejima's initiative to become fully self-sufficient for energy and food by using deep sea water as a regional resource, and Toshiba's hydrogen energy technology which has the goal of making local production and consumption of energy feasible on remote islands by 2020.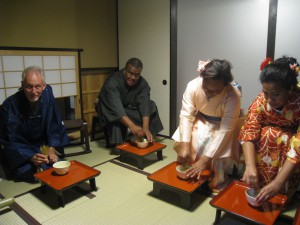 ②    Traditional Japanese culture
After visiting temples and a castle and experiencing a tea ceremony while wearing kimonos, the journalists made comments such as "I learned the importance of having pride in your culture and using it to create business and employment opportunities," and "Seeing how an economic superpower with advanced technology such as Japan is preserving its traditional culture, it made me think about my own country's rapid westernization and loss of traditional culture."
Once the program was finished, journalists' comments included the following: "Each topic was closely related to urgent issues facing Pacific island nations, so this tour was very useful," and "The opportunity to interview key figures not only from the government, but also in the private sector and from NGOs, as well as having cultural experiences, made this tour very valuable in helping to understand the Japan of today."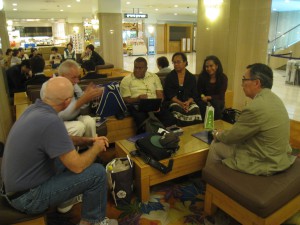 While in Japan, the participating journalists would hold meetings at their hotel every night led by Mr. Takeuchi, the program coordinator, and announce what angle they planned to use when writing stories about that day's coverage. They would then each write an article by the next morning. As a result, over 30 articles were written based on this program, with some samples below.
http://www.mvariety.com/regional-news/81187-time-money-invested-in-alternative-energy-beginning-to-pay-off-in-japan
http://www.looppng.com/content/preserving-our-cultural-heritage
There will be a separate report made available listing all the articles written based on this program.
<Participants>
【Fiji】Mr. Samisoni Pareti, Islands Business, Editor
【Marshall Islands】Mr. Giff Johnson, Marshall Islands Journal, Editor
【Papua New Guinea】Ms. Titi Gabi, LOOP PNG (News website), Editor in Chief
【Tonga】Ms. Linny Folau, Matangi Tonga, Photo Journalist
【Federated States of Micronesia】Mr. Bill Jaynes, The Kaselehlie Press, Editor in Chief
【Program Coordinator】Mr. Floyd K. Takeuchi, Senior Journalist/Photojournalist based in Hawaii