Date : September 9 - 19, 2015
Fellowship Program: USA, Reuters Washington Bureau Idrees Ali, Reporter
post date : 2015.10.30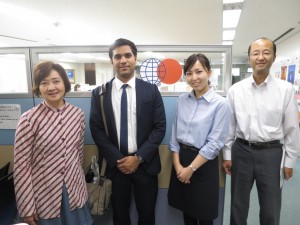 As part of the 2015–2016 FPCJ Fellowship Program, Reuters Washington bureau journalist Idrees Ali visited Japan from September 9 to 19. During the trip, Mr. Ali covered foreign policy, security, and trends in the defense industry. On the weekend, he went to Hiroshima to see the Hiroshima Peace Memorial Museum and interview atomic bomb survivors.
(Photo: In the FPCJ office)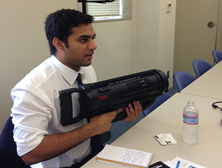 On the topic of foreign policy and security, Mr. Ali was interested in how the new interpretation of the constitution would change Japan's security strategy, while for trends in the defense industry, he was interested in what changes were predicted for the Japanese defense industry due to the Three Principles on Arms Exports being replaced by the Three Principles on the Transfer of Defense Equipment and Technology. Focusing on these topics, he attended briefings at the Ministry of Foreign Affairs and the Ministry of Economy, Trade and Industry; interviewed experts and a former Minister of Defense; and visited think tanks, an economic organization, and a defense company that produces equipment that can also be used for defense purposes. While he was in Japan, the security bill package passed and Keidanren announced a proposal in preparation for the establishment in October of the Acquisitions, Technology & Logistics Agency. The occurrence of these important events related to the themes he was covering made the timing of this fellowship perfect.
(Photo: At Japan Cell Co., Ltd., manufacturer of a high-power searchlight for search and rescue)
*Articles based on this fellowship will be released by Reuters in the future.