Date : February 11 - 20, 2014
Report: Fellowship Program: Ms. Sandi Doughton, Science Reporter, The Seattle Times
post date : 2014.03.12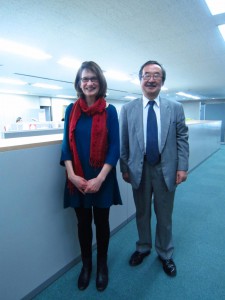 Ms. Sandi Doughton, science reporter of The Seattle Times of the US, visited Japan from February 11 to 20 under the FPCJ Fellowship Program. Ms. Doughton has been writing articles on The Great East Japan Earthquake in the past. In 2013, she published Full Rip 9.0, a book about an earthquake that might hit the Pacific Northwest in the future.
Ms. Doughton did her coverage in Tokyo, Shizuoka and the devastated area (Rikuzentakata City, Iwate Prefecture, Kesennuma City and Minamisanriku, Miyagi Prefecture). Her goal was to make the most of Japan's experience of the disaster and its preparedness and apply it to disaster prevention and reduction in the United States.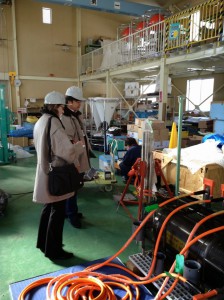 In Tokyo and Shizuoka, she met with several scientists and discussed the Japanese technology of measuring earthquakes and the seismic isolation design of buildings. In the devastated area, she interviewed representatives from the fishery and tourism industries.
The Seattle Times carried the following articles based on this coverage.
"Recovery isn't in sight 3 years after Japan's tsunami?" (March 9, 2014)
http://seattletimes.com/html/localnews/2023084236_japanrecoveryxml.html
 "Quake, tsunami equals a big mess" (March 8, 2014)
http://seattletimes.com/html/localnews/2023084354_japandebrisxml.html