Date : October 1, 2015
Super-Aged Society and Senior Marriages by Dr. Midori Kotani, Dai Ichi Life Research Institute
post date : 2015.10.19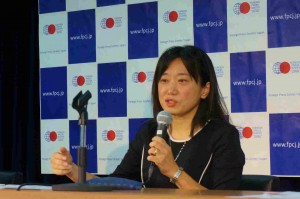 With Japan one of the first countries in the world to have a super-aged society, it is said that marriage among the middle-aged and seniors has been drastically increasing. The FPCJ invited Dr. Midori Kotani, Executive Researcher at Dai Ichi Life Research Institute, to speak about the increase in middle-aged and senior marriage and about Japan's super-aged society. The briefing had a total of 15 participants, including 11 journalists from countries such as Germany, France, Russia, Brazil, and the U.S., and 4 embassy representatives.
Dr. Kotani explained that major factors in the increase of the middle-aged and seniors looking for new partners are the dramatic increase since the 1990s of the number of single men who have never been married and the number of middle-aged people who divorce, on top of a drastic increase over the past 30 years of people living alone and married-couple-only households among people aged 65 and over. In particular, the number of men 50 years and over who are single has risen, as Dr. Kotani showed data indicating that 1 in 5 men who were 50 years old in 2010 had never been married. She also pointed out that an isolated life-style is perhaps also correlated to the increase in demand for match-making services among seniors. To support her argument, she shared a survey conducted by the National Institute of Population and Social Security Research showing that 1 in 6 men aged 60 and over talk with others, including family, less than once every two weeks. Those survey results reveal the sad situation that seniors (men in particular) who are living alone have weaker connections to society than those seniors living with their spouse and/or family.
As more middle-aged and senior people seek new partners, Dr. Kotani warns of several potential problems related to senior marriage, such as: (1) basic differences of motive between men and women in seeking a new partner; (2) potential trouble with adult children of a new partner and their families in building a relationship, as well as senior care and nursing problems; (3) problems relating to inheritance and family grave(s). Moreover, she introduced a survey, conducted by the Dai Ichi Life Research Institute, about the relationships of senior married couples. According to the study, nearly 70% of men aged between 60 and 79 answered that they trust their spouse, while less than 40% of married women within the same age group chose the same answer. Nevertheless, Dr. Kotani concluded her briefing by saying that the phenomena of an increase in senior marriage is one way that the middle-aged and seniors living alone can regain connections with people and society around them to spend their life more actively in today's super aged society of Japan. She also said that it could be a possible solution to serious issues relating to single seniors such as dementia and kodokushi (dying without being noticed by anyone due to isolation).
In the Q&A session, there were questions about any involvement by the Japanese Government or local municipal governments on the issue of senior marriages, and how she thought Japanese family structure could change, as a nuclear family is a typical image of Japanese family from foreigners' point of view.
[Material distributed at the press briefing]
Super-Aged Society and Senior Marriage
[Briefer]
Dr. Midori Kotani, Executive Researcher at Dai Ichi Life Research Institute
[Note]
If you have published an article, photo, or a program based on our press briefing report, please provide us with the (1) title of article(s) or product(s), (2) author's name, (3) published/broadcast date of your report, and (4) a copy of or a link to your report (if available) via email ( cp[at]fpcjpn.or.jp ).
*Please replace "at" with "@" when you send the Email.