Date : September 8, 2014
Report (Press Briefing): Cabinet Reshuffle and the Upcoming Extraordinary Diet Session (September 8, 2014)
post date : 2014.09.11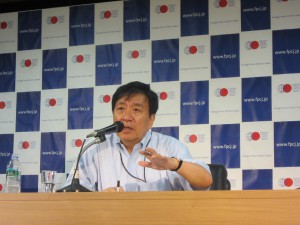 With the Cabinet reshuffle on September 3, the FPCJ invited Mr. Hiroshi Hoshi, columnist and senior political writer at The Asahi Shimbun, to speak about domestic politics, including the upcoming extraordinary Diet session. The briefing had a total of 67 attendees with 19 journalists from Brazil, China, Denmark, France, Germany, Hong Kong, Italy, South Korea, the UK and the USA, demonstrating the interest in the future of the Abe government.
Mr. Hoshi mentioned four key points regarding the Cabinet reshuffle and changes to LDP leadership:
1) The appointments of Mr. Sadakazu Tanigaki, a dove, and Mr. Toshihiro Nikai, with close relationships to China, as the secretary-general and chairman of the general council, respectively
2) The appointments of five female Cabinet members
3) For areas with difficult policy issues, such as agriculture, defense and national security, politicians well acquainted with that field were appointed as ministers
4) As a symbol of determination to carry out reforms, the appointments of Mr. Yasuhisa Shiozaki as Minister of Health, Labor and Welfare and Mr. Shigeru Ishiba as Minister in charge of Overcoming Population Decline and Vitalizing Local Economy in Japan
Mr. Hoshi appraised the appointments as being "acceptable."
Mr. Hoshi then discussed the issues facing the new Cabinet in regards to the economy and foreign policy. After pointing out that structural reforms are not finished and neither the budget deficit nor population decline have been dealt with effectively, he noted a particular need for 1) A decision on increasing the consumption tax to 10%, and 2) Macroeconomic management (particularly, increasing overall productivity of Japanese companies). For foreign policy issues, Mr. Hoshi mentioned 1) Holding a meeting of Chinese and Japanese leaders at the November APEC summit, 2) Relations with Russia, 3) Relations with North Korea, 4) The Futenma base transfer, and 5) The right to collective self-defense. He also gave his opinion that in the long term Prime Minister Abe was likely planning to tackle even more issues after reelection in the September 2015 LDP presidential elections, following the unified local elections in April of the same year.
Journalists asked a variety of questions during the Q&A session, such as whether reforms to labor practices could be expected with Mr. Shiozaki as Minister of Health, Labor and Welfare, if the appointment of Ms. Obuchi as Minister of Economy, Trade and Industry was a strategy to provide a softer image to the restarting of nuclear plants, what the reason was behind the LDP leadership change that appears to demonstrate a softer stance towards China, and what effect this Cabinet reshuffle would have on Japan-Korea relations.