[City of Sapporo] Nakajima Park – A natural space of relaxation in downtown Sapporo
post date : 2019.07.29
Hello. My name is Yuan Wang, Chinese Coordinator for International Relations for the City of Sapporo.
I arrived in Sapporo at the end of April last year, and from the start the city has felt very familiar to me because I had visited Sapporo once on vacation while I was studying abroad in Osaka. During that time, as a tourist I visited Odori Park, the Clock Tower, Shiroi Koibito Park, the Old Hokkaido Government Building, Maruyama Zoo, Tanukikoji shopping street, and other popular tourist destinations, but now I have come to learn of other sightseeing spots I hadn't known of before through my time living in Sapporo. This time, I would like to introduce Nakajima Park to all of you.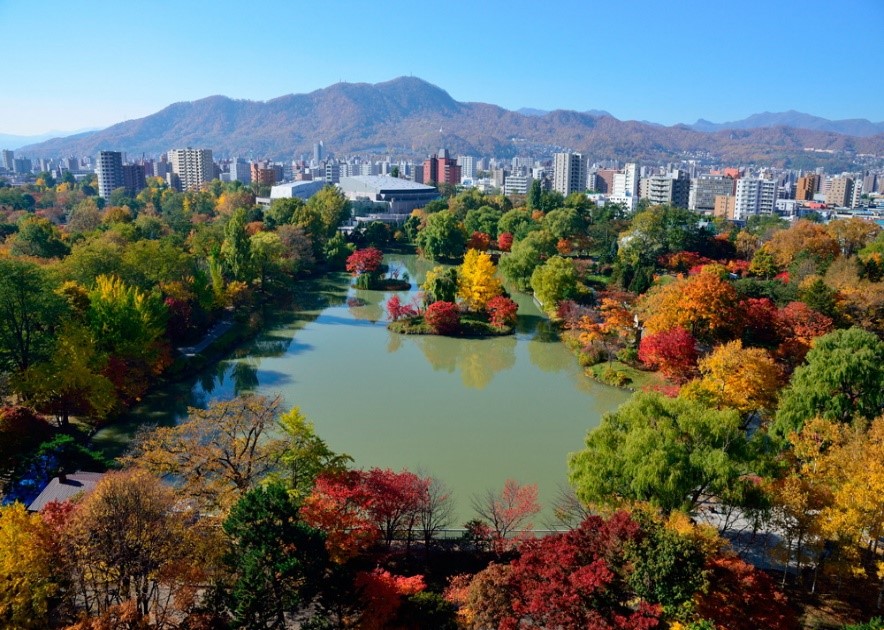 (Nakajima Park; Photo credit: Sapporo Tourism Photo Library)
Nakajima Park is located in the Chuo Ward in Sapporo, accessible from exits 1 and 3 of the Nakajima Koen Station on the Subway Namboku Line. Listed on the "100 Most Popular Urban Parks in Japan," it is a natural space of relaxation and one of the largest, most distinguished parks in the city. There are various types of trees and shrubs planted in the park, among which are the Gingko, willows, and Magnolia Liliflora (also commonly known as Mulan magnolia or Japanese magnolia) trees. In the center of the park is the Shobu Pond where you can gaze upon Mount Moiwa while sitting on a bench. As you look over the quite pond, you may see the figures of people rowing boats or of ducks playing. For the modern person who is busy every day, a natural place of relaxation such as this becomes a space to heal both mind and body.
There is also a Japanese Garden in the park which also houses a small teahouse called Hasso-an. With a width equal to about 3 tatami mats worth, it is a very narrow teahouse, difficult for many westerners (who tend to be more built than Japanese) and even modern-day Japanese to enter. In the past, a host would sit facing a guest in this tiny teahouse and have private conversations they didn't want overheard. Just as the name "Hasso-an" (which literally translates to "eight window retreat") suggests, there are eight windows; 3 lattice windows, 4 base windows, and an awning window. Framed and hung in the front of the teahouse is the phrase "bousen" (忘筌) meaning "forgetfulness." "Bousen" is a word which has its origins in the ancient Chinese text Zhunagzi. "Sen" (筌) refers to a tool used for catching fish. "Bou" (忘) means "to forget. Therefore, "bousen" refers to the act of forgetting one's tools used for catching fish after a fish has been caught, implying that it is okay to forget them. There are many tools necessary for learning the art of tea ceremony, though these are simply a means to an end. At the teahouse, the phrase "bousen" is written as a cautionary reminder to not fixate on these tools and forget the ultimate goal of tea ceremony.
Upon exiting the Hasso-an teahouse, you may arrive at the Hoheikan after walking just a short distance. The Hoheikan was built as a western-style hotel by the Hokkaido Government Commission and has been preserved as a historically significant building which tells of the history of Sapporo. Hoheikan is western-style wooden building representative of the early Meiji Era built using traditional Japanese building techniques with influences of American architectural styles. It characteristically beautiful appearance comes from the white siding and ultramarine blue trim. The Hoheikan has been visited by the Emperor and the Crown Prince over the Meiji, Taishi, and Showa Eras, and after that was used for a long time as a focus for cultural activities in Sapporo. It was used as a city-run wedding venue until 2011.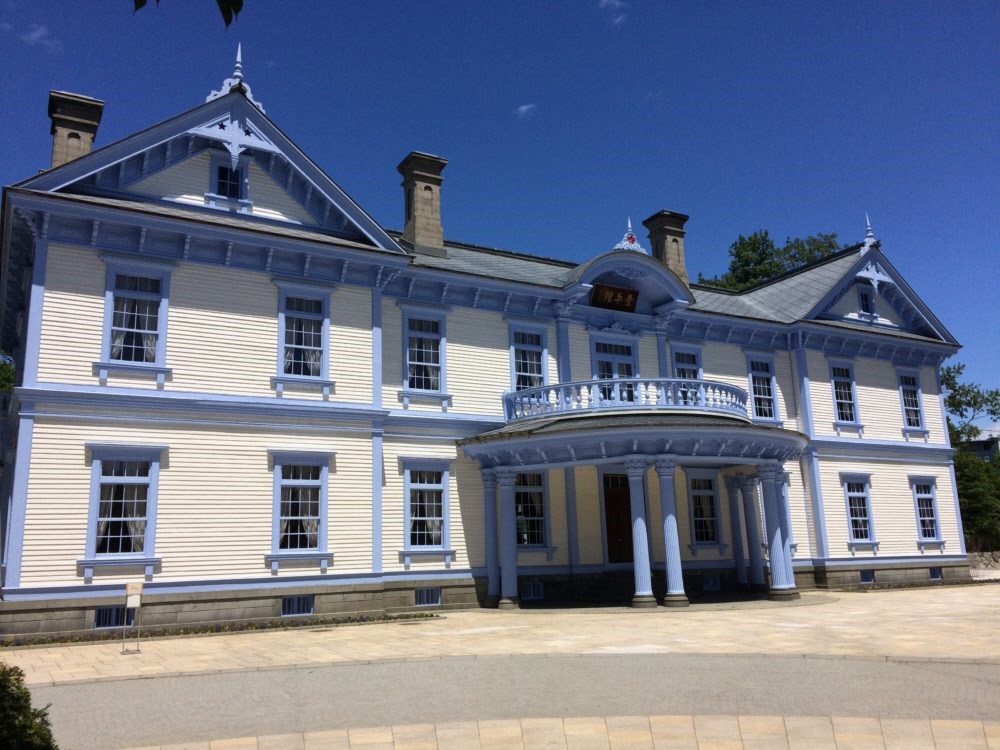 (Hoheikan; Photo credit: Sapporo Tourism Library Photo)
When you leave the Hohaikan, you may occasionally run into people carrying cellos or other musical instruments. Walking on a bit further, Sapporo Concert Hall "Kitara" will come into view. Kitara is one of the venues for the Pacific Music Festival (PMF) which is held every summer. Every year, youth musicians from all over the world come together under one roof and put on a spectacular performance, thrilling audiences. This year is the 30th celebration of the PMF. The PMF is held yearly in Sapporo, so those with a love of classical music should give this music festival a visit.
Just outside of Nakajima Park nearby Kitara Concert Hall is the Watanabe Junichi Museum of Literature, which commemorates the author of the famous work "A Lost Paradise." This museum is definitely not to be missed by those who are interested in literature.
Lastly, during the Hokkaido Shrine Festival (known as the "Sapporo Festival"), held from the 14th to 16th of June, many food stalls and a haunted house are set up at Nakajima Park as well as at Hokkaido Shrine. If you are ever here in Sapporo during this time, please do come enjoy the festival and the City of Sapporo which is teeming with attractions.
Nakajima Park Homepage
https://www.sapporo-park.or.jp/nakajima/
Hoheikan Homepage
Kitara Homepage
https://www.kitara-sapporo.or.jp/
Hokkaido Shrine Festival
http://www.sapporo.travel/event/summer/hokkaido_shrine_festival/
[Contact]

City of Sapporo, International Relations Department
TEL:011-211-2032