【Chiba Prefecture】Press Review Report(24 October, 2017)
post date : 2017.12.25
"Japan's Largest Floating Mega Solar Plant on a Dam Reservoir
~Chiba Prefecture's Renewable Energy Initiative~"
Chiba Prefecture held a Press Review for foreign press on Tuesday, October 24, 2017 in order to introduce "a project to install and operate a floating mega-solar power plant at the Yamakura Dam in Chiba Prefecture" with the largest production capacity of its type in Japan. Ten journalists from six countries and regions including China, Taiwan, Korea, Vietnam, England, and the US participated in this event.
The event was organized and sponsored by Chiba Prefecture, with the FPCJ handling applications.
Yamakura Floating Mega Solar Power Plant
(Photo by Chiba Prefectural Waterworks Bureau, October 2017)
(Reference)Information on Press Review
https://fpcj.jp/en/prlisting/chibapressevent20171024en/
<Outline>
In this event, Chiba Prefecture officials and Kyocera TCL Solar LLC staff offered an explanation including the goals of the project, an overview of the construction, and the benefits of a water installation. They also provided an opportunity to film and photograph the transformers and panels installed in the reservoir around the dam.
We received various questions from participants about the reasons for choosing a floating system, differing expenses between floating styles and ground-based styles, the business scheme, and the transition of renewable energy.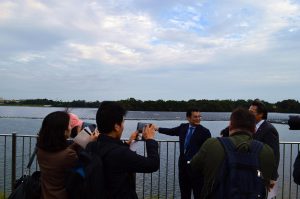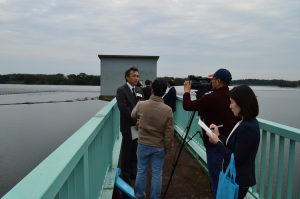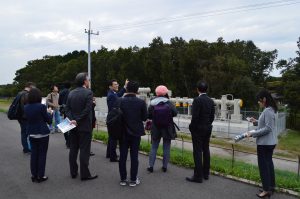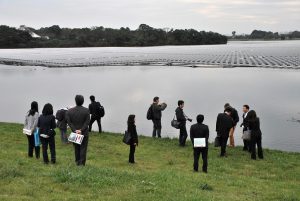 <Inquiries>
Chiba Prefecture Policy and Planning Department
International Affairs Division
TEL: 043-223-2436
E-mail: kokusai@mz.pref.chiba.lg.jp