【City of Sapporo】"Sapporo's Annex," Summertime Jozankei
post date : 2017.08.01
Hello. Yalei Liu, Coordinator for International Relations here.

Compared to the main island of Japan (Honshu), Sapporo's summers are always refreshing. Having lived in Sapporo for three years now, for me the phrase "torrid heat" seems far off, like words from the past.

Despite the fact that summer is short, there are all sorts of summer events in Sapporo. From the largest beer garden in Japan, concerts such as Sapporo City Jazz and the Pacific Music Festival (PMF), and summer festivals and fireworks displays held at various locations, the people from the northern country enjoy the brief summer to the fullest.
What I would like to introduce to you here is Jozankei, known as "Sapporo's Annex." Jozankei is famous as the hot springs district in outskirts of Sapporo, and is constantly being visited year round not just by locals, but customers from oversees as well. Because I've lived in Sapporo, I've personally experienced the attractions of Jozankei's seasonal atmospheres.

Out of the four seasons, I recommend Jozankei in the summertime the most. There are various outdoor experiences available including fruit picking, horse riding, mountain climbing, canoeing, rafting, outdoor camping, and of course hot springs. (Reservations may be necessary for some experiences).
Last summer, my CIR friends and I took advantage of a national holiday and went camping at the campsite at Jozankei. It is only 1 hour away from the Sapporo city center by car, so you can escape into nature from the busy city in the blink of an eye.
By leaving behind your smart phones and laptops, setting up your own tent, and preparing a barbeque, you can feel the vastness and mysteriousness of Mother Nature. In these moments, it feels as though you can forget everything, like work, worries, and differences between nations.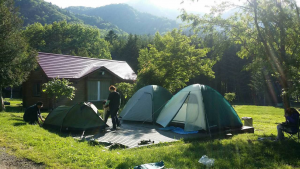 (Photo: Jozankei Natural Village campsite)
Also, recently, the "Jozankei Nature Luminarie" is being held, further enlivening Jozankei. Beginning last year with the 150th anniversary of the opening of the Jozankei Hot Springs, it is a delicate and beautiful lighting performance which takes advantage of Jozankei's nature. This year, being the second year they will hold the event, it is further expanded from Futami Park to Futami Bridge. The Jozankei night becomes even more charming as it welcomes guests with lights. If you have the opportunity, it is definitely worth a visit.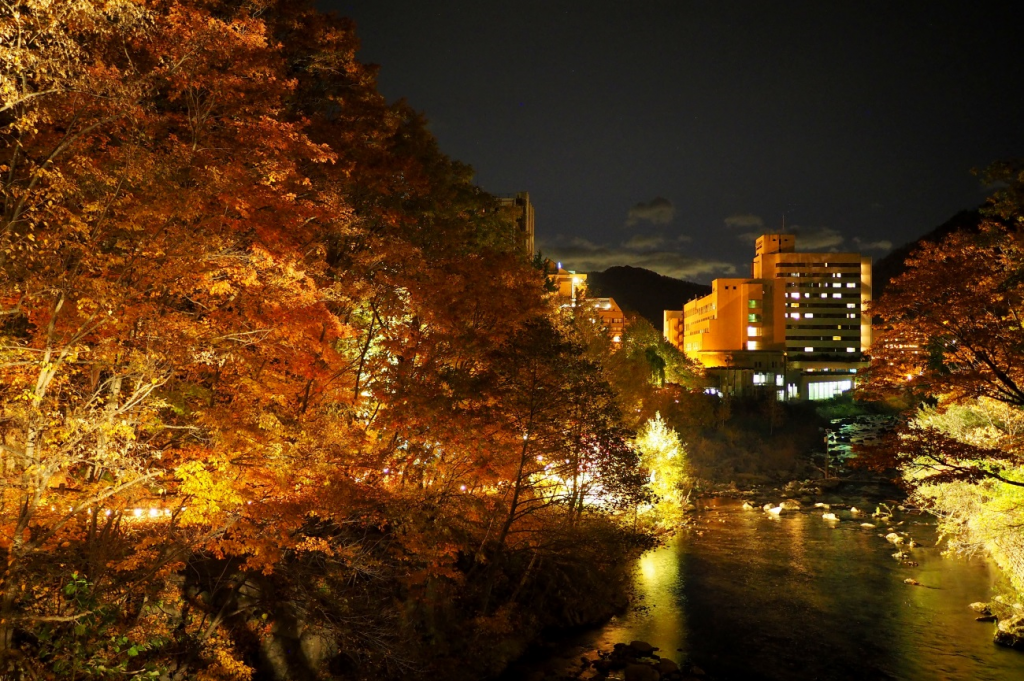 (Photo credit: Jozankei Tourist Association Official Website)
For details regarding this article, please reference the following Jozankei Tourist Association Official Website.

HP:http://jozankei.jp/ (Japanese/English/Chinese (traditional)/Chinese (simplified))
Contact:
International Relations Department, General Affairs Bureau, City of Sapporo
Kita 1, Nishi 2, Chuo-ku, Sapporo, 060-8611 
TEL : 011-211-2032 FAX : 011-218-5168
E-mail : kokusai@city.sapporo.jp