Local Municipalities' "Antenna Shops" Becoming Diversified and Boom in Local "Yurukyara" (February 17, 2012)
post date : 2012.02.17
Local Municipalities' "Antenna Shops" Becoming Diversified and Boom in Local "Yurukyara "
Local municipalities' "antenna shops" becoming diversified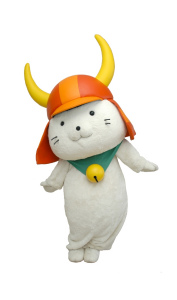 Local municipalities' "antenna shops" sell their specialty products and provide a variety of information on tourism and products. Antenna shops are getting popular as you can buy genuine local products and in shops with a restaurant, you can enjoy local dishes using local ingredients. According to the Japan Center for Regional Development, which helps antenna shops, the number of antenna shops has been increasing year after year, reaching a record 53 shops in FY2011.
●Photo: "Hikonyan," local mascot of Hikone City, Shiga Prefecture (provided by Hikone City)
Murakara Machikara Kan" in the Yurakucho Kotsu Kaikan has 12 specialty-product shops from all over Japan --- Hokkaido, Nagano, Shizuoka, Toyama, Shiga, Osaka, Hyogo, Toyooka, Wakayama, Tokushima/Kagawa, and Hakata --- and is crowded with people every day. Antenna shops have become diversified: the convenience store-type: those of Tokushima and Saitama Prefectures occupy corners of convenience stores; the collaboration-type: Tokushima/Kagawa Tomony-Ichiba --- Furusato Bussan Kan, which sells products of the two prefectures, and a joint antenna shop of the "friendship cities" of Tama City and Fujimi Town in Nagano Prefecture; the stay-and-eat type; Hokkaido and Miyagi Prefectures; and another antenna shop that features a very popular Italian restaurant in Yamagata Prefecture is getting people's attention. "Mahoroba Kan" of Nara Prefecture is putting a lot of effort into cultural lectures and events; its study course on Nara and sermons by Buddhist monks are enjoying popularity. In addition to providing consultations and information about employment for those who are returning to or newly coming to Niigata Prefecture, in November 2011 "N'SPACE" of the prefecture introduced job-finding functions to provide help-wanted information from the prefecture for people in other prefectures, the first attempt of its kind in Japan.
Boom in Local "Yurukyara (loose costumed characters)"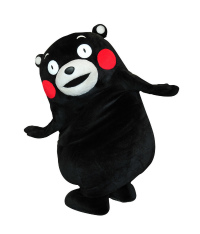 Triggered by the explosive popularity in 2007 of "Hikonyan," the local mascot of Hikone City, Shiga Prefecture, other local municipalities started to make their own "Yurukyara," which are now indispensable for their events or publicizing their specialty products. Yurukyara are attractive, it is said, because they are rough around the edge and have a funny taste, giving you a sense of weakness, comfort, relaxation and affinity. They are so widely recognized and popular now that a Yurukyara summit and a Yurukyara Grand Prix have been held. At the Grand Prix held in November last year, the PR character of Kumamoto Prefecture, "Kumamon," won the crown of victory. Kumamon goods are selling so well that it is anticipated that the total yearly sales will reach 2.7 billion yen.
●Photo: "Kumamon," local mascot of Kumamoto Prefecture (provided by Kumamoto Prefecture)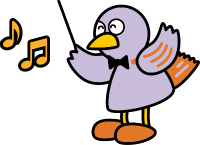 In Saitama Prefecture, members of the "Yuru Tama Cheering Squad," comprising 78 characters of its cities, towns and villages, headed by "Kobaton," the prefecture's character, have been busy publicizing their municipalities. Aiming at making the city a "Mecca of Yurukyara", Hanyu City in the prefecture held in November 2011 a Yurukyara summit to get Yurukyara together from all over the country and also to provide assistance for reconstruction from the Great East Japan Earthquake. This Yurukyara get-together was the first of its kind in East Japan.
●Photo: "Kobaton," Saitama prefecture's character (provided by Saitama Prefecture)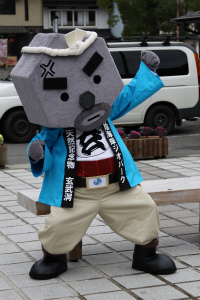 While there are many Yurukyara which make you feel comfortable, "Basaltic Gen-san," the mascot character of Toyooka City, Hyogo Prefecture, is conspicuous as "Shibukyara (seasoned and refined character)." In January this year, "Basaltic Gen-san" greeted about 600 examinees at the entrance of a high school where the unified University Testing Center Examination was held. He gave them high-five encouragement to bring good luck to them.
●Photo: "Basaltic Gen-san," mascot character of Toyooka City, Hyogo Prefecture (provided by Toyooka City)
The local Yurukyara boom seems to be unending. Will the local elation triggered by Yurukyara and antenna shops lead to that of the whole of Japan? We should keep an eye on it.
(Copyright 2012 Foreign Press Center/Japan)