Saving Electricity in Winter and Warm-biz (December 27, 2011)
post date : 2011.12.27
【Watch Japan Now vol. 16/ FPCJ】
December 27, 2011
Saving Electricity in Winter and Warm-biz
Saving Electricity in Winter
Because of the nuclear accident at the Fukushima Daiichi Nuclear Power Plant (NPP) of the Tokyo Electric Power Company (TEPCO) that resulted from the Great East Japan Disaster, the number of NPPs that are out of commercial operation is increasing. On November 1, the government decided, based on such data as a demand-supply outlook for this winter, to ask electricity users within the jurisdiction of the Kansai Electric Power Co., Inc. (KEPCO) to reduce use of electricity by more than 10% this winter compared with last year, and those within the Kyushu Electric Power Co., Inc. by more than 5%. The government did not set numerical targets for the users within the jurisdictions of electricity utilities in Hokkaido, Tohoku, Tokyo, Chubu, Hokuriku, Chugoku and Shikoku regions, but requested them to save electricity provided that they did not trouble for people's everyday life or economic activities.
Before the nuclear accident occurred, 54 domestic commercial nuclear reactors were fulfilling about 30% of Japan's electricity demand. As the Kyushu Electric Power Co. began to stop the operation of the Genkai NPP No.4 for routine maintenance, the number of NPPs in operation is now six, including the Tomari NPP No.3 of Hokkaido Electric Power Co. and the Shimane NPP No. 2 of Chugoku Electric Power Co. The Electricity Business Act mandates routine maintenance of an NPP every 13 months of its operation. This requires checking about 130 items, for example, whether major facilities would function normally. This routine maintenance usually finishes within two or three months. After the Fukushima nuclear accident, however, the number of NPPs that were stopped and cannot get back to commercial operation after the maintenance started is increasing, because since the Fukushima accident each utility has to meet some extra conditions including a government safety assessment and the go-ahead from the local people before resuming operation.
In KEPCO's jurisdiction, whose dependence on NPPs is more than 50%, only the Takahama NPP No. 3 is in operation out of the 11 that KEPCO possesses. As the NPP will undergo routine maintenance on and after February 20, 2012, it is very likely that no NPPs of KEPCO will be in operation. KEPCO announced its outlook on short supply in January, February and March 2012 as 5.4%, 8.0% and 6.1% respectively. Therefore, it is anticipated that the winter electricity demand will be the severest in KEPCO's jurisdiction. In response to a request from the government, KEPCO started a "winter electricity saving period" from December 19, 2011, till March 23, 2012, aimed at companies and households in its jurisdiction. Users are requested to save more than 10% compared with last winter between 9 a.m. and 9 p.m. on weekdays, except during the Year End and New Year holidays.
When the Genkai NPP No. 4, the only one in operation in the jurisdiction of Kyushu Electric, was stopped on December 25, the utility planned to raise its electricity supply with the help of other utilities. It has, however, judged that the 5% redundant electricity rate, which is regarded as necessary for a stable electricity supply when the demand is highest, will be lowered to 1% or less in January, in particular, and that it has to request its users to save more than 5% compared with last year. The request covers the period between December 26, 2011 and February 3, 2012, from 8 a.m. till 9 p.m. weekdays except the Year End and New Year holidays.
Households are the key to successful electricity saving in winter
The electricity industry has a common awareness that saving electricity in winter is more difficult than in summer. In summer, electricity use comes to a peak after 2 p.m., but in winter, there is heating demand from early morning to midnight, and peaks come during rush hours in the morning and the evening. Households account for about one third of electricity demand in winter, larger than about one fourth in summer, so further efforts for saving electricity are needed. The Agency for Natural Resources and Energy estimates that in the evening (around 7 p.m.) in winter, households consume about 30% of electricity for air-conditioners when they use them, and then 13% for lighting. In such a situation, as heating devices free of the influence of the electricity situation, kerosene stoves and similar devices have been selling well since October this year. The Japan Industrial Association of Gas and Kerosene Appliances, comprising mainly gas or kerosene equipment makers, estimated that 1,480,000 kerosene stoves will be sold in FY2011, 13% up over FY2010. According to the Association, in August this year, 187,000 kerosene stoves, about 12 times as many as the same month of the last year, and in September, 462,000, more than three times the same month of the last year, were sold.
This winter, people are relying more on Japan's traditional wisdom: yuzu (a citrus fruit) or ginger baths. When they are floated in a bath-tub, the mandarin oranges or yuzu, or ginger, give out a fragrance that simulates the skin and promotes blood circulation, it is said. Also attracting attention includes warming up by eating seasonal foods, root crops or ginger, or by having breakfast, and nabe dishes (a Japanese style hot pot), which also raise room and body temperature. Ginger, in particular, is in the news as drinks, cup soups, and candies made from ginger are on the market.
WARM BIZ
As part of measures against global warming, the Ministry of the Environment has, since FY2005, been campaigning for "WARM BIZ," namely more comfortable, warmer but still stylish business clothes even when the room temperature is set at 20 degrees C, getting back to the basic concept, "Wear more clothes when it is cold and don't depend on the heating system." The ministry set a period between November 1, 2011, and March 31, 2012, for this fiscal year's "WARM BIZ" period, introducing concrete examples of clothing, food and living styles which can be used in offices or households.
As part of the "WARM BIZ" campaign, an "ECO de OFFICE" executive committee was established in October 2011 with the support of the Ministry of Economy, Trade and Industry and also with the special cooperation of the Ministry of Environment. The "ECO de OFFICE" promotion campaign has been conducted mainly by nationwide department stores, in tandem with various organizations and industries including those of clothing, bedding and department stores. There are various kinds of goods that keep you comfortable without depending on excessive heating: legwear such as tights and legwarmers that use heat generating or heat-keeping materials, lap blankets using materials that are adjustable to comfortable temperature or that are heat generating, tiny portable gel warmers that can be put on or around waist or abdomen, nice and soft functional undergarments, etc.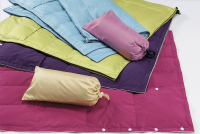 Photo (above): a 4-way portable blanket using highly thermal feathers. It is equipped with a pouch, can be folded compactly, and is easy to carry around. It can be used in an office or on other occasions to keep arms or shoulders or waist warm. 
*reversible type with a pouch, 140 x 70cm, material: down 85%, feather 15%
(Photo provided by Nishikawa Sangyo Co. Ltd., an ECO de OFFICE sponsor)
On December 24, 2011, the Cabinet Office announced the results of the "Public Survey on Citizens' Living Conditions (survey period: October 13 – November 6, 2011; Respondents: 10,000 male and female adults nationwide; collection rate: 62.1%). To the question, "What did you become more aware of after the great quake?" (multiple answers possible), 59% (the highest) said they tried to save electricity. In other surveys, many people replied, "I will save electricity even in winter. Saving electricity is necessary." In the first winter after the Great East Japan Earthquake, efforts to save electricity are going on in offices and households.
(Copyright 2011 Foreign Press Center/Japan)