【City of Sapporo】The Sapporo Snow Festival – Making the most of a very snowy city
post date : 2017.02.16
【From a Coordinator for International Relations in Sapporo City】
Everyone knows what a snowman looks like, even if not many can say that they are able to actually build one. Coming from a tropical country, building a snowman is something everyone from my hometown yearns to do at least once in their life.
Living in Sapporo, I decided to take it one step further. Instead of merely creating a snowman in my backyard – which, by the way, is not as easy as you think in Hokkaido where the snow is soft and powdery and hence refuses to stick right – I volunteered to help out with the snow festival preparations.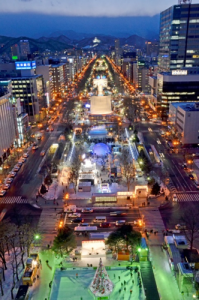 The Sapporo Snow Festival will be in its 68th year running this year. The grandest festival of the year, it features snow and ice sculpture displays towering up to 15 metres in height and using roughly 2500 tonnes of snow per large snow sculpture each time! Although Sapporo City receives more than enough snow for the festival (it is in fact one of the snowiest cities in the world with an average of close to 6 metres of snow every year) the snow for the festival is also brought in from other snowier areas close to Sapporo.
This famous festival had humble beginnings. More than 60 years ago, a group of high school students decided to create snow sculptures at Odori Park. It garnered much more attention and visitors than expected and when the Japan Self-Defense Force decided to create much larger snow sculptures, it became established as THE winter event in Sapporo. With that one of the largest events in Japan was born.
The annual Sapporo Snow Festival has now grown to occupy all twelve avenues of the Odori Park, located conveniently at the heart of the city. Many sculptures of all size, large and small, can be viewed along this 1.5km street. (Fun fact: Odori Park was originally built as a firebreak during the early development days in Hokkaido but now sees its days as a prime venue for major events in Sapporo City throughout the year.)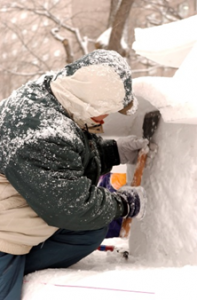 The snow sculptures of course, were not built overnight. And that is where I come in. As part of the 200 citizen volunteers and members of the city hall, we have only about a month to create detailed snow sculptures that are visited by more than two million people each year over the week that the festival is held.
I had grand images of sculpting a face for one of the figures at first but I realized that with the scale of the snow sculpture, a single volunteer would usually end up spending most of the day just smoothing out the side of a character's face. It was very tiring work and by the end of the day I was exhausted. When I think of how I barely even stayed as late as some of the workers who would work until late at night to meet the opening day deadline, I have nothing but respect and gratitude for all the citizen volunteers that tireless work to make the event a roaring success every year.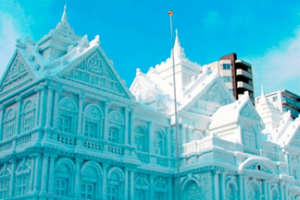 Of course, the festival is not only about marvelling at the grandeur of the many different sculptures. At the Tsudome Site there are also many activities to enjoy such as snow tubing, snowmobiling and more! Despite the frigid temperatures (and this is coming from someone who was born and bred in the tropics so she considers anything below 20 degrees chilly), there is definitely more to see, do and experience outside in the cold than sitting around a warm house alone.
■ 68th Sapporo Snow Festival 2017
Tsudome Venue:  Feb 1st – 12th
Susukino & Odori Venues: Feb 6th – 12th
Sapporo Snow Festival Official Website
http://www.snowfes.com/index.html(Japanese)
http://www.snowfes.com/english/index.html(English)
http://www.snowfes.com/c/index.html (Simplified Mandarin)
http://www.snowfes.com/t/index.html (Traditional Mandarin)
http://www.snowfes.com/k/index.html (Korean)
■ Contact
City of Sapporo, International Relations Department
〒060-8611 Sapporo, Kita 1-jo Nishi 2-chome, Chuo-ku   TEL:011-211-2032、FAX:011-218-5168
E-mail:kokusai@city.sapporo.jp