A New Wave of Spiritual Boom – Japanese reconsidering their lives and society after the Great East Japan Earthquake (October 14, 2011)
post date : 2011.10.14
【Watch Japan Now vol. 8 /FPCJ】
October 14, 2011
A New Wave of Spiritual Boom – Japanese reconsidering their lives and society after the Great East Japan Earthquake
Seven months have passed since the Great East Japan Earthquake. This unprecedented disaster has greatly influenced people's minds and values. Many Japanese people are now rethinking their lives and society, looking for the meaning of life and what is truly important for them. They are now searching, more than ever before, for the "kizuna" bonds of friendship between people, or the "iyashi" healing that helps them recover from a sense of loss and frustration.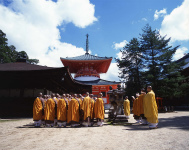 The "spiritual boom," in which people are apt to rely on something spiritual that they cannot see, was spreading against the backdrop of an unstable social atmosphere in pre 3/11 Japan, with media coverage and also promotion by the tourism industry. Places like the Grand Shrines of Ise, the Izumo Taisha shrine or the Buddhist complex on Mt. Koya are called "power spots" and are attracting many, young women in particular. Since the great earthquake and tsunami, however, this boom seems to have changed a little.
●Photo (left) : Great Pagoda and monks at Koyasan
The teachings of Kukai (posthumously called Kobo Daishi, the founder of the Shingon Sect of Esoteric Buddhism), who opened a temple on Mt. Koya in 816, are attracting attention. So many books on him have been published that some big book stores set up a special section for them. "Kukai's World: The Arts of Esoteric Buddhism," an exhibition which was held at the Tokyo National Museum till the end of September this year, attracted so many people that admission had to be controlled from time to time. Rev. Hogen Yabu, Manager of the Planning and Public Relations Department, Kongobu-Ji (Head Temple), Koyasan Shingon Buddhism, says, "I think what people today need is Kukai's teachings, especially, the idea that all men were born with divinity and are assigned individual roles to play as divine beings and that we should accept what happened as what happened." (Yomiuri Shimbun, August 9, 2011)
Since 2007, Kongobuji, the head temple of Koyasan Shingon Buddhism, in partnership with the Nankai Electric Railway Co., Ltd., has held the "Koyasan Café," a yearly event where you can get the experience of Mt. Koya (which is far off in Wakayama Prefecture, a three-Michelin-star World Heritage Site), easily and casually in an urban center. This year's Café was held for 11 days from September 1 to 11 in Marunouchi in Tokyo and attracted about 7,000 visitors, particularly young women. At the end of the first week of the event, Typhoon 12 (Talas) caused great damage in Japan centering on the Kii Peninsula. In Tokyo, however, it seems that the Café drew even more attention this year than last.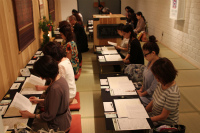 Mr. Hironobu Watanabe, Manager of Tokyo Regional Office and Business Promotion Division, Nankai Electric Railway Co., Ltd., says that the most popular programs of the Café were the shakyo (sutra copying) and the meditation under the instruction of Mt. Koya monks in their beautiful robes. Shakyo is a kind of spiritual exercise of copying out sacred sutras very carefully, through which you can send your wishes to the Buddha and get good karma from him. It is also said that by doing shakyo you can not only make your soul and body sound and mitigate distresses or suffering but also bring happiness to people you know. This year, like last year, people waited for hours in a long queue and more than 2,000 people, exceeding last year's 1,600, eventually did the shakyo calligraphy. One of the participants said, "I felt exhilarated when I finished shakyo. I was surprised to find how refreshing it was." In a corner of a modern building, many people practiced spiritual exercise until 11 p.m. every day. ●Photo (right) : Shakyo (sutra copying)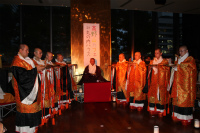 "Shomyo live," an event held on the first and the last days of the Café, was also popular, attracting 300 and 500 people respectively. Shomyo is a style of Japanese Buddhist chant with a melody. Monks performing shomyo, unlike those who teach shakyo, are spectacular, wearing brilliantly embroidered kesa (ritual garments) and beautiful red footwear. When the stage, lit by a sparkling mirror ball, is filled with powerful voices, a new space that is extraordinary, fantastic and celestial appears in the metropolis. Even if you don't understand what the chant means, you feel embraced by a holy power that is beyond religion. ●Photo (left) : Shomyo live
About the Koyasan Café, Mr. Watanabe says, "From last year we have moved the venue to Marunouchi and as a result working women and businessmen visited the Café, and older people came too, as Marunouchi has good transportation access." It seems that the spiritual boom is spreading to a wide spectrum of people. As to the future, Mr. Watanabe says, "For the coming four years until 2015 when Mt. Koya will celebrate its 1200th year of foundation, we will continue the Café with the concept, 'Though its threshold is low, it aspires to the genuine,' while incorporating new elements."
After experiencing a totally unexpected huge earthquake, big tsunami, nuclear crisis and typhoon damage, the Japanese have got back a deep awe of nature and started to have doubts about the mass energy-consuming society, which exists on the sacrifices of some of the people. When they face up to themselves or their society, they look for an ideal way of life or society in the future, relying on the teachings of Buddhism or other religions or philosophies as the cornerstone. It seems that the spiritual boom will not end up as a fad created by the media and the tourism industry, but will become a current where people will sincerely learn the spiritual teachings and way of thinking. 
(All photos were provided by Nankai Electric Railway Co., Ltd. )
(END)
(Copyright 2011 Foreign Press Center/Japan)