Winter sports city Sapporo – Anyone can ski jump!
post date : 2015.02.06
한국어(Click here for the Korean version.)
中文(Click here for the Chinese version.)
Deutsch(Click here for the German version.)
Русский(Click here for the Russian version.)
Hello! My name is Marina Lakeeva and I arrived as a Coordinator for International Relations for the City of Sapporo last August. My hometown is Sapporo's Russian sister city, Novosibirsk. The average January temperature in Siberia's frigid Novosibirsk is -20 degrees Celsius – though each year we see the temperature dip below -30 degrees. As such, I am quite pleased to be enjoying Sapporo's warm winter.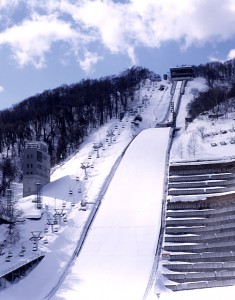 Many people think winter when they think Sapporo. The annual Sapporo Snow Festival attracts nearly 2 million tourists from not only within Hokkaido, but all Japan and the world as well. Sapporo has largely the Winter Olympics to thank for its international recognition, so I would like to share with you one of this city's Winter Olympic sites.
Okurayama Mountain is a roughly 20 minute drive from the city center and is home to the Okurayama Ski Jump Stadium. Opened in 1932, this stadium was used as an arena for the 1972 Winter Olympic Games. Today observers can still enjoy watching ski jump competitions here. It is a 5 minute lift-ride to the top. Looking down from above you may get a sense for what it feels like to be a ski jumper.
After descending the lift, I suggest heading for the Sapporo Winter Sports Museum.  The exhibits begin on the second floor, where you can see panels and photos of events including the Sapporo Winter Olympics and the Asian Winter Games. You can also grasp an actual Olympic torch. Looking at these materials is fun and all, but next it's time to head down to the first floor and test your skills! You can try out being an ice hockey goalie, speed skating, cross-country ski racing, doing a figure skate spin and more.
But I feel the greatest of all would have to be the ski jump simulator. It's almost as if you are gliding down Okurayama itself! Your speed and distance are measured at the end to be entered into the rankings. Why not shoot for best jump of the day?
<Okurayama Ski Jump Stadium>
http://www.sapporo-dc.co.jp/eng/okurayama/index.html
A jump stadium used during the Sapporo Winter Olympic Games.
It has also been chosen as an arena for the 2017 Asian Winter Games.
◆ Contact
International Relations Section,International Relations Department,
General Affairs Bureau
City of Sapporo
Kita 1-jo Nishi 2-chome, Chuo-ku Sapporo  060-8611
TEL:011-211-2032、FAX:011-218-5168
E-mail:kokusai@city.sapporo.jp