Hiroshima Telecasting: "Letters to Obama" campaign at Peace Memorial Park on August 5
post date : 2014.07.30
The campaign in progress in bomb site of Hiroshima to request President Obama's visit
"Letters to Obama"             
Hiroshima Telecasting Co. Ltd.
Hiroshima Telecasting will run the "Letters to Obama" campaign from the afternoon of August 5th  at Peace Memorial Park, where the Peace Memorial Ceremony will be held on the following day (August 6th), in order to collect messages widely to request President Obama visit Hiroshima. 
This campaign is derived from a project called "Piece for Peace HIROSHIMA" (A single character for peace) that started 2 years ago commemorating the 50th anniversary of Hiroshima Telecasting from its foundation. 
Over 10 million paper cranes are donated to Peace Memorial Park in the bomb site city of Hiroshima every year from all over the world.  Donated paper cranes are recycled into paper. Then we asked people to write a single character encompassing a wish for peace on this paper.  At present, the pieces of a single character total  approximately 18,000 from Japan and abroad.  
"Piece for Peace HIROSHIMA" has evolved into the "Letters to Obama" campaign this year.  President Obama has a great influence in the world.  If he sends a nuclear abolishment message from a bomb site, we believe that a world free of nuclear weapons is not impossible.   Messages to President Obama, written on recycled paper from origami cranes, are sent to us one after another, and they are being introduced in our TV programs every week.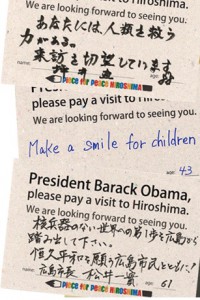 Letters are coming from a wide range of community members, including from the governor of Hiroshima, the Mayor of Hiroshima, hibakusha, housewives and children.  Furthermore, messages do not refer to any apology nor hatred of the USA, rather they are mostly proactive and positive, saying "Please see Hiroshima at present.  Let's consider a way to build a lasting peace."
Then we selected messages out of all of them and brought 72, including those from hibakusha and the Mayor of Hiroshima, to the White House back in early May of this year.  Hiroshima Telecasting will support and continue this campaign.
On August 5th Hiroshima Telecasting employees and volunteers will collect messages wishing for nuclear abolition, asking Japanese and foreign visitors in Peace Memorial Park near the Atomic Bomb Dome from 1 p.m.
Inquiries for this matter
Hiroshima Telecasting, Piece for Peace HIROSHIMA Office, Kiyotaka YOSHIKAWA
Tel: 082-249-1208 Fax: 082-249-1323 
Mail:yoshikawa@htv.jp
*Hiroshima Telecasting (6-6 Naka-machi, Naka-ku, Hiroshima, 730-8575 Japan)
Commercial Broadcast Station.  Located in the heart of bombed city Hiroshima.   Since its foundation in 1962, consistently sending messages for peace through reports of devastation by atomic bomb and the cruelty of  war. 
※Related article
Mr. Hideaki Miyama, Hiroshima Telecasting President