Date : March 20, 2023
[Report] FY2022 3rd FPCJ International Webinar: Japanese Tourism After COVID-19: Rising Hopes and Response to Issues—How Can Japan Become a Leader in Sustainable Tourism?
post date : 2023.04.20
1. Webinar Goals and Participants
(1) With hopes for a V-shaped recovery for Japanese tourism after the country essentially closed its borders due to the pandemic, on Monday, March 20, the FPCJ held an international webinar considering the future of Japanese tourism after the pandemic. The webinar had a total of nearly 140 participants, including journalists as well as representatives of the tourism industry and local governments from around Japan.
In the Travel & Tourism Development Index 2021 released last May by the World Economic Forum, Japan ranked first for the first time since the survey began. This was due not only to factors such as Japan's convenient transportation infrastructure, ample nature and rich culture, but also thanks to a relatively high ranking in the newly established Travel and Tourism Sustainability category, demonstrating Japan's competitiveness and high potential as a tourist destination. However, there are also issues such as a lack of workers for the tourism industry, slow adoption of the use of IT, low productivity, and a tendency for inbound tourism to be extremely concentrated in specific areas.
As expectations rise for Japan as a tourist destination, how can the country provide high value-added tourism while meeting the diverse needs of travelers? How can Japan promote sustainable tourism through conservation and utilization of the environment, transmission and inheritance of culture, and stimulation and sustainable development of local economies?
(2) This webinar had discussions between Japanese experts on tourism administration and policy and foreign correspondents who have been watching Japan from an international perspective, along with hearing live from people on the front line of the tourism industry in Japan and abroad. While rediscovering the appeal of Japan, the future of Japanese tourism was discussed.
A total of 220 people registered to watch the webinar, and 137 joined it live.
2. Program/Links to the Chapters of the Video Clip Above
| | |
| --- | --- |
| | Greeting by Kazuo KODAMA (FPCJ President) |
| | Presentations by panelists |
| | Panel discussion (including livestreams) |
| | Q&A session |
| | Closing session |
3. Introduction of Panelists
Moderator: Mr. Keisuke MURAYAMA (Yamatogokoro Inc., CEO)
Panelists:
Ms. Kanako MORITO (Jalan Research Center, Head Researcher)
Mr. Walter SIM (The Straits Times, Japan Correspondent) <Singapore>
Ms. Lucy DAYMAN (Freelance Journalist) <Australia>
Participants via Livestream:
Mr. YOON Hee-il (The Kyunghyang Shinmun, National Society Desk Reporter) <South Korea>
Mr. Paul Christie (Walk Japan, CEO) <Oita Prefecture>
Mr. Satoshi Tatsuno (Nagano Prefectural Office International Tourism Section) & Mr. Takaaki Kaneko (Nagano Tourism Organization)

*For details on the webinar and its panelists, see here.
4. Moderator's opening remarks
To begin with, the moderator, Mr. Murayama, explained the current state of tourism in Japan, stating that the market which had paused for around three years had started up again in October last year, now having recovered to more than one million inbound tourists monthly. He also mentioned that the Japanese government is maintaining its target of having 60 million inbound tourists in 2030, intending to return the number of tourists to pre-pandemic levels in 2025, and with Expo 2025 being held in Osaka, tourist spending could reach as much as five trillion yen per year. As issues for the tourism industry, he noted the issue of the gap in dealing with foreign tourists during the pandemic, including the language issues involved, and also the shortage of tourism workers in tourist destinations. Regarding sustainable tourism, an important factor to consider for the future of tourism, Mr. Murayama suggested it was necessary not just to consider the environment, but social issues such as maintaining employment, passing on local traditional culture, and contributing to local economies.

5. Panelists' Comments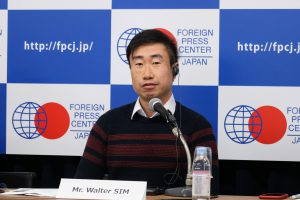 [Mr. Walter Sim]
Next, Mr. Sim commented how since he began working in Tokyo in June 2016, he had opportunities to visit areas throughout Japan, and showed pictures from when he visited Miyako-jima and Amami Oshima, as examples of natural scenery he liked. He explained that Japan has a variety of attractions, such as the powder snow of Niseko (Hokkaido), the sand dunes of Tottori, and traditional, sustainable ama fishing, with all these attractions making Japan a "sleeping giant," which had finally begun to awaken within the past ten years.
Related to sustainable tourism, he mentioned how excessive development and excavations in Niseko had led to a decrease in the flow of hot springs, and including foreign languages such as English on signage in regional areas.
While stating that it was hard to choose what place in Japan had made the greatest impression on him, Mr. Sim mentioned that the Zen meditation retreat on Awaji Island had left a particularly strong impression, and said that he hoped to see more tourism proposals based around art or experiencing nature.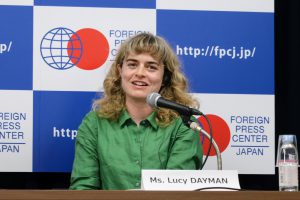 [Ms. Lucy Dayman]
Ms. Dayman was next, and explained how she first became involved with Japan when she visited Zao for a family ski trip in 2013. From a desire to introduce people to lesser-known parts of Japan, last year she began hiking tours to locations such as Mt. Takao (Tokyo).
As places she found particularly special, she mentioned Kinosaki Onsen in Hyogo Prefecture, where visitors can experience Japanese onsen culture, and Onomichi, Hiroshima. She suggested that while nature was one of Japan's assets, places like Onomichi, where entrepreneurs have brought new culture to a traditional town, are also interesting.
As more of her favorite places, she mentioned the Shimanami Kaido near Onomichi, and Takigahara Farm in Komatsu, Ishikawa, which uses traditional buildings.
Regarding issues facing Japanese tourism, she commented that people in Japan were not good at introducing the wonderful parts of their own country, and proposed more effective use of digital media.
She also noted that when it came to sustainable tourism, people tended to go through a SDGs checklist, but the point was not to use paper cups instead of plastic cups, and so it was necessary to rethink what sustainable tourism means.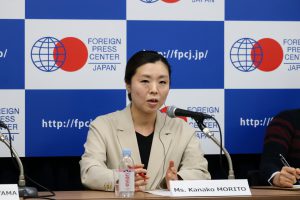 [Ms. Kanako Morito]
Ms. Morito explained that when studying tourism in Japan and internationally, "sustainability" began to be frequently mentioned five or six years ago, and was now a buzzword, but while people in Japan felt it was something they must do, they were not looking at it in a positive light and trying to have fun while doing so.
She argued that instead of being passive towards sustainable tourism, people should consider what could be a tourism asset, and instead of focusing on the environmental aspect only also consider the culture aspect, looking positively at sustainable tourism as a way to protect these unique tourism resources.
She suggested that people should avoid providing whatever visitors want without carefully considering what their own core identity is, and should instead build a fair relationship placing themselves on the same level as visitors, without responding to visitor demands too much.

6. Livestreams with People Involved with Tourism
Next, the webinar heard from people in South Korea (Seoul), Oita Prefecture (Kizuki City), and Nagano Prefecture (Nagano City), who joined by livestream.
[Mr. Yoon Hee-il]
Mr. Yoon Hee-il was a Japan correspondent for The Kyunghyang Shinmun, a national daily newspaper in South Korea, and with his love of trains is the honorary station chief of the train station of a local line in the San'in region. He started that there was no other country in the world where you could travel as widely throughout the country using trains, and that this would help with sustainable tourism in Japan. As his favorite train lines, he mentioned the Gono Line between Akita and Aomori, and the Senmo Main Line between Abashiri and Kushiro in Hokkaido, and said he hoped for overseas travelers to be able to experience the wonders of travelling through nature by train. As merits of the Japanese railroad system, he mentioned how not only did the trains run on time and safely, but also there was a large diversity available, including Shinkansen, local lines, sleeping cars, and luxury cars. He also commented on how the excellent JR Pass was available, as are thousands of different ekiben (train station lunches) to eat on the train. He requested the Japanese government do something to save train lines from being shut down in places such as Hokkaido, arguing that it was a loss for Japanese tourism. He also proposed doing something about extra fees being charged in sections where multiple railway companies operated, making an inexpensive railway ticket available that could be used in Tokyo and the surrounding area, and improving internet connectivity.
Responses from the panelists
Mr. Sim responded that he fully agreed that public transportation infrastructure was important for sustainable tourism, and he would also like more overseas tourists to learn about the appeal of local train lines.
Ms. Morito mentioned she was also a fan of trains, and stated her hopes that although maintenance costs were a serious issue, tourism might be a solution.
Mr. Murayama commented that Mr. Yoon's passionate explanation had reminded him that trains were not merely a method of travel, but something to be enjoyed.
[Mr. Paul Christie]
Next, Mr. Paul Christie of Walk Japan, who has been based out of Kitsuki on the Kunisaki Peninsula of Oita Prefecture for the past 20 years, spoke about walking tours with high added value. Walk Japan was originally established by two University of Hong Kong teachers 31 years ago, with Mr. Christie joining five years later, and since then he has been planning tours where people can experience unknown parts of Japan while walking.
They have a popular Nakasendo tour open to only 12 participants, targeting wealthy tourists, and he emphasized that this product was developed around something that no one had even considered as a tourism resource.
He explained that although the company is based out of Oita, it has tours throughout the country, from Hokkaido to Okinawa, and while the tours do mainly consist of walking, local buses and trains are also used to create opportunities for interacting with locals. He explained that they only organized tours that they would like to go on themselves, and that people who joined their tours helped advertise them by word of mouth, with a recent surge in demand for the tours by school groups.
He ended by saying that although Japan's scenery, food, and public transportation were all excellent, nothing was better than the people of Japan themselves, who were always welcoming to visitors.
In response to each question from the speakers below, Mr. Christie replied as follows
When Mr. Murayama asked about the price of the tours, Mr. Christie replied that they had tours between 7 and 11 days long, costing between 50,000 and 80,000 yen per day, and that when he spoke to locals about the tours, they would be surprised and ask what there was to do in the Kunisaki Peninsula for a whole ten days.
Ms. Dayman stated that she thought interaction with locals was wonderful, but asked what exactly that involved, and Mr. Christies explained that it could be something as small as asking about the name of a flower growing by the road, developing into a conversation from there.
[Mr. Tatsuno and Mr. Kaneko]
The third livestream was with Nagano Prefecture, and Mr. Tatsuno of the Nagano Prefectural Office International Tourism Section explained that in 2019, the number of inbound tourists was steadily increasing, with around 60% being from China, Hong Kong, and Taiwan, followed by 8.8% from Australia.
Regarding the prefecture's promotion of adventure tourism, he mentioned there were many visitors to ski hills in the winter, but not as many visitors staying overnight in the green season (May to November), and how the ample nature led to frequent interaction between people in the past, so the variety of Nagano's history and culture was also a strength, which they decided to take advantage of through adventure tourism.
Next, Mr. Kaneko of the Nagano Tourism Organization explained specific initiatives such as efforts to train local guides and local operators, and stated the future would focus not just on walking tours along old roads, but with a focus on the handcrafts of the Hime Kaido period, with initiatives to have tourism impact traditional crafts and lead to successors being trained. Mr. Kaneko ended by saying he intended to do whatever he could to attract people from the "Golden Route" to Nagano Prefecture.
7. Question and Answer Session, Closing Session
At the end of the webinar, the panelists were asked questions from the general participants, such as "How do Australia and Singapore discover and analyze the appeal of their countries from a foreign perspective?" and "Japan is surrounded by oceans and has beautiful coastlines, why not take advantage of this natural resource?".