Former Hurdler, Dai Tamesue: "I Want to Solve Social Problems with Sports" <Vol.2>
post date : 2016.03.04
Dai Tamesue, a bronze medalist in two World Championships in Athletics, is proposing ways for athletes to play active roles in society. The second installment of the Foreign Press Center Japan's interview with him delves into his endeavors to develop prostheses for Paralympians and his thoughts about the 2020 Tokyo Olympics and Paralympics. (First installment)
"Paralympians' successful performances will change Japanese social awareness"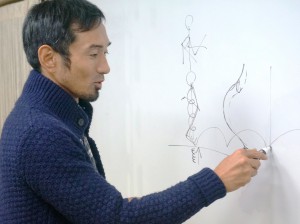 FPCJ: Could you tell me what led you to set up Xiborg, a company dedicated to researching and developing prostheses? How have you gotten yourself involved in sports for the disabled?
Mr. Dai Tamesue: I met Ken Endo, a robot researcher (who is now serving as Xiborg's chief executive officer), and we immediately saw eye to eye. He was studying at MIT (Massachusetts Institute of Technology), determined to develop prostheses for a student from his high school basketball team who lost a leg due to osteosarcoma.
Before I retired, I was training at the Olympic Center in San Diego, in the United States. When I saw Olympians and Paralympians—about half and half in ratio—using the facility, I thought it was good to see people with and without disabilities developing relationships on equal terms. What I am trying to create is a society where people can live on equal terms and a tolerant society—by solving various social problems with sports. I would not have become aware of this if I had stayed only in Japan.
I pondered how an athlete can achieve this goal. Then I realized producing heroes out of the Paralympics is the best approach. If many Paralympians are featured in TV programs, there will be more opportunities for people to see them. I believe it will help change social awareness. In short, everything starts after a change in people's awareness. This line of thinking prompted me to set up Xiborg with Mr. Endo.
Trying to make the Paralympics a mere spectacle will end up boosting the event in the short term. If people realize how the Paralympics can solve social problems and add value to society, Paralympians will be heroes and be recognized by people.
FPCJ: How far is the development of the prostheses from completion?
Mr. Tamesue: The Rio de Janeiro Olympics season starts around April 2016. We would like to make our prostheses good enough to use for races by that time. We can make outstanding prostheses, but there are only a few athletes who can make good use of them. Unless the athletes boost their physical strength, they cannot master the use of ever more powerful blades. If a Paralympian beats an Olympian, it will have a huge impact. I am searching for ways to create a Paralympics that will change social awareness.
"Making the Olympic and Paralympic Games problem-solvers"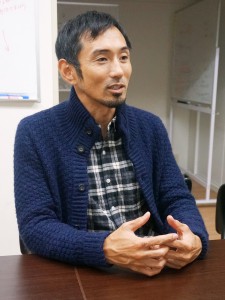 FPCJ: You have participated in three Olympic Games. Based on this experience, could you tell me what kind of Games Tokyo should aim for in 2020?
Mr. Tamesue: The biggest concern for any athlete is whether he is going to win or not. So, where it is hosted is not much of a concern for them. More and more events have been added to the Olympics, with the 2008 Beijing Olympics reaching a peak. If the Games continue to bloat, it will effectively limit who can host the Games.
All Olympic Games are bound to be similar. So it is difficult for Japan to host Olympics and Paralympics which are totally different from the previous ones. Instead of employing the viewpoint of "how the Olympics and Paralympics can change Tokyo," we would be better off considering "how Tokyo can change the Olympics and Paralympics."
FPCJ: Could you elaborate on this point?
Mr. Tamesue: There are challenges Tokyo would have to tackle even if it did not host the Games.
I think the Games should provide momentum to solve these challenges. I would like to see the problems that we have to solve eventually—such as the aging society and efficient energy use—solved by hosting the Games with a sustainable society created in Japan. Such an endeavor may not be flashy, but I would like to see Japan praised for its wisdom in later years. Also, startup companies should be awarded contracts for Olympic- and Paralympic-related projects—an undertaking which will help foster next-generation industries. More than anything else, I would like to see the concept for the Tokyo Olympic and Paralympic Games focused to make them much more future-oriented.
--------------------------------------------------------------------------------------------------------------------------
Dai Tamesue
Born in 1978 in Hiroshima Prefecture. He won bronze medals in the 400m hurdles in two World Championships in Athletics—in Edmonton in 2001 and in Helsinki in 2005 winning the first ever world championship medal in a track event for Japan. He participated in three Olympic Games in Sydney, Athens and Beijing. His activities since his 2012 retirement have not been confined to sports, covering wide-ranging areas such as research and development, social and educational issues.
---------------------------------------------------------------------------------------------------------------------------