"Each of us Japanese must face foreign people eye-to-eye!" Mr. Ko Yamaguchi, Special Advisor, Global Strategy Headquarters, Management & Planning Office, Kyodo News
post date : 2014.02.03
My Opinion No. 3
Mr. Ko Yamaguchi
Special Advisor, Global Strategy Headquarters, Management & Planning Office, Kyodo News
Mr. Yamaguchi, 69, has been Managing Director of the International Department, Kyodo News; Head of Media and Spokesman of the 2002 FIFA World Cup Japan and Korea in Japan's Organizing Committee; and Media Head and Spokesperson of the Organizing Committee for the 1998 Nagano Winter Olympic Games. He has been engaged in news gathering activities for more than 35 years. Mr. Yamaguchi speaks on what he tried when covering in foreign countries and when announcing news to the foreign media.
-When did you realized the necessity of enhancing dissemination of proper information from Japan?
I have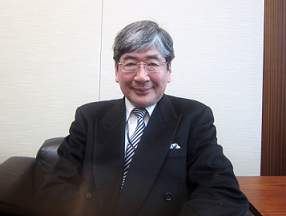 realized the necessity through lots of news gathering activities. When I covered an annual meeting of the World Economic Forum (Davos Forum) in the early 1990s, I witnessed a Japanese politician invited to a separate meeting on the China issues being barraged with questions and unable to respond to them properly. At that time, I keenly felt that Japan had not prepared enough to enhance leaders ready for open discussions in international conferences and that it had not brought up human resources who can have their say in a due course in international communications.
 I also felt strongly that we had so few Japanese who can express themselves in a forum where they have to speak out what they really feel, taking account of TPO (time, place and occasion), and as a result of that Japan had not transmitted enough information to overseas.
-The number of people who send out information through such means as SNS with their smartphones or tablet PCs is increasing. What is your view on this change?
Now we are in the age when information transmitted through the Internet or websites can only have a little impact. Anybody can send information out through Facebook or Twitter, and their interactivity makes good exchange of information possible, enabling the users to share information very easily. However, information contents are now stereotyped and only the contents that interest everybody are circulated to be shared. Information sharing seems to give birth to values, but in fact it does not. Certain statistics predict that demands for moving images will be increasing. In order not to be drowned in the current of information that has been selected only because many people pressed the Internet's "like" button, we should intentionally transmit Japan's history or valuable information.
Delivering correct information and truths to the world
-You worked as the Media Head and Spokesperson of the Organizing Committee for the 1998 Nagano Winter Olympic Games (1998), and the Head of Media and Spokesman of the 2002 FIFA World Cup Japan and Korea in Japan's Organizing Committee. Through your such experiences what matters most?
As the media head of the Nagano Winter Olympic Games, I tried to achieve three things. Answer all questions; Say Yes or No very clearly; and Take flexible responses. In Japan, government ministries and agencies, prefectures, and municipalities are compartmentalized and do not share information. I keenly felt that in Japan information has not been accumulated and shared in a proper form that can be desseminated to foreign countries. So I tried to be my best not to leave any ambiguity to my answers. I tried to make it clear "Yes" or "No".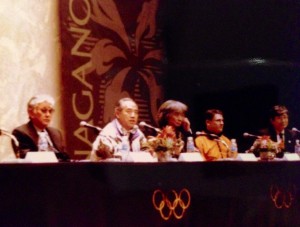 The Nagano Winter Olympic Games were a great event ; 3,700 athletes and officers from 72 countries and regions participated, the audience totaled 1,440,000, from all over the world 8,300 reporters came, and 32,000 volunteers assisted the event. The Olympic Games have a history of adopting the most advanced information technology. When the Tokyo Olympic Games are to be held in 2020, more people than ever before will enjoy the games through internet with their smartphones or tablets. We have to study what type of information transmission we need at that time. My experiences tell me that at  venues where people with different cultural backgrounds gather together, anything could happen; some troubles of managing games such as traffic jams, issues of security and ticketing, and also many different voices from IOC members and the athletes. Comprehensive judgment is required for information dissemnation in such occasions. Rational explanation is required to be understood by foreign media. I have to make a lot of efforts to send out balanced information.
Make efforts to send out balanced information
-What difficulties in news gathering have you had in foreign countries and what should Japan's media be careful about when sending news to foreign countries?
Japan's "Kisha kurabu" press club system often mentioned as a problem by foreign media here, however, in America or Europe, although there are no press clubs as such in Japan in a proper sense of the word, journalists and the authorities have maintain relations in which only those who are called by their first names can put questions. Japanese journalist has some difficulties to build such relations for its coverage.
The biggest problem for the Japanese media today under press club system is that they do not set up their own agenda. It seems that Japanese journalists only think and ask questions within the given agenda. I strongly feel that they should set up their own agenda and raise questions. For instance, there wasn't enough coverage on the effects of radiation caused by the accident of the Fukushima Daiichi Nuclear Power Plant. The  people who had information on how to cope with radiation contamination and nuclear power plants' accidents did not share those information properly with media and the Japanese media were unable to make them say what they knew.
-What is most important when disseminating information overseas?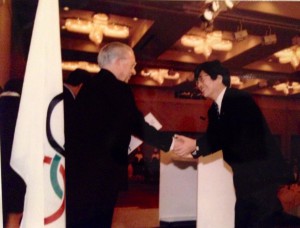 As Asian countries and European countries view Japan differently, we should transmit information accordingly. Some people know about Japan very well and some don't. So, our information transmission should be varied, detailed and balanced. In short, the most important thing is that when meeting with foreigners, we Japanese should be able to say what is needed and to explain our culture, society and the things that are taken for granted.  Journalists, diplomats, politicians, and citizens should be able to speak out using their own words.
- What do you expect of FPCJ?
I would like you to let the world know about robust senior citizens, able and vigorous women, hard-working young people, and the potential, challenging spirit and problem-solving capability of Japan's firms and workers. I heed much attention to Okinawa this year. I hope FPCJ helps send out much information on the present situation of the US bases there, and the feeling of people in Futenma, Henoko and other places in Okinawa. The things that are happening in the 3.11 disaster-hit areas and Fukushima should be studied also. Exchanges of journalists are important, so I would like FPCJ to come up with a program in which foreign journalists, Japanese young journalists, or university students can exchange with each other, and to put that exchange on your website.
(Interviewed by Kazuko Koizumi, Director, Strategic Communications Division)
Mr. Ko Yamaguchi
Born in 1944 in Iwate Prefecture. After graduating from the International Christian University, joined Kyodo News. After being stationed in Saigon (now Ho Chi Minh City), Bangkok, New York, served as Bureau Chief in Geneva, and Deputy Managing Director, General Administration Department. He then served as the Media Head and Spokesperson of the Organizing Committee for the 1998 Nagano Winter Olympic Games, the Head of Media and Spokesman of the 2002 FIFA World Cup Japan and Korea in Japan's Organizing Committee,  Managing Director, International Department, Kyodo News. At present, he is Special Advisor, Global Strategy Headquarters, Management & Planning Office, Kyodo News.