Yamanashi Prefecture: Mr. Shomei Yokouchi, Governor (May 2014)
post date : 2014.06.12
Yamanashi Prefecture is home to Mount Fuji, a World Heritage site and the symbol of Japan. The Linear Chuo Shinkansen planned to start service in 2027 will pass through it. We spoke with Governor Shomei Yokouchi about Yamanashi's overseas strategy and its attractions, including its nature and food.
(Interviewer: FPCJ President Kiyotaka Akasaka)
~The Linear Shinkansen and Yamanashi's Future~
Linear Shinkansen on the Yamanashi Test Track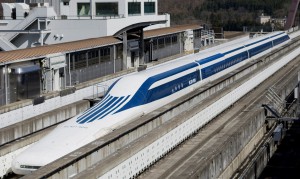 —The opening of the Linear Chuo Shinkansen seems like it will have a significant effect on the prefecture's business strategy.
When the Chuo Shinkansen is completed in 13 years, I believe it will cause a dramatic change in the perception of Yamanashi's accessibility compared to the rest of Japan. A 15 minute direct trip to Shinagawa, Tokyo will mean accessing central Tokyo takes about the same time as it does from Yokohama, Omiya or Chiba. Access from Kansai is not currently very convenient, but it will become possible to reach Yamanashi in a one-hour trip from Osaka. The route from Haneda Airport to Shinagawa to Yamanashi Prefecture will become much more simple and convenient, which should improve our connection to the rest of the world and make it easier for foreign tourists to visit Yamanashi.
~Mount Fuji, Enthralling People from Around the World~
—The number of foreign visitors to Yamanashi has been increasing. Is this thanks to Mount Fuji being registered as a World Heritage site?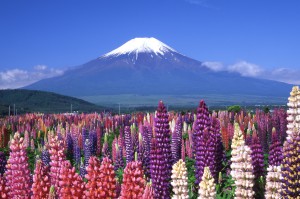 Yes, we've been getting a lot of visitors from both Japan and abroad. The number of foreign tourists in particular has noticeably increased. The registration of Mount Fuji as a World Heritage site is the biggest factor. Last year, over 29 million people visited Yamanashi. Of that number, around 480,000 foreigners stayed overnight in the prefecture, which is approximately a 35% increase compared to the previous year. We have always had a lot of tourists from China and Taiwan, but the number of tourists from Southeast Asia, especially Thailand and Indonesia, has increased dramatically. The number of tourists from various Western countries has also increased.
—The Tokyo Olympics are also coming up. What kind of promotional activities are you working on to attract foreign tourists?
I have been going to Southeast Asia and promoting Yamanashi to the local travel agencies there every year. I also think it is important to create an environment where foreign tourists who come to Yamanashi will have a pleasant experience. We are ensuring that signs and pamphlets have foreign language versions available, and responding to the demand for more free Wi-Fi spots. Together with NTT East we started the Yamanashi Free Wi-Fi Project, creating 1,500 free Wi-Fi spots in public areas, hotels and train stations. There is also a free app available that provides tourist information and route guidance for transit.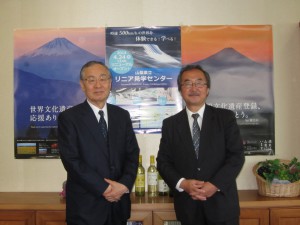 Governor Yokouchi (left) and Akasaka
—It seems like the number of tourists could increase even further.
The Japanese government has established a goal of doubling the number of foreign tourists by the 2020 Tokyo Olympics, but with Yamanashi being close to Tokyo and having Mount Fuji as a World Heritage site, I feel we might reach triple the current number of tourists. A recent trend with foreign tourists has been a huge increase in the number of people travelling alone. It is true that regional cities are not as convenient for sightseeing as major cities are. We have to create an environment that will provide a pleasant experience, by ensuring transportation is available and by having staff capable of speaking foreign languages available at tourist information centers.
~Full of the Beauty of Nature's Bounty~
  Award-winning wine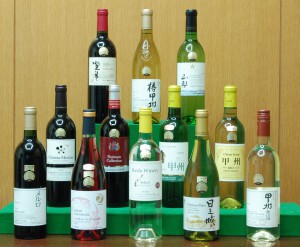 —Yamanashi has Mount Fuji, hot springs, fruit, jewelry, textiles and Koshu wine. What is your brand strategy?
With Mount Fuji becoming a World Heritage site, Yamanashi's brand value as the base of Mount Fuji has increased very noticeably. However, we are still not all that well known internationally. I feel we have to make Yamanashi into a high-grade tourist destination that people around the world want to visit. Yamanashi has not only Mount Fuji, but also Mount Kitadake and Mount Ainodake, the second and third highest mountains in Japan, so I hope to make Yamanashi into one of the most popular sites in the world with a focus on mountain tourism.
Yamanashi brand jewerly "Koo-fu"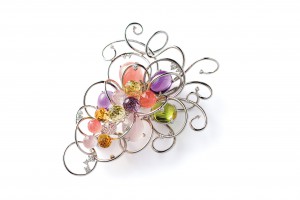 —Yamanashi has a lot that it can be proud of on the global stage.
The quality of  wine produced in Yamanashi has increased significantly, with Koshu white wine made of white grapes that have been grown primarily in Yamanashi and Muscat Bailey A red wine winning gold medals in the Japan Wine Competition. There are also high-quality whiskeys, craft beers and sake. Yamanashi is surrounded by mountains, so quality spring water is plentiful, and it is the largest producer of mineral water in Japan. The quality of liquor made in Yamanashi just goes to show the quality of the water. Yamanashi also has quality jewelry and textile products with excellent designs. OEMs (manufacturers commissioned to make products to be sold under brand names) for famous Japanese and international brands have also begun to release their own original brands.
—Yamanashi fruit is also popular overseas.
The reason we are exporting peaches, grapes and Japanese plums overseas is because of reduced domestic demand due to population decline, an aging population and young people eating less fruit. Although I think it is important to promote fruit in Japan, we still have to put effort into exporting as well. Our grapes and peaches are always praised for their quality in Taiwan. The export value of Yamanashi grapes and peaches last year was 350 million. The total is steadily increasing, but it is still only a small amount. I promote fruit exports overseas every year, but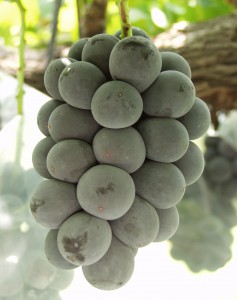 despite demand existing, the number of exports increases only slowly. Some countries ban the import of fruit, and for others growers have to spend a lot of time exterminating pests to pass strict plant quarantines. Peaches also spoil quickly, so they may not make it through the export process in saleable condition. There are also issues with finding routes for distribution. Solving these problems one by one is the key to providing growers with a future.
—The population is continuing to decline.
That is a major issue. All the local governments are discussing ways to deal with the low birth rate and aging population, but that has not caused the population to stop declining. Nonetheless, it is an important issue that must be dealt with. Currently, Yamanashi's total fertility rate is 1.4, around the national average, but various measures have been enacted to try and increase the birth rate by supporting families who raise children. There are some local governments in Japan where their efforts have caused the birth rate to start increasing. I believe it is important that each local government earnestly attempts to deal with this issue.
(Photos provided by Yamanashi Prefecture)