Sapporo CIty, Mayor Fumio Ueda
post date : 2013.01.10
Archipelago Report
Interview Series Vol. 4: Fumio Ueda, Mayor of Sapporo City

Kiyotaka Akasaka, President of Foreign Press Center Japan, interviewed Fumio Ueda, Mayor of Sapporo, on the city which offers abundant food, nature and events that make people smile all year long.
The Attractions of Sapporo
Akasaka: In this interview, we would like to focus on the great things Sapporo has to offer to the world. First, tell us about the attractions of your city.
Mayor: In wintertime, the main highlights are snow and nature. The city is expected to get 6 meters of snow every year, making it the city with the most snowfall among all the large cities in the world. We take pride in our city that coexists with nature, and I believe this is one of the traits that make Sapporo attractive.
Akasaka: In addition to beautiful nature, I believe there is great food in Sapporo as well.
Mayor: The taste of the various vegetables made from the plentiful land and greenery that re-sprouts after the snow melts, tasty fat fish from the surrounding oceans of Hokkaido, and our dairy products are all high in quality. 
Akasaka: I believe there are also many large events in Sapporo such as the Snow Festival and YOSAKOI Soran Festival.
Mayor: After long years of battling the snow in Sapporo, local junior high and high school students got together 60 years ago and used snow creatively by making snow statues; this is how the Snow Festival began. Now, the Snow Festival has turned into a large event attracting over two million visitors annually. The YOSAKOI Soran Festival also has its main venue at Odori Park with 300 dance teams from Japan and abroad participating every year. Around 30,000 dancers entertain the spectators and fill the city with energy.
Akasaka: It looks like Sapporo is currently preparing for an international art festival, and I have heard one of the organizers is someone renowned.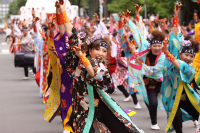 (Photo provided by the YOSAKOI Soran Festival Organizing Committee)
Mayor: We are currently preparing to hold the 1st Sapporo International Art Festival from July to September 2014. We have asked Ryuichi Sakamoto to participate in the festival as Guest Director. Ryuichi Sakamoto is one of the leading artists of media arts, new expressions that collaborates IT technology with art such as music, pictures, and sculptures. The city of Sapporo decided to shape its attractions as a festival by asking for advice and instruction from Mr. Sakamoto. Up until now I believe there was a distinct separation between the artists and the people viewing works of art at exhibits; our aim is to take a new approach and break those borders for this festival.
Tourists from Abroad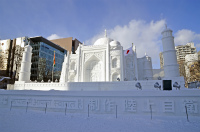 Akasaka: I heard there are about 12 million tourists visiting Sapporo annually, and 60% of those are from Hokkaido prefecture. How about the number of tourists from abroad?
Mayor: At one point there were about 700,000 people. The numbers decreased due to the effects after Lehman's fall and diplomatic issues with China; however the flow of tourists is slowly recovering with currently around 500,000 people. 
Akasaka: When I looked at a 2010 statistics on the numbers of foreign visitors to the world's major cities, Tokyo was ranked the 23rd most visited city in the world. Hong Kong was ranked 1st with 20 million visitors, followed by Singapore and London; Paris and New York had around 10 million people. I believe Sapporo still has large possibilities and potential to attract tourists from abroad.
Mayor: I completely agree with you. We are currently targeting visitors from China, Korea, and Taiwan, and are also strategically planning ways to attract visitors from South East Asia such as Thailand and Indonesia. Those regions have a positive impression of Japan, and many people come with the desire to see snow; therefore snow itself will also be a resource for tourism.
Akasaka: There are also many followers of Islam in South East Asia, so additional arrangements will be necessary in responding to their needs in food and praying facilities.
Mayor: A temporary praying room has been set up at New Chitose Airport until mid-February. We are also beginning to take steps in preparing food menus that satisfy their eating practices as well.
Akasaka: There are also many Australians that come to ski.
Mayor: For those that come for one to two week-long vacations mainly stay in Niseko, but they always stop by Sapporo during their trip so we are working together with Niseko and Otaru on joint activities to attract visitors such as organizing touring routes that go to all of those locations. 
Energy Policies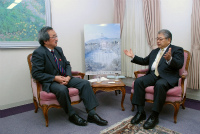 Akasaka: During the election held at the end of last year, some of the main focuses were on energy policies which include nuclear energy. What is the current situation of Hokkaido's energy production and supply policies including the issue with nuclear power?
Mayor: In Hokkaido, there are three nuclear reactors in Tomari and they are all currently inactive. The will of the people of Sapporo is to switch to energy policies that do not rely on nuclear power. The city has first worked on energy saving activities and using renewable energy. Hokkaido is rich with renewable energy sources, and according to the Ministry of the Environment's data, if we add energy from all renewable sources such as wind power, solar light, geothermal heat, and small hydroelectric generation together, the amount of energy will be equivalent to 556 of Tomari's No. 3 reactor that can produce one million kilowatts. Our prefecture has the potential to become a base to supply energy nationally; therefore I believe we need to put in our efforts to create energy that does not rely on power from nuclear reactors.
Akasaka: Snow from the winter is also used as an energy source as well.
Mayor: That would be cold energy. This is used in many public facilities such as New Chitose Airport. The snow collected during the winter will be used for air conditioning during the three to four months of summer.
Sapporo as an Attractive City to Live in
Akasaka: I am currently holding a copy of the 2012 list of the rankings for the World's Most Livable Cities that the British magazine The Economist conducted. Every time I visit Sapporo, I feel like wanting to live there; however this city seems to never make the global rankings. Osaka is ranked 12th and Tokyo is in 18th. The rankings are selected based on characteristic such as safety, environment, healthcare, education, and infrastructure of the cities, yet Sapporo that has high marks in all categories did not make the list. I believe this is because Sapporo is not known enough to those that rate the cities.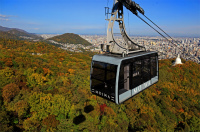 Mayor: Around seven years ago, a company began to rate national municipalities. Six out of seven of the results showed that Sapporo is the most attractive city in Japan. In addition, the results showed that 90% of Sapporo residents responded that they love Sapporo. This city is truly loved by the people living in it. On top of that, 90% of tourists that filled out a questionnaire during their visit to Sapporo said they were satisfied with their trip. Many people say they were glad to come and would like to visit again. These responses show that our city has its strengths already as an attractive location. Around 500,000 to 700,000 visitors come from abroad to Sapporo, and with tourism being our main industry in our city, I hope the Foreign Press Center could cooperate in spreading information about Sapporo that we write about on our own, and help gain the attention of the people regarding our city and make more become interested in visiting Sapporo. 
Brand Strength of Sapporo
Akasaka: Sapporo has gained its global reputation as a branded city after successfully hosting the Winter Olympic Games. If that brand name is used efficiently it should not only lead to promoting tourism but regional development, as well as build a sense of pride and confidence as residents of this city among the younger generation.
Mayor: Our beer also serves as one of its brands. It has been 40 years since Sapporo became sister cities with Munich, Germany during the Winter Olympic Games. Besides Sapporo Beer, our city has various breweries, and we have been putting in our efforts in promoting good beer made in Sapporo and its great drinking atmosphere through activities aiming to become The City of Beer, and hope we can strengthen our ties with Munich. 
Akasaka: Oktoberfest was held in Tokyo the other day and it was a very lively event. After all, the beer festival in Munich attracts over six million visitors.
Mayor: We wanted to have our own Oktoberfest in Sapporo as well, so during the second half of September, the city hosts an event called Autumn Fest. Attractive food from all over Hokkaido gathers in Odori Park, and this year we had over 100 cities, towns and villages out of 179 in Hokkaido participate. It has become very lively with about 1.5 million people visiting the venue.
Launching Information to the World about the Dramatically Developing Sapporo!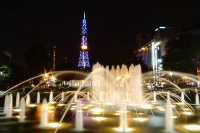 Akasaka: The number of international media organizations in Tokyo has decreased a little, but there are still 200 companies with 600 people working among them. News sources that gain global attention such as Reuters, The New York Times, The Economist, and The Financial Times all have posts in Tokyo. I would like such global media to spread information about the wonderful things in Japan and Sapporo. We will put in our full efforts at the FPC through our website and activities such as briefing sessions and press tours to spread the word on the attractiveness of Sapporo, so I ask for your cooperation in sharing information about your city.
Mayor: Thank you very much. We would like to organize a way to have the global media visit our city not only during our events but more frequently and introduce what our city is like, even if it includes critical feedback, so I would like to again ask for your cooperation.
Akasaka: Although there are many things in Japan that could attract other countries, yet many information of great value are not promoted internationally. I believe this is because for over a hundred years, Japan has been passionate about absorbing new information and technology from abroad, and on the contrary it has not put in much effort into promoting information on themselves to the world. We would like to spread such information to the world by taking into consideration the embassy and other private organizations' activities and distinguish our roles as information providers. We would especially like the public organizations outside of Tokyo to contribute reports on their city such as their developments in the international field on the Archipelago Report page on our website and actively spread their information.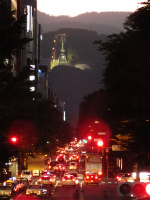 Mayor: Last year, Sapporo hosted its 23rd Pacific Music Festival (PMF). Every July we have a music festival with around 100 young musicians gathering in Sapporo to be instructed by top performers in orchestras such as Vienna Philharmonic and Berlin Philharmonic, and so far around 2,900 musicians have completed this program. Now in almost every globally renowned orchestra, there are past participants of PMF, and it has become a well-known event not only to musicians but the general public. However, there seems to be not enough information on exactly where this festival takes place in Japan, so I hope we can distinguish and promote Sapporo so there will be more attention not only on the event, but the location where the festival is held at.
Photos provided by the City of Sapporo
Contact:
City of Sapporo Tokyo Office
TEL: 03-3216-5090
Public Relations Section,
Public Relations Department,
Mayor's Policy Planning Office
City of Sapporo
TEL: 011-211-2036