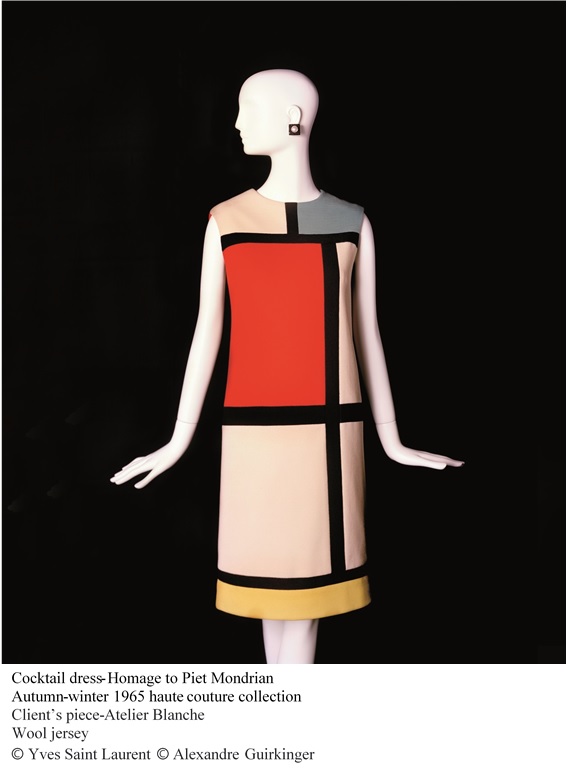 The National Art Center, Tokyo, with the full cooperation of the Yves Saint Laurent Museum of Paris, is proud to present Yves Saint Laurent, Across the Style (organized by The National Art Center, Tokyo, The Sankei Shimbun, TBS, Sony Music Entertainment (Japan) Inc.) from Wednesday, September 20th to Monday December 11th, 2023.
Following the sudden death of Christian Dior, in 1958, Yves Mathieu-Saint-Laurent made his brilliant debut as a designer at the House of Dior. In 1962, he launched his own brand, Yves Saint Laurent. From then until his retirement in 2002, Yves Saint Laurent remained at the forefront of the international fashion scene and revolutionized women's clothing for nearly half a century by establishing safari looks, pants suits, pea coats, and trench coats.
This exhibition, marks the first retrospective of the designer's works ever to be staged in Japan after his death. The exhibition presents a comprehensive overview of Yves Saint Laurent's work, throughout his 40-year career, from his debut at the tender age of 21 and the first collection that appeared under his own brand to the establishment of his own style, through 110 of the designer's looks as well as accessories, drawings, and photographs in twelve chapters.
This is a rare opportunity to get up close and personal with the unrivaled and magnificent world of beauty that emerged from Yves Saint Laurent, one of the great talents of the second half of the 20th century.
Exhibition Highlights
1. A Wealth of Some 300 Items Including Dresses Never Before Shown in Japan
The exhibition paints a complete picture of Yves Saint Laurent's life as a designer and his creations. The displays include 110 of the designer's haute couture looks, encompassing the changes that occurred over Yves Saint Laurent's more than 40-year career, from the time of his stunning debut at the House of Dior in 1958 to just prior to his retirement in 2001, as well as a host of valuable documents such as drawings, photographs, and videos.
2. Universal Women's Styles That Live on Today
Yves Saint Laurent designed garments that transcended gender images associated with clothing by, among other things, actively incorporating pants (a style that was still strongly rooted in men's fashion in the 1960s) into women's fashion, and creating a new kind of femininity and elegance that was in keeping with the times. In part due to becoming involved with prêt-à-porter (ready-to-wear) fashion in 1966, Yves Saint Laurent's style propositions spread rapidly. With garments such as pea coats, pants suits, trench coats, and tuxedos, he garnered acclaim by modifying trailblazing forms of menswear into clothes for women. In this exhibition, we introduce Yves Saint Laurent's universal styles, which today have become an established part of the female wardrobe.
3. Establishing Art-inspired Styles
By envisioning a fusion of art and fashion, exemplified by his Mondrian look, Yves Saint Laurent breathed new life into the traditional world of haute couture while also actively engaging in collaborations with those in various fields of art, producing stage sets for theatre pieces, ballets, and other performing arts, and costumes for films. Yves Saint Laurent's efforts to forge a link between art and haute couture led fashion to be afforded the same value as painting, sculpture, architecture, and other forms of art. It also resulted in vibrant, body-based fashions that were inspired by art.
INFORMATION
Exhibition Title: Yves Saint Laurent, Across the Style
Date: September 20 (Wed.) - December 11 (Mon.), 2023 Closed: Tuesdays 
Opening hours: 10:00-18:00 *10:00-20:00 on Fridays and Saturdays 
           *Last admission 30 minutes before closing
Venue: The National Art Center, Tokyo / Special Exhibition Gallery 1E 
           7-22-2 Roppongi, Minato-ku, Tokyo 106-8558
Organized by: The National Art Center, Tokyo; The Sankei Shimbun; TBS; 
           Sony Music Entertainment (Japan) Inc.
In partnership with: Musée Yves Saint Laurent Paris 
With the special sponsorship of: SAINT LAURENT
With the support of: Embassy of France / French Institute of Japan; BS-TBS; TBS RADIO
With the sponsorship of: Sompo Holdings, Inc.; Nozaki Insatsu Shigyo Co., LTD.
With the cooperation of: Japan Airlines   
With the collaboration of: Ueki & Associés
Exhibition Website: https://ysl2023.jp/english 
NACT Website: https://www.nact.jp/english/
Admission (tax included): 
 Adults 2,300 (2,100) yen, College students 1,500 (1,300) yen, High school students 900 (700) yen
  *( ) for advance tickets.
  *Visitors who are junior high school students or younger will be admitted for free.
  *Disabled persons (along with the one assistant) will be admitted for free upon presenting the Disabled 
    Person's Booklet or an equivalent form of government-issued ID.
  *Free entrance to the exhibition for high school students from October 7 (Sat.) to October 9 (Mon.), 2023, 
    upon presenting student ID.
  *No reservation required for this exhibition. Advance tickets will be on sale from August 17 (Thu.), 2023.
  *More information on tickets will be posted at a later date on the exhibition website.
Inquiries:(+81)47-316-2772 (Hello Dial)
Access:
 Tokyo Metro Chiyoda Line   Nogizaka Station / Direct access from Exit 6
 Tokyo Metro HibiyaLine     Roppongi Station (H04) /Approximately 5-minute walk from Exit 4a
 Toei Oedo Subway Line     Roppongi Station (E23) /Approximately 4-minute walk from Exit 7
 *No Parking
Press inquiries
Yves Saint Laurent, Across the Style Press Office (Ohana PR)
Email: ysl2023@ohanapr.co.jp