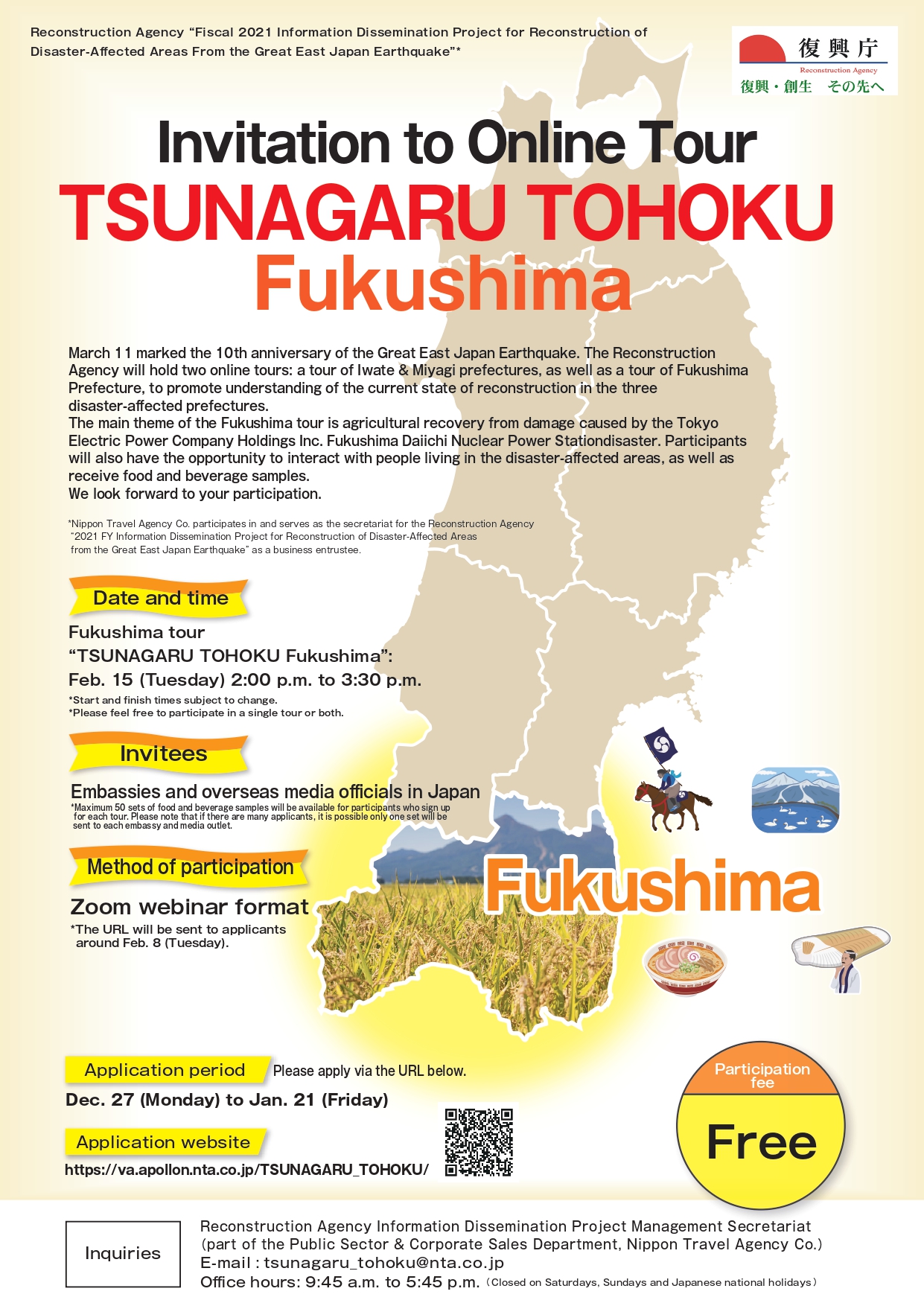 Invitation to Online Tour TSUNAGARU TOHOKU Iwate & Miyagi, and Fukushima
2021.12.27
Press release
PDF ver.

 March 11 marked the 10th anniversary of the Great East Japan Earthquake. The Reconstruction Agency will hold two online tours: a tour of Iwate & Miyagi prefectures, as well as a tour of Fukushima Prefecture, to promote understanding of the current state of reconstruction in the three disaster-affected prefectures.
 The main theme of the Iwate & Miyagi tour is recovery from damage caused by the tsunami to the fishing industry, while the main theme of the Fukushima tour is agricultural recovery from damage caused by the Tokyo Electric Power Company Holdings Inc. Fukushima Daiichi Nuclear Power Station disaster. Participants will also have the opportunity to interact with people living in the disaster-affected areas, as well as receive food and beverage samples.
 We look forward to your participation.

1. Date and time
(1) Iwate & Miyagi tour "TSUNAGARU TOHOKU Iwate & Miyagi":
 Feb. 15 (Tuesday) 10:00 a.m. to 11:30 a.m.

(2) Fukushima tour "TSUNAGARU TOHOKU Fukushima":
 Feb. 15 (Tuesday) 2:00 p.m. to 3:30 p.m.
 *Start and finish times subject to change.
 *Please feel free to participate in a single tour or both.

2. Invitees
 Embassies and overseas media officials in Japan
 *Maximum 50 sets of food and beverage samples will be available for participants who sign up for each tour.
   Please note that if there are many applicants, it is possible only one set will be sent to each embassy and media outlets.

3. Participation fee
 Free

4. Method of participation
 Zoom webinar format
 *The URL will be sent to applicants around Feb. 8 (Tuesday).

5. Application period
 Dec. 27 (Monday) to Jan. 21 (Friday)

6. Application website
 Please apply via the URL below.
 https://va.apollon.nta.co.jp/TSUNAGARU_TOHOKU/

[Contacts:]
Reconstruction Agency Information Dissemination Project Management Secretariat (part of the Public Sector & Corporate Sales Department, Nippon Travel Agency Co.)
E-mail: tsunagaru_tohoku@nta.co.jp
TEL:    03-5402-6400
Office hours: 9:45 a.m. to 5:45 p.m.
(Closed on Saturdays, Sundays and Japanese national holidays)