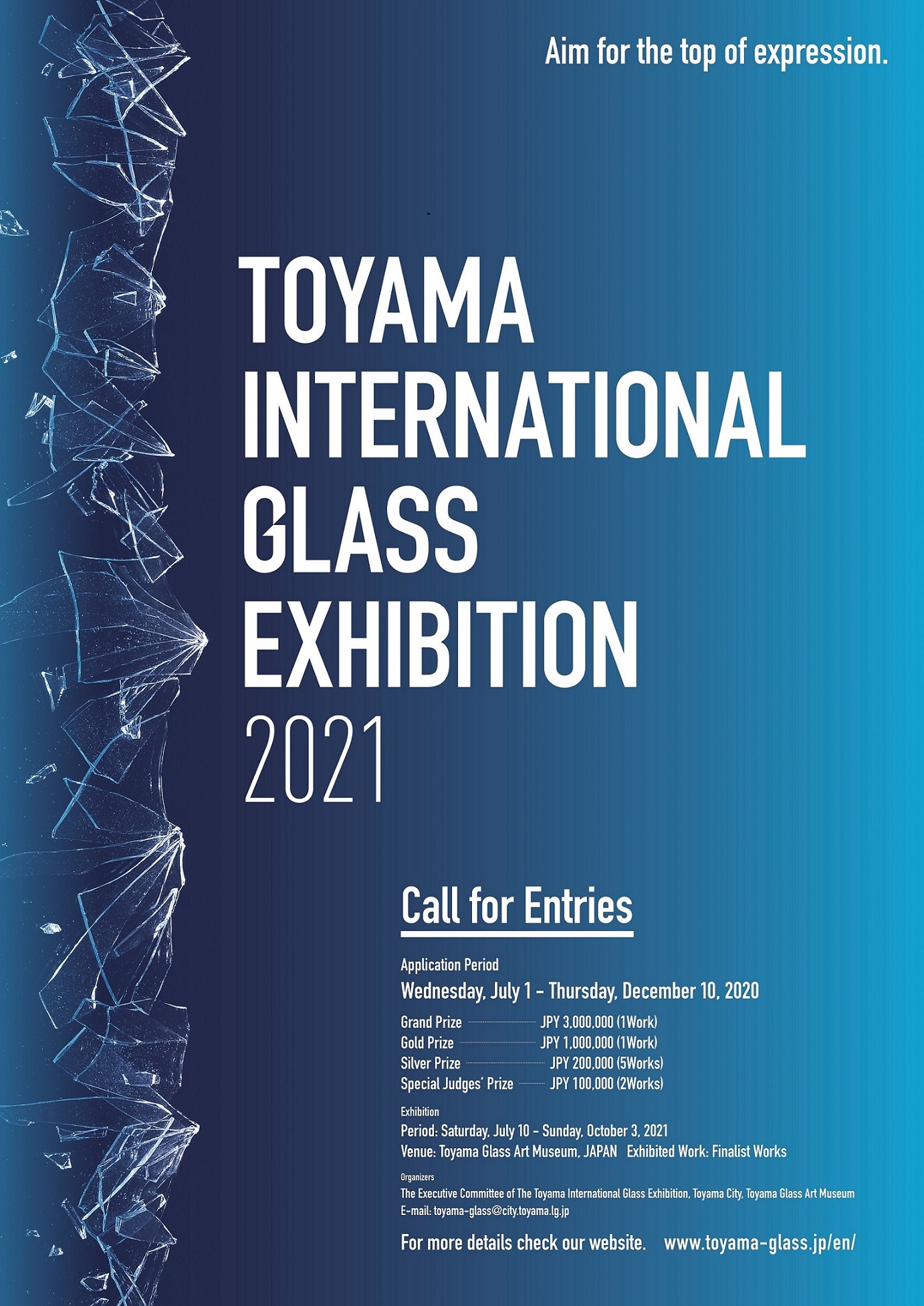 Toyama International Glass Exhibition 2021 Call for Entries
2020.07.16
The Toyama Glass Art Museum has opened submissions for its Toyama International Glass Exhibition 2021. This exhibition is an international, open-submission triennial that showcases outstanding works of contemporary glass art from around the world. This competition is the second in a series started in 2018, when there were 1,110 entries from 46 countries. Our mission is to support breakthroughs in creative expression. Your work could be among them. We look forward to your submission.



■Application Period 
Wednesday, July 1, 2020 - Thursday, December 10, 2020
■Organizers
The Executive Committee of The Toyama International Glass Exhibition
Toyama City
Toyama Glass Art Museum
■Prizes
Grand Prize                           JPY 3,000,000            (1 Work)
Gold Prize                             JPY 1,000,000            (1 Work)
Silver Prize                           JPY 200,000               (5 Works)
Special Judges' Prize             JPY 100,000               (2 Works) NEW
■Applicant Eligibility
Open to all nationalities, ages, and professional levels
■Application Fee
 None


■Requirements
Works must be primarily composed of glass.
For more details check our official website (www.toyama-glass.jp/en/)
■First judging  (based on digital images of the works)
Saturday, February 20 & Sunday, February 21, 2021
■Second judging (based on actual works)
Saturday, April 17 & Sunday, April 18, 2021
■Exhibition
Period: Saturday, July 10 – Sunday, October 3, 2021
Venue: Toyama Glass Art Museum
Exhibited work: Finalist works

■Contact            
Secretariat Office of the Executive Committee of the Toyama International Glass Exhibition in Toyama Glass Art Museum 
5-1 Nishicho, Toyama City, Toyama 930-0062, Japan
E-mail: toyama-glass@city.toyama.lg.jp