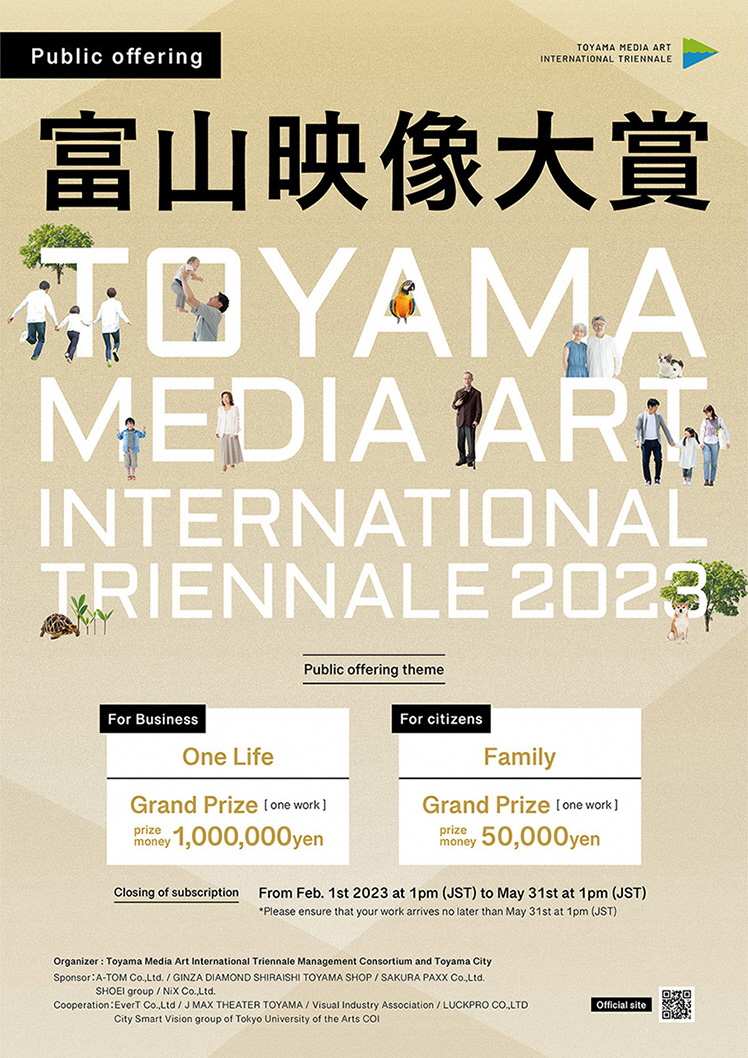 "Toyama Media Art International Triennale 2023" We will start a public recruiting of video works!
2023.02.22
Press release
PDF ver.

Toyama City will hold the "Toyama Media Art International Triennale" in FY2023 with the aim of communicating the attractiveness of Toyama City through visual images and creating a continuous liveliness in the city.
The new course for Toyama citizens is now open to the public. The theme for the professional course is "One Life" and the theme for the Toyama citizens' course is "Family". We look forward to many entries so that Toyama citizens and many others can discover wonderful views of our city through the Triennale.
■Public Course Offered/ Public offering theme
  1.  For Business: "One Life"
  2.  For citizens: "Family"
■Closing of subscription
  Applications must arrive no later than 13:00JST, May 31, 2023
■Works to be submitted
  A short film‐less than five minutes regardless of the genre
    *Must be a story-driven video work that follows the theme announced in the public invitation.
■Data Form
  mov or mp4 format
■Application Method
  Upload your video with filling in the necessary items of the application form 
  (https://www.thinktoyama.jp/entry/) on the official website.
■Entry Fee
  None. (However, all expenses concerning the application process must be paid by the applicant.)
■Prizes
  1.  For Business
    Grand Prize - prize money: 1,000,000yen(one work)etc
  2.  For Citizens
    Grand Prize - prize money: 50,000 yen(one work)etc
■Judges(Second judging and Final judging)
  ITO Junji(General producer Toyama Media Art International Triennale)
  UCHIDA Mahoro(Curator, Exhibition Producer.Head of Project for Center for Cultural Innovations at
      Takanawa Gateway City by East Japan Railway)
  SHIMA Atsuhiko(Director of The National Museum of Art, Osaka)
  TANINO Kuro(theatre director and writter, leader of the theater company Niwa Gekidan Penino)
  NAKAJIMA Shinya(TOHOKUSHINSHA FILM CORPORATION Executive Creative Director/Film Director)
  NISHIMURA Masahiko(Actor)
  MOTOKI Katsuhide(Movie Director/President of Directors Guild of Japan)
■Others
  Please check the official website of the Toyama Media Art International Triennale for more information.
  URL:https://www.thinktoyama.jp/
■Contact Us
  Management Secretariat of the Toyama Media Art International Triennale
  Central Urban Area Activation Division
  7-38 Shinsakura-machi, Toyama 930-8510
  TEL +81-76-443-2054