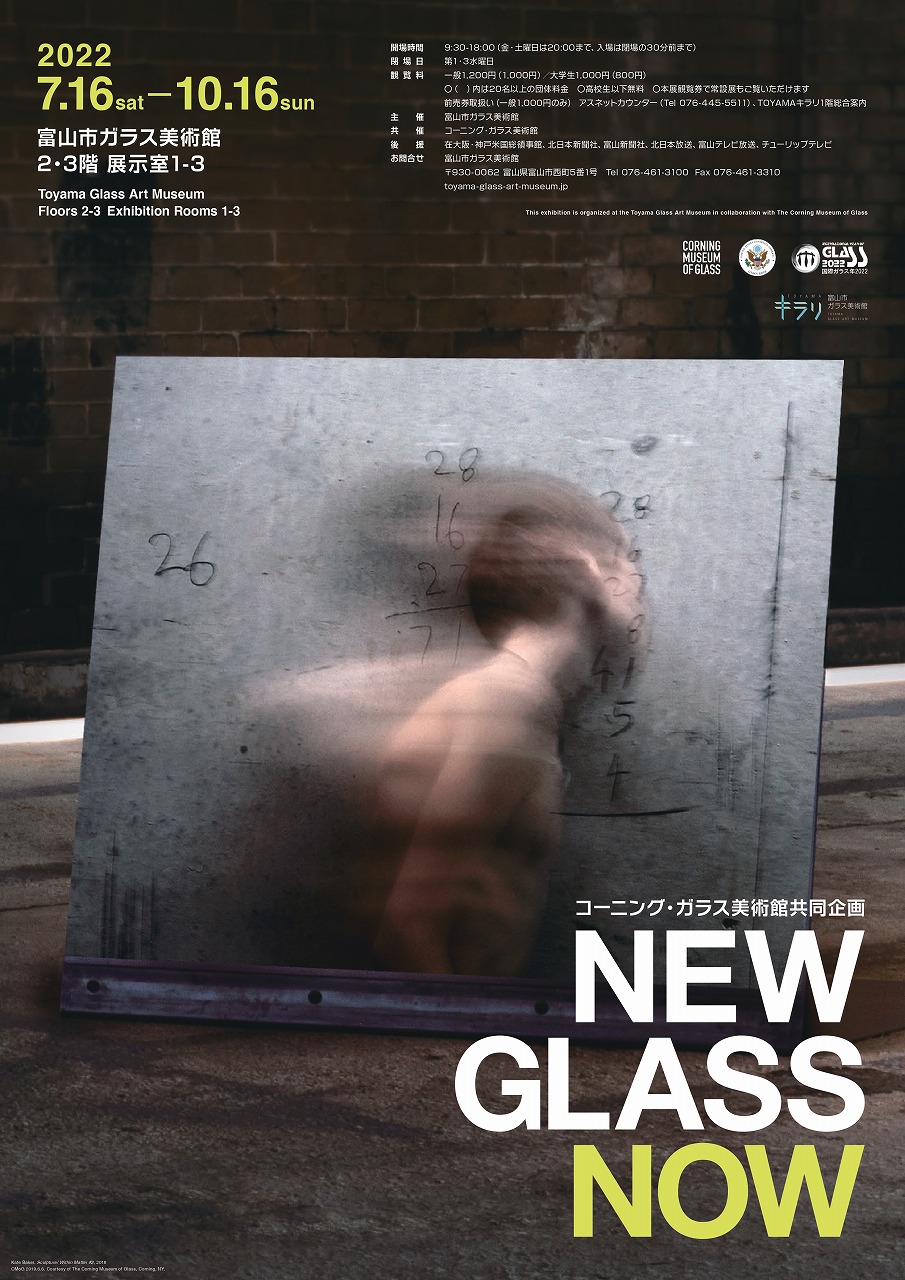 Special Exhibition "New Glass Now", in cooperation w/ The Corning Museum of Glass, USA (until Oct. 16)
2022.09.08
In April 2021, the Toyama Glass Art Museum and The Corning Museum of Glass (USA), one of the world's largest glass collections, signed an agreement to cooperate on cultural projects, beginning with this joint presentation of the exhibition "New Glass Now."

Since 1959, when The Corning Museum of Glass opened the exhibition "Glass 1959," it has promoted an understanding of trends in contemporary glass through initiatives ranging from the 1979 exhibition "New Glass: A Worldwide Survey," to publication of the New Glass Review, and ongoing support for glass artists. At the same time, the Museum has acquired a superb and extensive collection of contemporary glass.


This 2022 exhibition will present, on special loan, works by more than fifty artists and collectives that were exhibited in The Corning Museum "New Glass Now" show in 2019 and subsequently added to its collection. These works, gathered from around the world through open submission and subjected to a rigorous selection process, offer new types of expression drawn from the features of glass as a material, and the diverse endeavors of artists addressing themes that encompass the conditions and challenges we face today.
Don't miss this very special opportunity to view a variety of works that brilliantly capture the state of contemporary glass today.

■Dates: 2022.7.16 sat – 10.16 sun
■Venue: Toyama Glass Art Museum, Floors 2-3, Exhibition Rooms 1-3
■Hours: Sun-Thu 9:30-18:00 (admission until 17:30),
                Fri-Sat 9:30-20:00 (admission until 19:30)
■Closed: First and third Wednesdays
■Admission: General Public 1,200 yen (1,000 yen), University and College Students 1,000 yen (800 yen)
                    〇( ) for groups of 20 or more 
                    〇High school students and younger: Free 
                    〇Tickets for New Glass Now include admission to Permanent Exhibition
■Organizer: Toyama Glass Art Museum
■Co-organizers: Corning Museum of Glass
■Supported by U.S. Consulate General Osaka-Kobe, THE KITANIPPON SHIMBUN,
                        THE TOYAMA SHIMBUN, Kitanihon Broadcasting Co., Ltd.,
                        TOYAMA TELEVISION BROADCASTING CO., LTD., TULIP-TV INC.

■Curator's Talk   
Dates: 17 September, 1 October, 15 October 2022 each at 14:00-
Venue: Toyama Glass Art Museum
Language: Japanese
*Free of charge
*No reservation required
*Ticket for this exhibition is required for admission to the exhibition rooms.
*There events are subject to cancellation or change by convenience.
*Please check the museum website for the latest information: https://toyama-glass-art-museum.jp/en/

[Contact]
Toyama Glass Art Museum  5-1 Nishicho, Toyama City, Toyama 930-0062, Japan
Tel 076-461-3100  Fax 076-461-3310
Email bijutsukan-01@city.toyama.lg.jp
Web toyama-glass-art-museum.jp