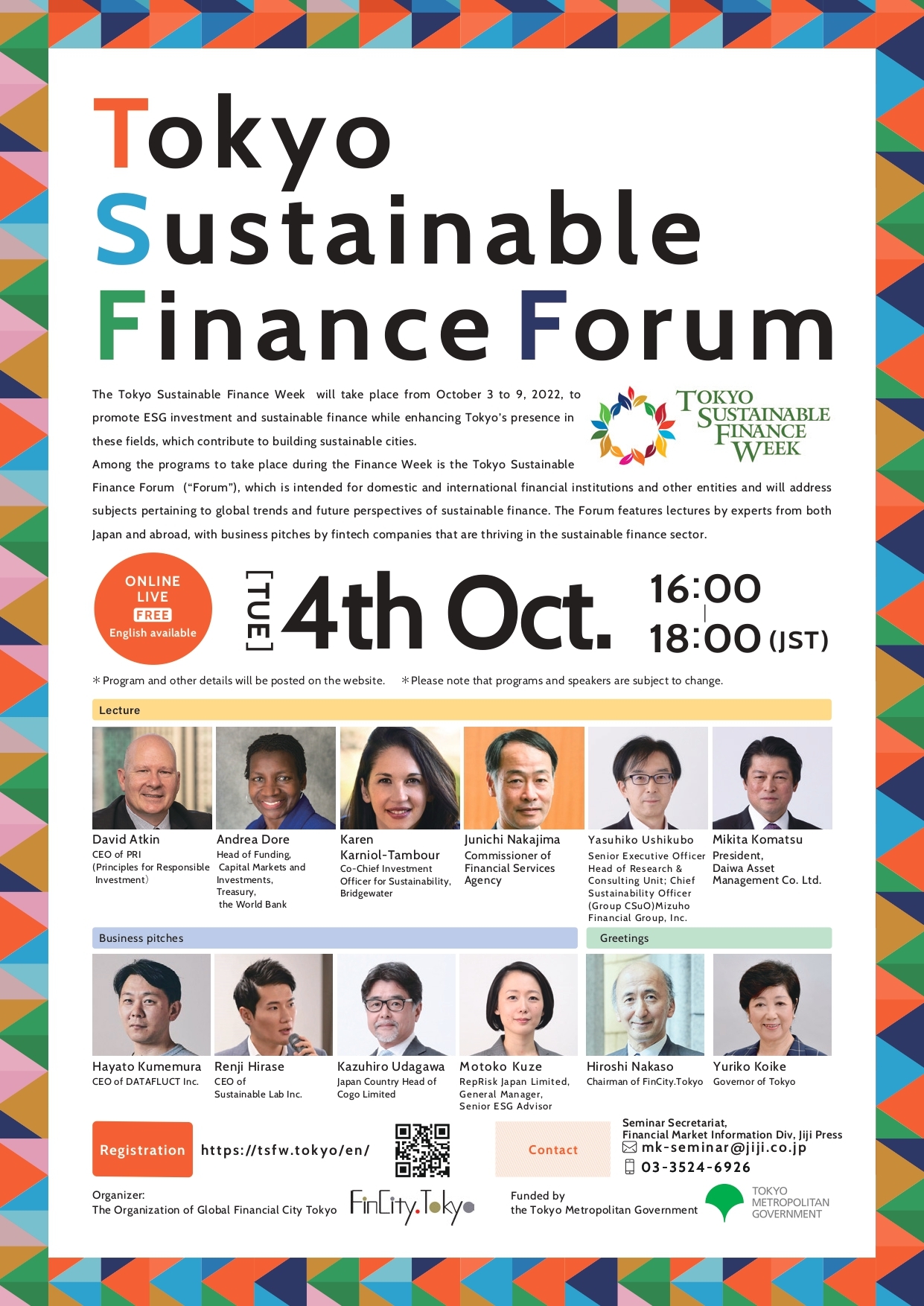 Details about this year's Tokyo Sustainable Finance Week – registration for the "Tokyo Sustainable Finance Forum" is now open!
2022.09.02
The Organization of Global Financial City Tokyo (FinCity.Tokyo) is pleased to inform you that the Tokyo Sustainable Finance Week will take place from October 3 to 9, 2022. This event will be held as part of the Tokyo Metropolitan Government's "Global Financial City: Tokyo" Vision 2.0 project, to promote ESG investment and sustainable finance while enhancing Tokyo's presence in these fields, which contribute to building sustainable cities.

Among the programs to take place during the Finance Week is the Tokyo Sustainable Finance Forum, which is intended for domestic and international financial institutions and other entities and will address subjects pertaining to global trends and future perspectives of sustainable finance. The Forum features lectures by experts from both Japan and abroad, with business pitches by fintech companies that are thriving in the sustainable finance sector.

The registration for the forum is now open and we look forward to seeing you at the event.


The Tokyo Sustainable Finance Forum

Date and time: Tuesday, October 4, 2022, from 16:00 to 18:00 (JST)

Distribution: Live online video streaming
       *simultaneously in Japanese and English.
       *An e-mail including the URL link to view the live stream online will be sent to individuals
       who have applied for this forum.

Participation fee: Free

Program:
        16:00-16:15 Greetings by the organizer 
                            Hiroshi Nakaso, Chairman of FinCity.Tokyo

        16:15-16:30 Lecture 1
                            David Atkin, CEO of Principles for Responsible Investment

        16:30-16:45 Lecture 2
                            Andrea Dore, Head of Funding, Capital Markets and Investments, Treasury,
                            the World Bank

        16:45-16:55 Lecture 3
                            Karen Karniol-Tambour, Co-Chief Investment Officer for Sustainability, Bridgewater

        16:55-17:10 Lecture 4
                            Junichi Nakajima, Commissioner of Financial Services Agency

        17:10-17:30 Business pitches
                             Hayato Kumemura, CEO of DATAFLUCT Inc.
                             Renji Hirase, CEO of Sustainable Lab Inc.
                             Kazuhiro Udagawa, Japan Country Head of Cogo Limited
                             Motoko Kuze, General Manager, Senior ESG Advisor, RepRisk Japan Limited
 
        17:30-17:40 Lecture 5
                             Yasuhiko Ushikubo, Senior Executive Officer, Head of Research & Consulting Unit; Chief Sustainability                                       Officer (Group CSuO) Mizuho Financial Group, Inc.

        17:40-17:50 Lecture 6
                        Mikita Komatsu, President, Daiwa Asset Management Co. Ltd.

        17:50-17:55 Greetings by the governor of Tokyo(Video)
                        Yuriko Koike, Governor of Tokyo

 How to apply: Please register from the below URL
                https://tsfw.tokyo/2022/en/event-info/tsfw_forum/ 

*From this fiscal year, the Finance Week will be organized by FinCity.Tokyo, which has taken over the role from the Tokyo Metropolitan Government.


[お問い合わせ先]
The Organization of Global Financial City Tokyo
Phone: 03-5614-0063
Email: contact(at)fincity.tokyo

Assigned Operations for Global Financial City Tokyo
Strategic Projects Section, Strategic Projects Division
Office of the Governor for Policy Planning
Tokyo Metropolitan Government
Phone: 03-5388-2144
Email: S0014701(at)section.metro.tokyo.jp

* The above e-mail address has been arranged as an anti-spam measure. Please replace (at) with @.