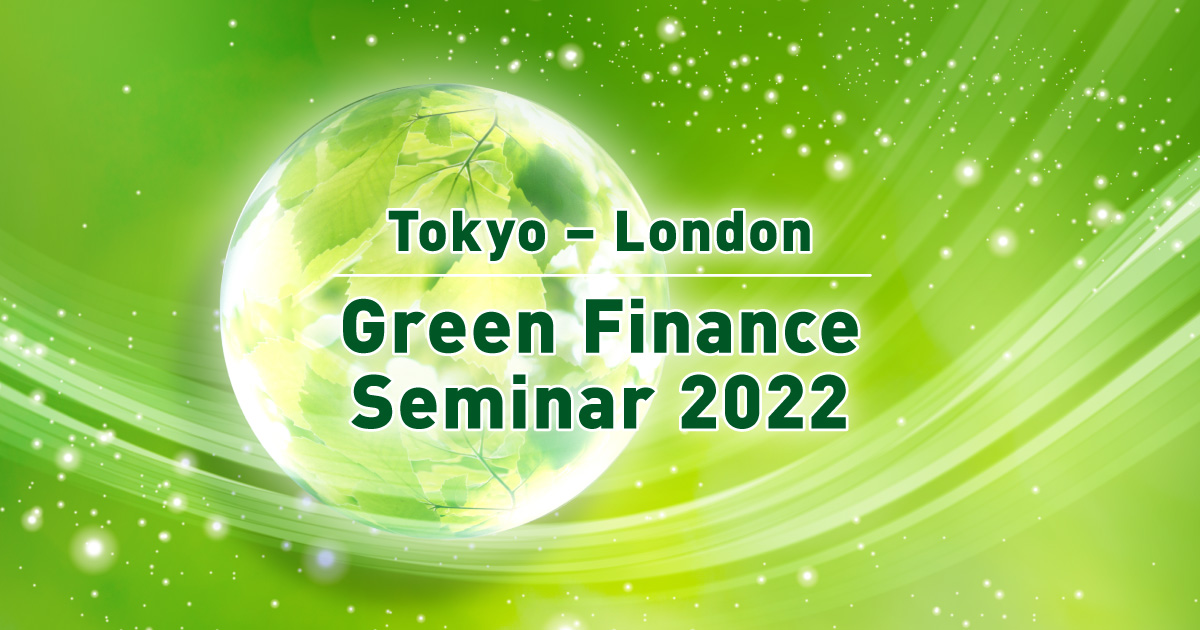 Oct. 25 "Tokyo-London Green Finance Seminar 2022" 6:30 pm -8:00 pm(JST): Registration for Online Participation is Now Open!
2022.10.19
Since 2017, the Tokyo Metropolitan Government (TMG) has been deepening its collaboration with the City of London through finance seminars, financial education programs, etc.

TMG is pleased to inform you that we will be hosting the "Tokyo-London Green Financial Seminar 2022." Registration for online participation is now open.

This year's seminar will feature a panel discussion between financial experts from Japan and the UK, on the topic of "Transition Finance".

The seminar will begin with keynote speeches from the Lord Mayor of the City of London, Vincent KEAVENY, and Tokyo Governor KOIKE, Yuriko.

Additionally, we have planned for discussions between Japanese and British government officials, as well as case study presentations from Japanese, Swedish and British businesses.

Please join us for this great opportunity to learn about the latest trends in Green Finance in the UK and Japan!


[Seminar Outline]

■ Date: Tuesday, October 25, 2022
■ Time: 6:30 pm - 8:00 pm(JST)

■ Program
* Simultaneous English – Japanese interpretation will be provided.

6:30pm  Opening Remarks and Keynote Speech     
                Ms. KOIKE Yuriko, Governor of Tokyo

6:37pm  Keynote Speech 
                Alderman Vincent KEAVENY, The Right Honourable The Lord Mayor of the City of London

6:44pm  Discussion: "Direction of Japan-UK Cooperation in Green Finance"       
                Speakers:
                [UK]
                Mr. Sacha SADAN, Director of ESG, Financial Conduct Authority

                [Japan]
                Mr. IKEDA Satoshi, Chief Sustainable Finance Officer, Financial Services Agency, Government of Japan

                Moderator:
                Ms. Heather PROSSER, APAC FSO Sustainable Finance Activation Leader, EY Japan Co., Ltd.

7:04pm  Case study presentation
                Presenting companies:
                [Japan]
                •Fintech Association of Japan
                •Nudge Inc.

                [Sweden]
                •Doconomy AB

                [UK]
                •Greencoat Capital
                •J. Stern & Co.

7:27pm  Panel Discussion: "Promoting Transition Finance"       
                Panelists:
                [UK]
                Mr. Jaakko KOOROSHY, Global Head of Sustainable Investment Research, FTSE Russell

                [Japan]
                Mr. KONUMA Yasuyuki, Director, Executive Vice President, Tokyo Stock Exchange, Inc.
                Mr. ADACHI Eiichiro, Senior Counselor, The Japan Research Institute, Limited
                Mr. TAKANASHI Masayuki, General Manager, Corporate Sustainability Department, Sumitomo Mitsui
                Banking Corporation

                Moderator:
                Ms. ISHIKAWA Junko, Senior Researcher, Financial Market & Innovation Research Department,
                Nomura Research Institute, Ltd.

7:57pm  Closing Remarks (pre-recorded video)   
                H.E. Ms. Julia LONGBOTTOM CMG, Ambassador of the United Kingdom to Japan

*Please note that the contents of the program are subject to change without advance notice

■ How to participate
Participation is free of charge
Please register from the below URL:
https://docs.google.com/forms/d/e/1FAIpQLSeaPKYusP3IhBYzBrN_tP9vmZ0mwOi7psoand5xp6dcSu-A5Q/viewform

*Pre-registration is required. The link for participating in the webinar will be sent to your registered email address upon the completion of the registration.
*Registration deadline: By noon of Monday, October 24, 2022 (JST)


[Contact]
Assigned Operations for Global Financial City Tokyo
Strategic Projects Section, Strategic Projects Division
Office of the Governor for Policy Planning
Tokyo Metropolitan Government
Email: S0014701(at)section.metro.tokyo.jp
* The above e-mail address has been arranged as an anti-spam measure. Please replace (at) with @.